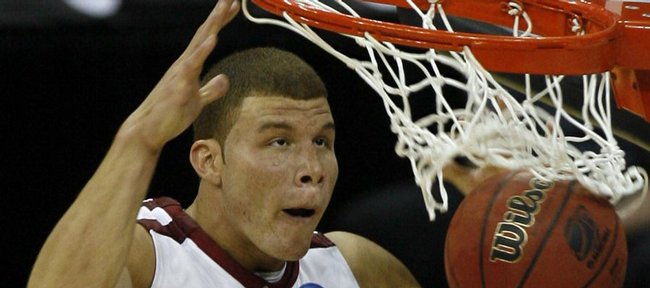 OU vs. Morgan St.
Feature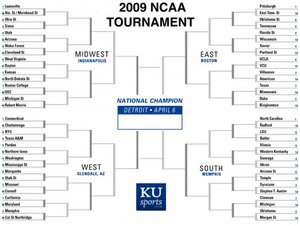 Get yer bracket on! Browse all brackets, check out out KUsports.com staff brackets, and check to see how your bracket's holding up after each match up is complete.
Kansas City, Mo. — An inadvertent blow to the jaw last month left Blake Griffin with a concussion and sent Oklahoma stumbling into the NCAA tournament.
In the first round of the South Regional, Griffin got flipped over the back of a Morgan State player and landed hard on the court in an ugly incident that earned the other guy an ejection.
But Griffin bounced right back, finished off 28-point, 13-rebound performance, then assured everyone he was fine after the Sooners' 82-54 victory Thursday night.
"I got tangled up. It turned out bad," he said, adding that the only thing hurting was "My tailbone a little bit. My back is all right."
The nation's top rebounder and player of the year favorite took a hard tumble when Morgan State's Ameer Ali flipped him onto the hardwood in the second half after the two became entangled.
Ali was immediately tossed.
Griffin has gotten accustomed to being treated roughly. Southern Cal's Leonard Washington got ejected after elbowing Griffin below the belt in their game back in December, and there was another similar incident when an opponent didn't get ejected. He did not retaliate in any instance.
"Just understanding why they're doing it and not letting them get the best of me," said Griffin, who was 11 of 12 from the field. "I don't want to get into the individual game they're trying to play with me. I don't want to have to sit out a game for doing something stupid in retaliation. The best thing to do is just to walk away."
Morgan State coach Todd Bozeman said there was nothing deliberate about the foul.
"You don't want your players to get into something that's gong to embarrass themselves or the university," he said. "They were getting tangled up and they were bumping all game. You don't ever want to hurt anybody. I told the guys in the huddle we want to keep the game clean."
After sustaining the concussion at Texas, Griffin missed most of two games and the second-seeded Sooners (28-5) lost four of their next six and staggered to the finish.
But they never wavered against the No. 15 Bears (23-12), who were making their first NCAA appearance.
The Sooners dominated in just about every way, outrebounding the Bears 45-36, shooting 60 percent while holding Morgan State to 29 percent and drawing only 11 fouls to Morgan State's 24.
In the second round on Saturday, the Sooners will meet Michigan, a 62-59 winner over Clemson.
Oklahoma coach Jeff Capel's first concern was Griffin's well-being.
"I wanted to make sure he wasn't hurt. That was the first thing," he said. "Those kind of things really upset me. I know Todd Bozeman. I've known him a long time. And I know he doesn't teach his kids things like that. Maybe it was inadvertent. I hope it was."
The game also marked the return to the national stage for Bozeman, the center of an NCAA scandal before being fired at California-Berkeley in 1996. He was out of coaching for eight years before resurrecting his career three years ago at Morgan State.
Griffin had 26 points and 12 rebounds when he went tumbling over Ali with 7:41 left and Oklahoma leading 60-44. It was the 27th double-double of the year for Griffin, extending his school record.
Bozeman went out and immediately started speaking to Ali. Griffin missed both free throws on the foul.
"We haven't had an incident like that all year," said Bozeman. "That's not our style."
Griffin, the unanimous pick as Big 12 player of the year, hit mid-range jumpers, scored on thunderous dunks off alley-oop passes and made a couple of feathery tip-ins off his teammates' misses.
He also made the crowd groan — and showed he was human — when he stepped to the free throw line in the first half and airballed his first shot.
Juan Pattillo's dunk gave Oklahoma a 50-25 lead early in the second half, and Griffin had 22 of the Sooners' points. Reggie Holmes and Rogers Barnes canned 3-pointers for the Bears and Rodney Stokes went inside for a bucket that sliced the lead to 50-33.
But Griffin, with many in the crowd yelling, "Air ball! Air ball!" calmly sank a pair of free throws to stop the momentum of the Bears.
Willie Warren, the Big 12's freshman of the year, had 16 points for the Sooners and Taylor Griffin, Blake's older brother, had 18 points, five rebounds and four steals.
Holmes had 14 points for Morgan State while Marquise Kately had 11 and Stokes had nine.
It was the 14th time Warren had 15 or more points.
More like this story on KUsports.com