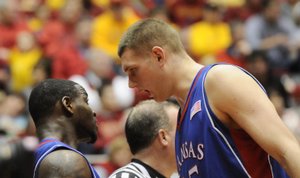 Bill Self knew early-on there was one way — and only one way — for Kansas University's basketball team to survive the loss of five starters from the 2008 national title team.
Quite simply, it was for junior guard Sherron Collins and sophomore center Cole Aldrich to combine for monster seasons both on the court and in the locker room in 2008-09.
"Coach Self came in last summer knowing we'd be shorthanded with so many guys leaving. He took Sherron and I aside and said, 'Hey, you've got to show these young guys how Kansas basketball is played,''' Aldrich recalled. "We play tough. We play hard and we play fast.
"That's one thing he wanted Sherron and myself to do, to fill the young guys in on what the guys were like last year and to play as well as we possibly could at practice and in the games."
The only Jayhawks who played significant minutes on last year's national champions responded in fine fashion.
KU's dynamic duo earned first-team all-Big 12 honors from both the Associated Press and the league coaches in helping the Jayhawks win 14 of 16 games and place first in the league chase.
"We'd have no chance to be where we are without Sherron and Cole," KU coach Self said. "Sherron had a week or two where he maybe didn't perform as well. For the most part, he's been the model of consistency. Cole's been terrific. We've got two really good players in Sherron and Cole."
Collins, a 5-foot-11, 200-pound dynamo, actually started slowly this school year. Off his feet as he rehabbed from offseason knee surgery, Collins' weight blossomed during a two-week trip back home to Chicago.
"I didn't allow him to play in Canada (over Labor Day weekend) because I wasn't really happy with him," Self said. "Still he was a great leader. He didn't look down on the guys (for playing ahead of him).
"Since then he's been great. He feels it's his team. I really am proud of him. He's done a fabulous job with these young guys."
It seems Collins took it to heart during the nonconference season when Self complained that he had to coach "effort" at practice.
Collins at that point told KU's coach he'd take care of the effort situation, and indeed, shortly after, the young Jayhawks came to work each and every day.
"Coach said it before and he was right, that if he didn't have to coach effort it'd be a lot different," Collins said. "We'd be wasting time at practice because nobody was trying.
"All the young guys finally bought into effort, and we could work on defensive positioning, trapping the post, things like that. The young fellas bought into what coach was trying to do."
Partly because of Collins, who averaged 18.3 points and 5.0 assists during the regular season. He hit 42.4 percent of his shots, including 38.2 percent of his threes (68 of 178).
"I thought he'd potentially be the best leader we've had the last two years. He'd just been hurt," Self said.
"He's not scared of his voice. He'll certainly say what's on his mind. It's his team. He's let his emotions show more than the past. He's been remarkable with the patience, toughness and tough love and everything else he's given our young guys, accelerated them along the way. He's what the team needs, somebody to feed off of. He's had the time of his life doing it."
Aldrich, who leads more by example than words, agreed Collins' voice was the most distinctive on the squad.
"Sherron says things all the time," Aldrich said. "When we are down and things are not going well, he's a guy everybody looks to. Whether me or the young guys — it seems we have 50 young guys on the team — we look to him. He's been through it. Winning the national championship last year, he played significant minutes on that team. He's a great leader."
Collins is just as complimentary in discussing the 6-11 Aldrich.
"He's shocked me in every way this year: rebounding, blocking shots. He has great inside presence," Collins said. "He's the best big man in the country. I wouldn't trade him for anybody."
Aldrich entered his sophomore season with a lot of confidence after causing North Carolina standout Tyler Hansbrough fits in last year's Final Four semifinal in San Antonio.
"The big thing is I learned so much last year going against Sasha (Kaun), Darnell (Jackson), Shady (Darrell Arthur)," he said. "They're really tough and taught me a lot."
"He's come a long way since he got here," Self said of the player who averaged 14.8 points and 10.5 boards during the regular season. He hit 60.1 percent of his shots.
"I think the way he is playing now is the way any coach would want their big guy to play — being aggressive.
"There are not a lot of 6-11 guys with a 7-3 or 7-4 wing span around the country. There are guys like Cole I don't know if any possess his touch, his hands, his ability to step away from the basket, to be able to run and do some of the things he does. He has a chance to be a special player."
Aldrich, like Collins, is not only talented but tough.
He finished the game at Nebraska with a broken nose and played effectively with a protective mask for several games after busting his schnoz.
"Just being aggressive," Aldrich said of the key to stellar play. "Every time I go up I try to rip the rim down. Whenever I dunk I try to take the backboard with me. That's one thing coach tried to get me to do last year. I think I've done a better job of it this year."
The sky obviously is the limit for the tall Minnesotan.
"He's young. He needs to mature, gain strength to where his body can handle it every day," Self said. "His lower body strength needs to be better where people can't be able to nudge him off balance."
Self would love to coach the dynamic duo one more year. Their decisions whether to remain at KU or turn pro will be made at the conclusion of the season.
For now, it's the 2008-09 postseason, and the dynamic duo has set no limits on how far KU can go.
"I think we are a good team," Aldrich said. "We've done a good job of taking it one at a time. That's been what's gotten us this far. We'll continue to do that."
"Nobody thought we'd get this far," Collins said. "We got this far by listening to the coaches, buying in. I have confidence in Cole and the young fellas. It's been a lot of fun playing with them this year. We'll keep working and see where it takes us."