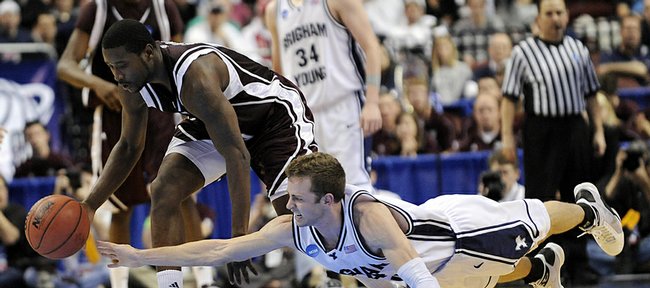 Texas A&M vs. BYU
Feature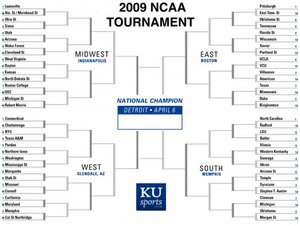 Get yer bracket on! Browse all brackets, check out out KUsports.com staff brackets, and check to see how your bracket's holding up after each match up is complete.
Philadelphia — Bryan Davis drove to the basket, drew a foul and tossed the ball up over his head with his back to the net.
Like most of his higher-percentage shots, it went in.
With Davis leading the way, Texas A&M; beat Brigham Young 79-66 in the first round of the West Regional on Thursday.
Davis scored 21, Donald Sloan had 14 and the ninth-seeded Aggies handed the Cougars their seventh straight opening-round loss in a rematch from last year. Both teams drew the same seeds last March when A&M; won 67-62.
"He had it going," Aggies coach Mark Turgeon said of Davis. "I told him to play with energy and play with poise. He made a couple shots today, I think his eyes were closed."
The Aggies (24-9) will meet the Connecticut-Chattanooga winner Saturday.
Jimmer Fredette scored 18 and Lee Cummard added 17 for BYU (25-8).
"I think we had too much energy and rushed offensively," Cummard said. "Defensively, we knew what they were doing but we gave them too much room."
Looking for its first tournament win since 1993, BYU came out flat. An outstanding perimeter-shooting team during the season, the Cougars couldn't make a shot early.
Meanwhile, the Aggies couldn't miss. A&M; made its first 10 shots and built a 22-7 lead less than eight minutes in. Davis had eight of those 22 on three mid-range jumpers and a reverse layup.
"We had an advantage down low and we wanted to play inside-and-out," Davis said.
The Cougars missed six straight shots after Jackson Emery started the game with a 3-pointer. They were 3-for-15 at one point, and finished 23-for-59 (39 percent), far below their season average of 48.7 percent.
BYU trailed 26-8 when coach Dave Rose called a timeout before the midpoint of the first half. Whatever he said worked. Jonathan Tavernari and Cummard hit consecutive 3s, sparking a 16-6 run that pulled the Cougars within 32-24.
But the Aggies quickly answered with a run of their own. B.J. Holmes nailed a pair of 3s to make it 40-27 and A&M; took a 42-30 lead into halftime.
"It makes it really tough. It's almost like an irreversible momentum," BYU's Chris Miles said of A&M;'s strong start. "It seemed like it was 15 points the whole game. They were hitting everything including some tough shots."
BYU cut the deficit to single digits only once in the second half after Fredette's driving layup capped off a mini 6-0 run to make it 47-38. The Cougars had a chance to get closer but missed a pair of 3s.
"I felt if we could get one of those shots, it might be different," Rose said.
The Aggies then pulled away with seven straight points. Nathan Walkup had two layups sandwiched around Josh Carter's 3-pointer to make it 54-38.
An alley-oop slam by Derrick Roland off a pass from Dash Harris extended the lead to 60-44. BYU never got closer than 11 the rest of the way.
Carter, the Aggies' leading scorer, wasn't a factor in the first half, when he scored only two of his 10 points. Carter's teammates, especially Davis, had no trouble picking up the slack. Five players scored in double figures.
"They played zone and they were shadowing me," Carter said. "My teammates were getting good looks and knocking them down."
A&M; now heads to the second round of the NCAA tournament for the fourth consecutive year. The four straight appearances in the tourney already are a school record.
The Aggies were only 3-7 in the Big 12 a month ago and seemed unlikely to get an NCAA bid. But A&M; won six in a row to end the regular season, before losing to Texas Tech in the conference tournament.
For BYU, it's another disappointing end to a strong season. The Cougars have won 20 games four straight years under Rose after going 9-21 in 2004-05. But they haven't had any postseason success.
"I didn't want to say this before the game, but I felt there was more pressure on them because they've never won," Turgeon said. "We've won some tournament games, so we were more relaxed. That was a lot of pressure on those kids."
More like this story on KUsports.com