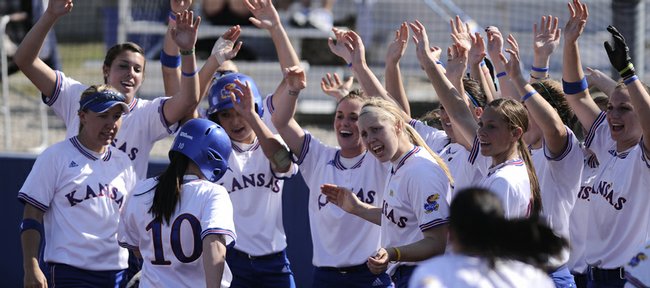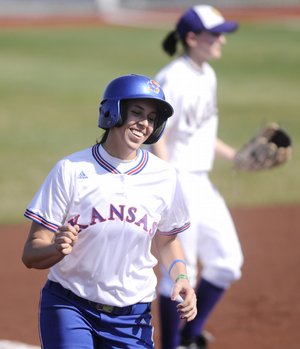 Sara Ramirez may not be Irish, but she wasn't taking any chances on St. Patrick's Day.
While playing second base for Kansas University's softball team on Tuesday, Ramirez wore a green hairband, placed a green sticker on her jersey and put green on her cleats.
"Some luck found me today," Ramirez said after her two-run home run started the Jayhawks to a 9-4 win over Western Illinois at Arrocha Ballpark.
Ramirez, a junior from Pacoima, Calif., lofted a fly ball over the left-field fence with one out in the third inning and Elle Pottorf on first base.
Ramirez's blow, her first extra base hit of the season, began a six-run inning that also featured a three-run blast over the right-centerfield fence by soph outfielder Allie Clark.
Curiously, Clark is the tallest player on KU's roster at an even six feet while Ramirez is the, uh, un-tallest at 5-foot-1.
Not that Ramirez doesn't pack a punch. Tuesday's homer was the 10th of her career. Her problem has always been batting average, and she's off to a turgid start with her average hovering well below .200.
"I feel like I'm coming around offensively," said Ramirez, who also scored twice and stole a base. "It's been tough, but you have to keep working and stay positive."
KU coach Tracy Bunge has stayed with Ramirez during her early struggles, figuring she would turn it around eventually.
"She's looked better the last week or two," Bunge said. "I think she was pressing, thinking 'I'm a junior now,' but she was putting too much pressure on herself. Hopefully, today is a building block."
Unseasonably warm upper 70-degree temperatures on Tuesday may have been a contributing factor to Ramirez's resurgence as well.
"I'm from California, so I love playing in the sun," she said with a grin. "I hate playing in the cold."
Kansas was out-hit, 7-6, by the Westerwinds, but four of KU's hits were for extra bases — the homers by Ramirez and Clark, and doubles by Amanda Jobe and Dougie McCaulley. KU also took full advantage of three WIU errors by scoring four unearned runs.
Kansas (10-14) will begin Big 12 Conference play this weekend at Oklahoma State.
"We're doing everything we can to be ready," Bunge said. "We have four practice days this week and that's not something you normally get this time of year."
Bunge also did something she had never done during her first dozen years as KU's coach. She gave her players three days off over the weekend.
"Hopefully, we'll be rested and ready to go," Bunge said.
l Notes: Weathered out of a doubleheader last week at Missouri State, KU will meet the Bears in a single game at 3 p.m. next Tuesday at Arrocha. …Sarah Vertelka pitched 31⁄3 innings of run-less relief to pick up her third win. … Clark's homer was her team-high third of the season. … WIU's record dipped to 8-11.
More like this story on KUsports.com