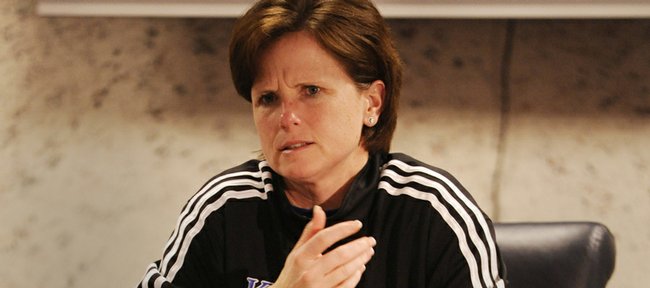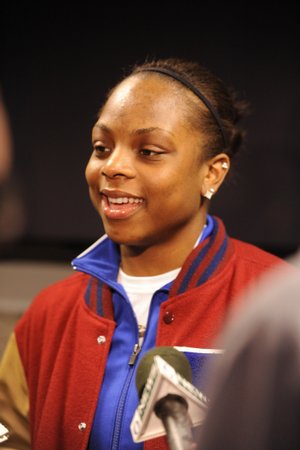 For the ninth year in a row, Kansas University's women's basketball team failed to earn a berth in the NCAA Tournament.
But the Jayhawks were close this time, probably closer than they've been during the long drought.
"I really felt if we weren't the last one in," KU coach Bonnie Henrickson said after Monday night's bracket was announced, "we'd be the first one out."
Perhaps the Jayhawks were the first one out. Maybe they weren't, but it seems likely KU was on the cusp because Georgia made it, and the Bulldogs' compiled the same 18-13 record as Kansas.
"I think Georgia and Minnesota (19-11) and us were probably in the same conversation," Henrickson said.
In the final analysis, the Jayhawks were unable to overcome their miserable 2-9 start in conference competition. Still, Henrickson and her players held out hope because of their late surge.
Kansas won five of its last seven, and two of those wins — Baylor and Iowa State — were against ranked teams.
"I thought because of who we beat it would help us," Henrickson said, "because everyone on the bubble has lost games they shouldn't have."
Three of those galling Kansas defeats occurred during the conference race — road games against tail-enders Missouri and Colorado, and a home game against Texas Tech in which the Jayhawks shot a miserable 28.1 percent.
As the KU players and coaches watched the selection show on television in the Naismith Room at Allen Fieldhouse, the tension built with each passing regional revelation. Then when the last regional bracket was announced, again without Kansas, a pall fell over the room.
"I was pretty disappointed," senior Ivana Catic said. "I had to hold back tears. We had a good feeling because we played so well down the stretch."
Six Big 12 Conference teams — the entire first division and all of them ranked, incidentally — were tapped. Of the remaining six, Kansas had the best overall record, but KU shared seventh place in league standings with Texas Tech and Nebraska — all with 6-10 records — and that may have been a factor.
"I think 7-9 would have made it," Henrickson said, "because 7-9 went last year."
Henrickson was referring to both Texas and Iowa State making the NCAA field in 2008 despite 7-9 conference records.
"We have nobody to blame but ourselves, and we understand that," Henrickson said. "Now we need to stay motivated and continue to play well down the stretch. We're still excited to play in the WNIT."
The Jayhawks will play the winner of the first-round game between UC-Riverside and Creighton at 7 p.m. Monday at Allen Fieldhouse.
More like this story on KUsports.com