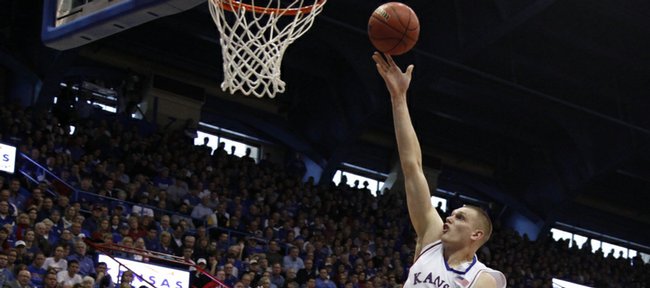 Jefferson High Alumni
List of notable alumni of Jefferson High:
• Thomas E. Burnett Jr.: one of the passengers aboard United Flight 93 on September 11th, 2001.
• Ben Clymer: left wing, Washington Capitals
• Mike Crowley: retired NHL defenseman
• Tom Gilbert: defenseman, Edmonton Oilers
• Ben Hendrickson: pitcher, Durham Bulls
• Lane Kiffin: head football coach, University of Tennessee
• Tom Kurvers: retired NHL defenseman, 1984 Hobey Baker Memorial Award Winner
• Lloyd Lee: linebackers coach, Chicago Bears
• Tom Lingle: gold medalist free style alpine ski
• Kevin Lynch: retired NBA forward
• Mark Parrish: right wing, Dallas Stars
• Toby Petersen: right wing, Dallas Stars
• Dan Trebil: retired NHL defenseman
• David Watson: defensive line coach, Southern California
Source: Wikipedia
Jeff Evens plans to take a long lunch on Friday.
"I'm not supposed to tell, but I may try to sneak out of school. There's a game in the morning. I may get to that. Our principal knows my intentions as well," Evens, boys basketball coach at Bloomington (Minn.) Jefferson High, said with a laugh.
He desperately wants to support one of his former Jaguars — Kansas University center Cole Aldrich, who played for him for four years at the school located 10 miles from the Metrodome, site of Friday's 11:30 a.m. first-round NCAA Tournament game between KU and North Dakota State.
KU's game will end in plenty of time for Evens to prepare his team for Friday night's sectional championship game against Eden Prairie.
"Cole does keep in touch with one of my senior captains who played with him when he was a sophomore," Evens said. "Cole called him last night. I wonder if he'll sneak out (of school Friday). I'm not going to tell the kids what to do. I won't tell them, 'Don't go.' They know what's at stake (Friday night)."
Evens — who is in his 26th year at Jefferson — hasn't spoken with prize pupil Aldrich since Sunday's announcement that the Jayhawks were headed to play in the NCAAs in Aldrich's home state.
"I'm not going to bug him," Evens said of Jefferson High's all-time leading scorer. "He'll be coming home and be swamped with friends calling for tickets. I talk to him every two or three weeks. I came down to see him play this year at Iowa State. He's such a good kid. He had family there. He came out after the game and talked to my 8-year-old boy. That really meant a lot to him."
Evens — he also coached retired NBA players Kevin Lynch and Steve Lingenfelter at Jefferson High — has been mighty impressed with the 6-foot-11, 245-pounder's play in two seasons at KU.
Aldrich takes a 14.6 scoring, 10.6 rebound average into Friday's NCAA opener.
"I think first of all he is a tremendous kid with a lot of God-given ability. He realizes he has some ability and has been working hard to polish that ability," Evens said.
He remembers the hard work Aldrich put in as a developing high school player.
"When he was in ninth grade, I saw a big kid walking in the gym. I knew he had a lot of physical skills," Evens said. "For him to move to the level he has, he had to find his way into the weight room and plyometrics. He found a way to do those things.
"As a freshman, the varsity game was quick for him as far as understanding where he should be on the floor. But his skill-wise was already at the level (of prep upperclassmen)."
Evens did not have to deal with distractions involving Aldrich's recruitment in high school. Cole committed to KU on his birthday — Halloween Day — right before the start of his junior season.
"He came in my office at 7:15 (a.m.) and said, 'I'm going to KU.' I knew he was thinking about going there, but I said, 'Sit down and tell me the reasons you are going to KU.' I was getting phone calls from Minnesota, Michigan State and other places asking, 'Why is he committing so early?'
"He gave me four reasons that were wise beyond his years. I was impressed what he wrote down for his reasons," Evens added.
He didn't disclose Aldrich's wants and desires in a college, only to add, "In his heart, I think he always wanted to go to KU. That's why, in my heart, I think he'll stay (another year of college) because it's where he's always wanted to play. I hope he does (stay). But that's a decision for him and his family. I have no idea what he'll do. I don't think it's my place. It's for Cole and his family to discuss."
Cole's dad, Walter, reiterated this week that the decision whether to enter the NBA Draft or return for a junior year will be made after the season, though Walter did say: "I think another year would probably do him good, (for him to) continue working on his body. He's having a great time in school."
Cole Aldrich has said he's more worried about helping KU win each game his sophomore season than looking down the road.
He's hoping to follow last year's national title with a deep run in the 2009 NCAAs.
For that to happen, the Jayhawks (25-7) must defeat North Dakota State (26-6), a school located in Fargo, N.D., just a 31⁄2-hour drive away from the Metrodome.
"Their assistant athletic director said today that they anticipate 12,000 fans coming to the game," Evens said. "It's really big for them. I remember they came down as a Div. II program two years ago and played our Gophers and beat them.
"They had half the dome — 20,000 fans," he added, referring to the Bison's 27-21 football win over the University of Minnesota Golden Gophers on Oct. 20, 2007.
"There are a bunch of KU fans here, too," Evens added. "At least a dozen kids from our school go to KU. I see shirts and hats, maybe more because of Cole."
Evens has had no problem keeping up with Aldrich.
"We've seen him on TV more than the Gophers here," Evens said. "The Big Ten network was not available here last year. Kansas games have been available (on satellite), and they are on national TV all the time as well."
More like this story on KUsports.com