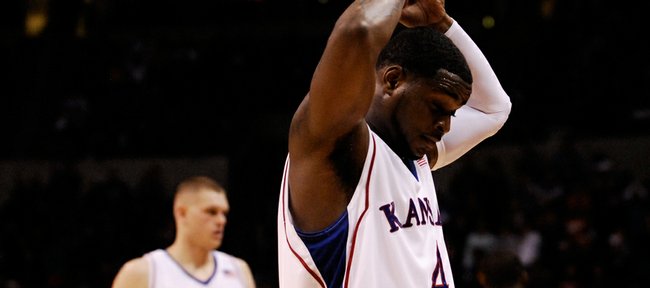 Cole Aldrich isn't dreaming of a triumphant return to his home state of Minnesota for the first round of the 2009 NCAA Tournament.
"I'd rather be in Kansas City," Aldrich, Kansas University's 6-foot-11 center, said Saturday.
Most pundits believe the Jayhawks (25-7) either will open the NCAAs on Thursday at Kansas City's Sprint Center or Friday at the Metrodome in Minneapolis, which is located about 10 miles from Aldrich's hometown of Bloomington.
"If there's one in Hawaii, we wouldn't mind being in Hawaii for a weekend or two, but I think Kansas City would be great," Aldrich added. "I'd love to get back home, but being a good seed in Kansas City, I think, would work wonders for us."
The so-called experts believe the Jayhawks are battling Oklahoma (27-5) and Missouri (28-6) for a slot in nearby Kansas City.
As of mid-Saturday night, ESPN's Joe Lunardi still had KU as a No. 2 seed in K.C., Oklahoma a No. 3 in Minneapolis and Missouri a No. 3 in Boise, Idaho (his projections are constantly changing at ESPN.com).
Of course, nobody but the NCAA Tournament committee members know how much weight the Tigers' Big 12 tournament championship will be given compared to KU's regular-season title, as well as the fact superstar Blake Griffin was sidelined in two of Oklahoma's losses.
It'll all play out at 5 p.m. today when NCAA Tournament pairings and sites are announced on the Selection Sunday show on CBS.
"I would love to be a 2 (seed) in Kansas City, but that's up for the committee to decide," Aldrich said. "There's only so much we can do throughout the season so far to put ourselves in that position. I think we've put ourselves in a good position."
KU coach Bill Self on Saturday admitted he has become a bracketologist of sorts the past couple of days.
"I've studied it pretty hard," Self said. "I think we have a great chance to be on the 3 line. I also think when you really break it down, you could make a strong case for seven teams that are positively 1s and 2s. Where does the eighth team come from? You go from about the eighth team to the 14th team, then, 'OK, who is not going to be on the 3 line? Who is going to be 13 and 14 (4 seeds instead of 3s)?'
"I think we are in that mix. Absolutely ... us, Missouri and OU. I don't have a real feel where we'll be."
Lunardi has listed seven teams as locks to be 1 and 2 seeds: North Carolina, UConn, Pitt, Louisville, Memphis, Duke and Michigan State.
He has had KU as his final No. 2 of late, with OU, Missouri, Villanova and Wake Forest as his 3s.
"I think it's a coin-flip type deal," Self said of which Big 12 team would be awarded a slot in the Sprint Center, along with Memphis. "I think at least one school from our league will be in Kansas City, I just don't know who that would be."
Self said he wouldn't be surprised if KU today were awarded a slot in Kansas City, "But I wouldn't be surprised if other schools in our league were put there, too."
While Missouri has entered the discussion following Saturday's 73-60 victory over Baylor in the Big 12 tournament finals, it long has been believed OU and KU were the two league teams fighting for Kansas City.
"I think there's no question Oklahoma has had a better overall season (than KU) when you count the nonconference, and there's no question since January since we started conference we've had a better season," Self said.
"Is our better late better than their better early? I don't know how people will look at that."
KU junior Sherron Collins said ultimately it doesn't matter where the Jayhawks are sent.
"In the tournament, all the games are tough," Collins said.
Yet he acknowledged, "I think Kansas City would be special for all our fans here, seeing us play tournament games. The support we'd have here would be great. Even as close as Minnesota is, I think we'd still be all right, though.
"Coach has been trying to get us to stay away from it (tourney talk) until tomorrow," Collins added. "We'll all watch it together. Hopefully we'll get to play in Kansas City. If we don't, we're playing somewhere else. We're just excited we get to play."
As far as other Big 12 teams making the Big Dance, KU coach Self said, "I think we've got six in as a lock. But there could be nailbiting time for some teams depending on what happens in some other leagues."
He mentioned USC, Maryland, Temple and Ohio State taking "bubble slots" from some unlucky teams in the country.
ESPN's Lunardi has said KU, OU, Missouri, Texas, Texas A&M; and Oklahoma State are assured of the tourney, with Kansas State on the outside looking in, likely headed to the NIT.
More like this story on KUsports.com