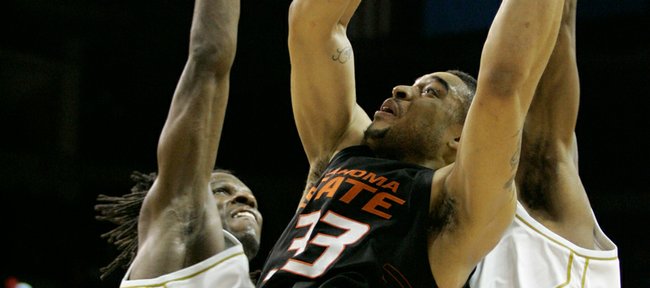 Oklahoma City — Zaire Taylor and No. 14 Missouri continue to show that playing fast doesn't necessarily mean playing pretty.
The Tigers will take the wins any way they come.
Taylor scored a season-high 19 points, Leo Lyons added 12 of his 15 points in the second half and the Tigers were the first to break through in an off night for offense, beating Oklahoma State, 67-59, to move on to today's 5 p.m. Big 12 championship game against Baylor.
The teams combined to shoot only 18 percent from 3-point range, making just 10 of 55 long-range shots, despite both coming in ranked among the nation's leaders in offense.
"It wasn't a thing of beauty," Missouri coach Mike Anderson said. "But sometimes ugly is better for us."
Kim English scored four points in an 8-0 burst that put Missouri ahead to stay midway through the second half, and the Tigers (27-6) pushed the lead to 54-47 when Matt Lawrence connected on a rare three-pointer from the right corner with 5:21 to play.
The Tigers hung on from there to earn a spot in Saturday's title game against ninth-seeded Baylor. Missouri is seeking its first Big 12 championship, having lost its only previous appearances in the finals in 1997 and 2003.
"I always say shooting comes and goes, and it went tonight," Anderson said. "I thought our defense was the constant."
James Anderson scored 20 points to lead Oklahoma State (22-11), and Marshall Moses had 16 points and 12 rebounds.
The Cowboys, who average the fifth-most three-pointers in the nation with 9.5 per game, misfired on their first 16 attempts and found themselves behind when they finally broke through.
"It definitely affects us when we're not making threes," Moses said. "We have big-time 3-point shooters and that's a big part of what we do."
MU wasn't much better.
The Tigers, who average the same 81.8 points per game as Oklahoma State, started out 4-for-28 from three-point range.
Cowboys point guard Byron Eaton hobbled off the floor with 9:32 left before halftime after spraining his left foot. He was able to return and play all 20 minutes after halftime.
More like this story on KUsports.com