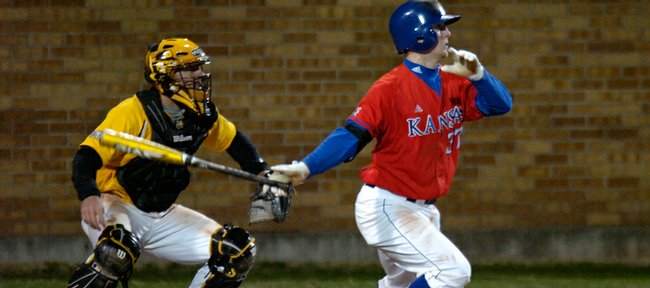 Shaeffer Hall threw a no-hitter in sunny skies three weeks ago for Kansas University's baseball team against Air Force.
Lee Ridenhour tossed eight innings of shutout ball in freezing temperatures on Wednesday night, allowing three hits in an 8-0 victory against Wichita State.
Which pitching performance was more impressive?
Given the weather conditions Wednesday at Hoglund Ballpark and the level of competition, Ridenhour may have taken the title.
At least, that's what one of his teammates thought.
"That was probably the best outing I've ever seen since I've been here in my three years," KU second baseman Robby Price said.
Kansas coach Ritch Price didn't budge much from his son Robby's assessment after the game, either.
"When you take into account the elements — it was a really tough night to pitch — I thought he was really outstanding," Ritch Price said.
Ridenhour dominated the Shockers (6-6) in temperatures that dipped to 30 degrees by the first pitch, mixing his fastball with a knee-buckling curve and never allowing more than one runner on base in any inning.
He got plenty of offensive support, thanks in large part to Robby Price, who homered and drove in four runs on three hits. Price's home run in the fourth inning handed a 2-0 lead to Ridenhour, who improved to 3-0 and lowered his earned-run average to 1.71.
Ridenhour was taken in the 31st round of the 2008 Major League Baseball draft by the Minnesota Twins but opted for Kansas instead.
"It was pretty tempting," Ridenhour said of making the move to the pros. "There was like $150,000 thrown around and a full ride and the Twins have a great developmental program. But I've learned so much here. ... I don't really know where I would have been professionally, if they would have given me the same shots."
The Jayhawks, 9-3 and winners of seven straight, sure are glad Ridenhour ventured to Lawrence, too.
"We've been looking for a signature player since I got here," Ritch Price said. "When you're trying to become a top 25 program, it starts on the mound."
More like this story on KUsports.com