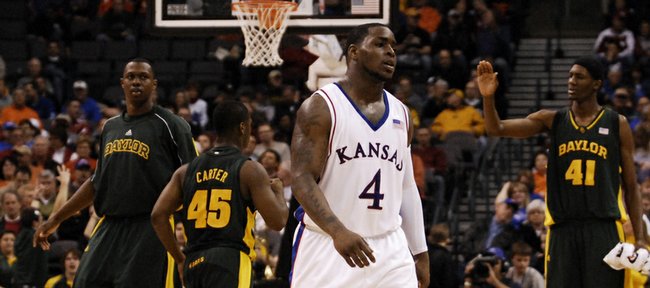 FINAL: BU defeats KU, 71-64
LaceDarius Dunn scored 24 points on 6-for-11 shooting from deep, leading ninth-seeded Baylor to a 71-64 victory over top-seeded Kansas.
After falling behind 30-13, KU rallied to take a 56-51 lead in the second half on a layup by Markieff Morris.
A few minutes later, the Bears followed with a 10-0 run to take control.
The Jayhawks, down three, had a chance to tie it with 26.5 seconds left, but Sherron Collins airballed a three-pointer. BU's Henry Dugat hit both ends of a one-and-one on the other end to put the game out of reach.
"Our guys showed a lot of heart, and obviously they knew coming into this we are going to have to leave it on the line and come together as a team," Baylor coach Scott Drew said. "I couldn't be more proud of the effort."
Baylor snapped a seven-game losing streak against KU.
It also was the first time that the Jayhawks had lost their opening game in the Big 12 tournament.
"I thought Baylor controlled the game from the get-go," KU coach Bill Self said. "They were certainly better than us from the start. We got exactly what we deserved."
Collins led KU with 16 points, but he made just six of his 20 field-goal tries. He was 1-for-8 in the first half.
Tyshawn Taylor and Marcus Morris contributed 12 points each. Taylor has averaged 15 points in his last five games on 25-for-41 shooting.
Against a packed-in 2-3 zone, Big 12 first-team selection Cole Aldrich managed just eight points on 3-for-5 shooting.
"I think it is a tribute to their zone. I think it is a tribute to our perimeter not doing a great job," Self said. "Cole has to take responsibility for it, too. Guys have to find a way to get the ball."
Kevin Rogers added 14 points for Baylor (19-13), which advanced to the semifinal round of the Big 12 tournament for the second time in school history.
The loss snaps a nine-game winning streak for KU (25-7) at the Big 12 tournament.
The Jayhawks will learn of their NCAA tournament destination Sunday.
KU scoring
Collins 16 (6-for-20 shooting), Marcus Morris 12, Taylor 12, Aldrich 8, Reed 6, Little 6, Morningstar 2, Markieff Morris 2.
KU was 25-for-62 from the floor (40.3 percent), 8-for-25 from three (32 percent) and 6-for-10 from the free-throw line (60 percent).
BU was 27-for-60 from the floor (45 percent), 8-for-25 from three (32 percent) and 9-for-13 from the free-throw line (69.2 percent).
FINAL: BU defeats KU, 71-64
Kevin Rogers hits a tough turn-around, and Collins follows with a missed shot in the lane.
Henry Dugat's 18-footer rattles out, and KU has a chance to tie down three with 36 seconds left.
Collins airballs an open three with 26.5 seconds left.
Dugat is fouled, and the 76-percent free-throw shooter knocks both down to put the Bears up five.
Collins' pass to Morningstar is stolen, and Dugat puts in a layup on the other end to finish off the upset.
KU loses by seven.
BU 65/KU 64 — 1:51 left in game
Just like that, Baylor is back on top.
Markieff Morris misses a contested dunk, and Dunn puts in his fifth three after a scramble play under the basket.
Reed forces a bad pass in traffic, and Dunn steals it before laying it in for two. Self calls timeout. Dunn is up to 21 points, and the Bears have made their run with Jerrells on the bench.
Mamadou Diene slams the ball off a pass from Rogers, and Dunn follows with a three in transition. That's 10 straight points for BU, and KU has gone cold from the field.
Reed follows with a three to break KU's extended drought. Two bad plays in a row, one from KU and one from Baylor. After clearing a rebound, Markieff Morris tried an impossible outlet pass, which was stolen.
Dunn jacked up a quick, quick three for Baylor, though, and after it missed, Collins drilled a three behind a screen to pull KU within one, pumping his fist after the shot went through.
KU 58/BU 55 — 7:46 left in game
KU finally gets over the hump and takes the lead, thanks to an unselfish play by Collins. After driving under the basket, Collins found Reed on the perimeter, and "Mr. Big Shot" (as our own online producer Nick Nelson calls him) swished the trey to put KU up, 54-51.
Seconds later, Reed missed from three, but Markieff Morris caught the carom and laid it off the glass for two in one sweeping motion. Drew calls timeout, and Collins waves his arms, urging the KU fans to come out of their seats.
Marcus Morris throws in a line-drive shot in the lane. He's 5-for-10, but when he gets in that zone opening, it looks like he's forcing up his shot too quickly. He needs to get the ball, compose himself, then shoot, instead of trying to do all three things in the matter of a half-second.
BU 49/KU 49 — 11:17 left in game
KU isn't looking inside to Aldrich at all. The Jayhawks are getting bailed out by making shots, as Collins has swished two more threes.
Finally, KU gets it in the paint, and the final result is a layup by Little to tie it.
Little misses a jumper, and Self is furious with the no-call. The coach flirts with a technical, but backs off on the officials at just the right time.
Little, who stayed down on the court for a few seconds, came out of the game, but he isn't receiving medical attention. On the replay, it didn't look like there was much contact at all.
BU is just 5-for-17 from the field this half (29.4 percent).
BU 42/KU 40 — 15:58 left in game
Aldrich hits a fadeaway, then Collins puts in a fast-break layup to tie the score.
But Morningstar falls asleep defensively at a bad time, and BU gets some mometum back with Dunn's fourth three.
A good sign for KU, as Collins rattles in a three from a few feet beyond the three-point line. After a 1-for-8 start, Collins is 2-for-2 this half.
KU scoring
Taylor 10 (4-for-5 shooting, 2-for-2 from three), Marcus Morris 9, Aldrich 6, Little 4, Collins 2, Morningstar 2.
KU was 14-for-31 from the floor (45.2 percent), 2-for-10 from three (20 percent) and 3-for-6 from the free-throw line (50 percent).
BU was 13-for-24 from the floor (54.2 percent), 5-for-13 from three (38.5 percent) and 6-for-8 from the line (75 percent).
A few quick thoughts
• Is this not a carbon-copy of the Kansas State game earlier this year? KU trailed in that game, 30-13, before making a run led by Marcus Morris. Of course, the Jayhawks went on to win that game.
• Brady McCollough of the Kansas City Star tells me that was the 17th time in KU's 32 games that they have scored in the last 10 seconds of the first half.
• Baylor is 12-0 this year when shooting 50 percent or better from the floor. The Bears shot 54.2 percent in the first half. KU hasn't let an opponent shoot 50 percent or better against it since the 2007-08 season-opener against Louisiana-Monroe.
BU 37/KU 33 — Halftime
KU hits a drought at the wrong time. Collins misses a three. So does Marcus Morris. Aldrich's follow rattles out.
On a drive, Taylor finally breaks the dry spell with a floater inside.
Once again, though, the Jayhawks prove to be the best two-minutes-and-under-in-the-first-half team in the nation.
Morningstar throws in a tricky reverse layup, and with five seconds left, Taylor swishes a three from the side. KU, which trailed by as many as 17 in the first half, is down just four at the break.
BU 32/KU 24 — 3:36 left in 1st half
Travis Releford throws an entry pass right to a Baylor defender. KU has five turnovers already.
KU struggles with defending a simple ball screen, as Jerrells finds an opening for an uncontested three. The Jayhawks look dazed, and Self uses his second timeout with his team trailing, 30-13.
Collins gets called for a hand-check, and he complains to the official. He hasn't shown much good body language toward officials or teammates early in this one.
Aldrich is starting to become a presence inside. He follows a Marcus Morris miss with a tip-in, then gets fouled in the lane on another follow attempt.
Taylor hits an open three on a feed from Collins. He had passed on the shot all game, but KU needs him to take it.
After a miss from Jerrells, Collins pushes the pace, and Marcus Morris eventually gets free underneath for a layup. That's a quick 9-0 run for KU, and reluctantly, BU coach Scott Drew calls timeout.
Right in front of us, Collins yells some encouragement to his teammate: "Let's go Brady! Let's go Brady!" The recent run looks like it has helped bring some better leadership from the KU guard.
BU 26/KU 13 — 7:52 left in 1st half
Mario Little misses two at the free-throw line. He has to be a scorer when he's in there.
Dunn drains another three. I'm reminded of former NFL coach Dennis Green's line, "They are who we thought they were." Dunn is who we thought he was — a chucker and a shooter. KU still hasn't defended him well, though, as he has 11 points on 3-for-5 shooting from three.
Little hits a six-foot fadeaway in the lane. That shot is going to be there all day for him against this zone.
Collins is 1-for-7 from the floor with just two points. KU is 0-for-4 from three.
BU 21/KU 9 — 11:48 left in 1st half
The zone has taken KU out of sync offensively. The Jayhawks look hesitant with the basketball. Self is trying all sorts of different combinations, but they're not working right now.
Marcus and Markieff Morris aren't hitting eight-to-10-foot jumpers, and that's hurting the Jayhawks quite a bit. Mario Little checks in, and his mid-range game is exactly what the Jayhawks need against this zone.
Another bad sign for KU: Baylor is out-rebounding the Jayhawks, 7-4.
BU 13/KU 5 — 15:22 left in 1st half
LaceDarius Dunn hits a long three to beat the shot clock. Not good defense by Brady Morningstar, who should have known the deep try was coming.
BU's already gone to the 2-3 zone. Sherron Collins beats it with a lob over the top to Tyshawn Taylor, who lays it in.
Another three from Dunn. Morningstar gave him too much room again.
This isn't the Curtis Jerrells that we saw a month ago that didn't have a field goal against KU. He's much more confident today, driving in for two and hitting a fallaway three.
The Bears have gone 3-for-5 from deep, and they've controlled the game so far.
11:30 a.m.
Good KU representation in the seats, as a few thousand blue shirts circle the gym.
As a side note, it's pretty cold in here. I just saw Baylor's Kevin Rogers blow into his hands to keep warm. I don't think they're used to snow in mid-March in Oklahoma.
11:09 a.m.
OK, here are the answers to our quiz:
What is KU's all-time record in the finals of the Big 12 tournament?
Answer: 6-1. KU's only loss in the Big 12 championship game came in 2002 — a 64-55 loss to Oklahoma.
What is KU's all-time record in the quarterfinals round of the Big 12 tournament?
Answer: 11-1. Entering the 2000 Big 12 tournament as the No. 5 seed, KU defeated Kansas State in the first round before losing to Oklahoma State, 77-58, in the quarterfinals.
The Jayhawks are 11-0 in the quarterfinals after receiving a first-round bye.
Mario Chalmers scored how many points in last year's Big 12 Championship game against Texas?
Answer: 30. How quickly we forget the Big 12 tournament championship when it's on Selection Sunday. Chalmers had 30 points on 10-for-15 shooting from the floor and 8-for-12 shooting from three. It'll be nice this year for the championship team to have a day to enjoy its Big 12 tournament title.
Who has the highest point total in a Big 12 tournament game for KU (31)?
Answer: Wayne Simien. He scored 31 against Missouri in the quarterfinals of the 2004 Big 12 tourney.
What is KU's record all-time in the Big 12 tournament?
Answer: 25-6. KU, though, has won nine straight Big 12 tournament games.
In the Big 12 Tournament's 13-year history, how many times has KU earned the No. 1 seed?
Answer: 6. KU received the No. 1 seed in 1997, 1998, 2002, 2003, 2007 and 2009. If you had watched our season review video, you would have gotten this one.
How many times in Big 12 tournament history has an opponent shot 50 percent or better against KU?
Answer: 0. This was a trick question because it was a trick question. Oklahoma State shot 48.9 percent against the Jayhawks in 1997, but that's the highest an opponent has shot against KU in the Big 12 tourney. That surprised me a little bit.
Who has led the Jayhawks in scoring the most times (five) in Big 12 tournament history?
Answer: Paul Pierce. He led KU in scoring in five of his six Big 12 tourney games. Chalmers led KU in scoring four times, and Simien led KU in three contests.
10:33 a.m.
Here is an update on two Baylor injury situations.
Center Josh Lomers has a sprained ankle, but he should play. He was listed as questionable going into Wednesday's first-round game against Nebraska, but he ended up starting and scoring 11 points on 5-for-5 shooting.
The seven-footer's lack of mobility might affect Baylor's defense, though. The Bears went to a lot of zone against Nebraska, letting the big man stand in the middle of the lane instead of chasing around an offensive player.
When Lomers is in the game, I would predict a lot of zone from Baylor.
Six-foot-7 forward Quincy Acy, meanwhile, played just five minutes (all in the second half) against Nebraska while battling an upper-respiratory infection. He's averaging 5.9 points per game and had four points and five rebounds in the Bears' first game against KU this season.
9:56 a.m.
Welcome back to The Newell Post Live, coming to you from the Ford Center in Oklahoma City, Okla., where the No. 11 Kansas Jayhawks are getting set to take on the Baylor Bears in the quarterfinals of the Big 12 tournament.
KU has had some remarkable success in the 13-year run of the Big 12 tournament.
But how good have the Jayhawks been?
Let's test your knowledge of KU in the Big 12 tournament with the trivia questions on the left.
Answer the questions for yourself, and try to do so without any help (or without logging onto the Big12sports Web site).
Also, please don't post the answers in the comments section. You'll ruin the fun for everyone.
I'll give the answers and 11 a.m. If you're brave, you can post your guesses in the comments section below.
Also, anyone out there playing hooky from school? Or from work? Anyone called in sick to watch the game today?
Any good stories you have are open to the comments section below.