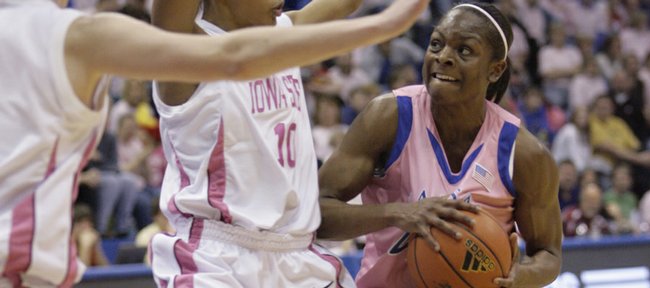 Oklahoma City — Danielle McCray can't do it all.
That's the message Kansas University women's basketball coach Bonnie Henrickson has been preaching to her players this week as they prepared for the Big 12 Conference tournament.
"We have some kids who have to step up offensively," Henrickson said.
KU's glaring lack of balance was typical last Saturday against Iowa State when McCray scored 27 points while the rest of the Jayhawks combined for just 22.
Among the other starters, Krysten Boogaard and Sade Morris posted eight points apiece while Nicollette Smith managed just one basket and Ivana Catic none. Aishah Sutherland had four points off the bench, and that was it.
"You lose in this league if you don't have people step up and show grit," Henrickson said. "You don't have to play great every night, but we can't have three kids not show up offensively."
Henrickson apparently was referring to slippage by Boogaard, Morris and Smith against ISU because Catic rarely shoots.
Despite bowing to Iowa State, 59-49, in the regular-season finale, the Jayhawks' 6-10 conference record — the best in Henrickson's five seasons at KU — earned a No. 8 seed in the league tourney that will begin today.
Tipoff will be at 1:30 p.m. against No. 9 seed Nebraska in the Cox Convention Center. The winner will advance to a Friday morning meeting with No. 1 seed Oklahoma.
Kansas split with the Cornhuskers during the regular season. Nebraska won, 67-58, in Lincoln, Neb., despite a 30-point performance from McCray.
Then KU captured the return game in Lawrence, 70-57, as four Jayhawks scored in double figures, marking only the second time in 16 league games that KU had double-figure scoring from as many as four players.
In compiling a 6-10 league record, the Jayhawks were 5-3 in Allen Fieldhouse, but only 1-7 away from home. The lone road victory was at Oklahoma State.
Kansas (17-12) has won four of its last five games, but the Cornhuskers are hot, too. They won five of their last seven to match KU's 6-10 league record.
NU (15-14) finished the regular season with an 82-74 win at Oklahoma State to become postseason eligible for the sixth consecutive season.
Forward Cory Montgomery led the Huskers against the Cowgirls with a career-high 30 points to go along with 11 rebounds. Montgomery, a 6-2 junior, had 20 points and nine boards the last time KU and NU met, and 18 points and six rebounds in the first meeting.
Kansas would have to advance deep in the conference tournament bracket in order to obtain an NCAA berth. Otherwise, KU is a virtual certainty to land a spot in the WNIT for the second year in a row.
More like this story on KUsports.com