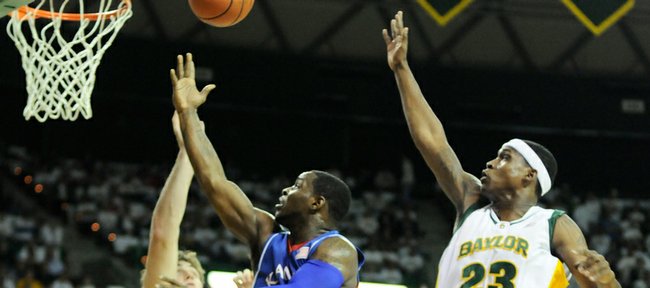 Oklahoma City — The 2008-09 college basketball season is two-thirds over as far as Kansas University coach Bill Self is concerned.
"We divide our season into three parts. In our first season, the nonconference, we had a grade of about 'C,''' said Self, a tough grader who was not wowed by KU's 11-4 record in out-of-conference games.
"We graded very well in our conference season," he added of a 14-2 run en route to the Big 12 title.
"Those two pale in comparison of what is getting ready to happen from this point forward. If it's going to be a third season. It can be a long season or short season. We've had both around here. I prefer the long ones," noted Self, whose Jayhawks could play as few as two games, as many as nine, the rest of the campaign.
The defending national champion Jayhawks officially open the 2009 postseason today at the Big 12 tournament. Tip for the quarterfinal contest against Baylor (18-13) is 11:30 a.m. at Ford Center.
The Jayhawks have rolled to three straight Big 12 tourney crowns, KU's last loss coming to Oklahoma State in the 2005 semifinals in Kansas City, Mo.
"There's always pressure playing at Kansas," junior guard Sherron Collins said, asked if the Jayhawks feel the heat to repeat once again.
"There was pressure in trying to go back-to-back-to-back-to-back-to-back" he added of KU winning five straight regular-season conference crowns. "We always handle it well, whether we win or lose."
A victory today would push KU into Friday's 6 p.m. semifinals against either Texas or Kansas State. Finals are 5 p.m. Saturday.
The NCAA Tournament starts for KU next Thursday or Friday. Pairings will be announced at 5 p.m. Sunday, on CBS.
"There's always pressure here keeping things going," sophomore guard Brady Morningstar said, when reminded that KU has won nine in a row in conference tourney action.
"A streak is a streak. If we get three more, great. If not, we can't look back on that, just look forward to the next weekend.
"We are trying to get another championship under our belt, more experience, a head of steam going into next weekend, getting the team focused with the right mindset heading into (mid) March playing well."
He stressed that the Jayhawks would be motivated today and hopefully through Saturday at Ford Center.
"We are hungry," Morningstar said. "The Baylor Bears have a high-powered offense. They've got good guards. We've got to be ready to play."
Senior guard Curtis Jerrells, who had just four points (0-of-7 shooting, 4-of-6 free throwing) in BU's 75-65 loss to the Jayhawks on Feb. 2 at Ferrell Center in Waco, exploded for 19 points off 8-of-10 shooting (3-4 threes) in Wednesday's 65-49 first-round victory over Nebraska.
Soph guard LaceDarius Dunn, who had 13 points versus KU, scored 18 points off 4-of-9 three-point shooting with eight rebounds against the Huskers. BU senior forward Kevin Rogers, who had 15 points and six boards versus KU, grabbed a career-high 20 rebounds Wednesday to go with his 10 points.
"He is a fabulous player who will get a chance to play at the next level," Self said of Rogers, a 6-9, 250-pounder out of Dallas' South Oak Cliff High, who was recruited by KU. "He is big, a good rebounder who puts up numbers."
The Jayhawks, who received 17 points from Sherron Collins, 13 from Marcus Morris and 12 from Mario Little, outrebounded the Bears, 37-29, in that first meeting in Waco.
It was a big win for the Jayhawks, who improved to 7-0 in the league, making a statement they were for real after bagging other road victories versus North teams Colorado, Iowa State and Nebraska.
"I don't know if there was a defining moment, but I'd say the biggest win we had in league play to get me thinking we'd be pretty good was at Baylor," Self said.
"The way we played against Kansas State in the first half (of 87-71 win in Allen Fieldhouse) gave me confidence that hey, we'll be hard to deal with at home. The win against Baylor gave us as much confidence as anything."
Self respects Baylor, a team that entered the tourney having dropped 10 of 12 games.
"Their record is not what they envisioned going into the season," Self said of the No. 9-seed Bears, who tied KU for third in the Big 12 preseason coaches poll yet finished with a dismal 5-11 mark. "They've got enough scorers they can beat anybody. I'm sure this is their NCAA Tournament. They are putting all their eggs in this basket. They will be juiced and ready to play. We were fortunate the first time we played them. We didn't play well the first half (in leading, 30-28, at break), much better the second. They are really good."
The Bears, who have dropped seven straight to the Jayhawks, have a 1-14 all-time mark versus KU.
"Obviously Kansas has a great team," Rogers said after personally outrebounding the entire NU team, 20-18, Wednesday. "Everybody said they were young and inexperienced. But they have two veteran leaders in Sherron and Cole (Aldrich). That's the heart and soul of that team. So we definitely have to come in with a different level of focus.
"When we played them at our place, we played them very close. They came out and got some stops and some buckets. But this is a new thing. We are just going to come out and get a victory."
Not if the Jayhawks have anything to say about it as they open their final third of the season.
"Everyone has a shot. There have been close games in the league all year long," KU's Morningstar said. "A lot of teams want to make noise and have something to prove this weekend. We still have a lot to prove, too."