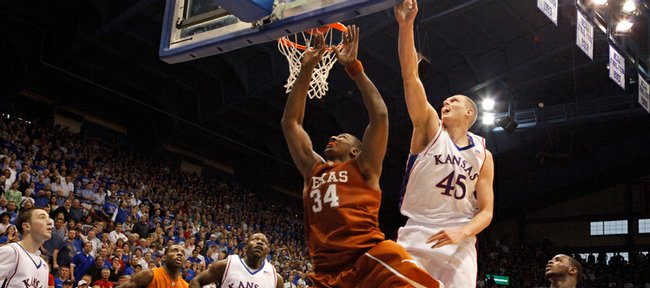 Kansas University center Cole Aldrich's production has tailed off the past two games, but he doesn't sound worried that the rigors of a long college basketball season are breaking him down at the worst possible time.
Aldrich has been wearing a boot on his left foot to protect what he called "a little stress reaction." Plus, he sprained his right ankle during the Texas Tech game. Yet, to hear the 6-foot-11, 245-pound Aldrich tell it, the body of 6-10, 298-pound Texas junior center Dexter Pittman had more to do with first-half failures Saturday in Allen Fieldhouse than anything going on with his own body.
"Big is a small word for him because he's so strong," Aldrich said. "He's like a Shaq type. He's just that good. He's got huge hands. He's got a real good touch. He's got good feet. He's just got that huge body that can really bang into you and push you around. I struggled at times going against him because he really wears you out. He'll just lay on you for 40 minutes, and after the game Saturday I was dead tired."
The NBA is loaded with big bangers. The longer Aldrich stays in college and builds strength and bulk, the more ready he'll be for such challenges. For now, he must seek edges elsewhere.
"One thing I tried to do was get out in transition and run a little more," Aldrich said. "I tried to use my speed to wear him out a little. They have so many big bodies, it's tough. You wear Pittman out and (Clint) Chapman comes back in and you've got 6-10 laying on you. Chapman's out and you've got (Connor) Atchley coming in and you've got another 6-10 guy laying on you. It was kind of like a never-ending process of another big guy laying on you."
A sophomore from Bloomington, Minn., Aldrich averages 14.8 points, 10.5 rebounds and 2.5 blocks per game. Finding ways to get him the ball more regularly has been a season-long point of emphasis from KU coach Bill Self. Good things usually happen when guards succeed in feeding the post. Aldrich makes 60.1 percent of his field goal attempts and 79.6 percent of his free throws.
In the past two games — a 19-point loss at Texas Tech and a 10-point victory against Texas — Aldrich has averaged 10 points and five rebounds. He played just 19 minutes against Tech and for just the sixth time all season was whistled for four fouls. He indicated nagging aches and pains aren't slowing him down.
"That's just a regular sprained ankle," he said of the injury during the Tech game. "It's nothing big. We've got a lot of treatment on it. It's feeling really good right now, compared to when I sprained it."
As for stress reaction in the left foot, Aldrich said, "It's just kind of a small lingering thing. It's nothing big at all. We wear the boot just for precautionary reasons, just keeping stress off it."
Aldrich's vast improvement since stepping on campus has not gone unnoticed. He joined teammate Sherron Collins in being named first-team All-Big 12 by writers and coaches.
"It's really exciting," Aldrich said. "Preseason, nobody really thought anything of me or the guys on the team and Sherron was kind of the guy in the limelight. I think my hard work over the past two years here has really paid off."
More like this story on KUsports.com