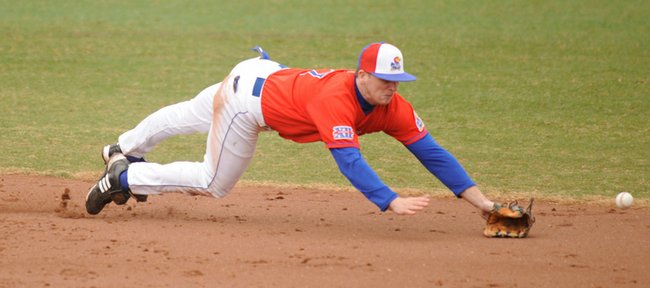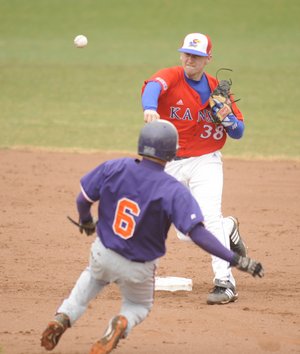 Ritch Price had to dig a little deeper for son Robby's Kansas University tuition this year.
That's because KU's baseball coach hooked the partial scholarship Robby was receiving as the Jayhawks' starting second baseman.
And what did the elder Price do with the extra money?
He offered it to David Narodowski, a junior college shortstop, and Narodowski accepted even though he had been offered a full ride to Lamar University.
"Coach Price kept talking to me and gave me a chance," Narodowski said. "This was the best option."
On Tuesday, that partial grant looked well spent as Narodowski went 3-for-3, scored three runs and stole a base in a 10-3 victory over Missouri Valley at Hoglund Ballpark.
"The thing about him," Price said of his new shortstop, "is that his tools don't jump off the chart. But he does a lot of things better than average and he plays with a lot of energy."
The 5-foot-9, 190-pound Narodowski certainly took a circuitous route to Mount Oread. He played high school ball in Vancouver, B.C., then went to Vernon College, a two-year school in Texas where Price spotted him.
Narodowski wanted an opportunity to play college baseball at the highest level and now that he's arrived he has discovered how much more intense it is.
"It's non-stop. Practice, weights, games, school," he said. "There's no time off."
Narodowski wasn't the only KU newcomer who had a memorable Tuesday. Freshman outfielder Jason Brunansky slugged his first college home run, a wind-blown solo shot in the eighth inning that barely cleared the right-centerfield fence.
Brunansky's father Tom slammed 271 home runs during 14 major league seasons, mostly with the Twins and Angels, but Jason stands only 5-9, seven inches shorter than his dad.
"I'm a line-drive hitter," Brunansky said. "Home runs are accidents. I hit only four in high school."
Brunansky and Narodowski were among only a few regulars who played against the NAIA Vikings. Price used the make-up contest mostly to give a handful of reserves game experience.
All of the starters will be back tonight when the Jayhawks meet Wichita State in a 6 p.m. start at Hoglund. The Shockers have won five straight in the series. KU's last win was in 2006.
"Obviously, our focus is on the conference," Price said, "so playing (WSU) isn't that big, but we want to stop that streak, no doubt about it."
Freshman right-hander Lee Ridenhour, impressive in the early going with a 2-0 record and 2.77 earned run average, will start on the mound for the Jayhawks.
More like this story on KUsports.com