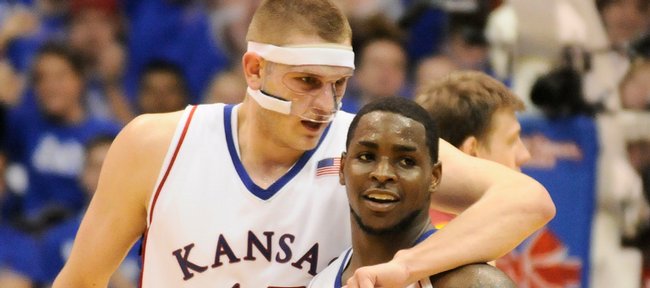 Kansas University's Sherron Collins and Cole Aldrich were named to the U.S. Basketball Writers Association 2008-09 All-District Six Team on Tuesday.
KU coach Bill Self was named the organization's district coach of the year.
Other members of the All-District team: Blake Griffin (Oklahoma, player of year), James Anderson (Oklahoma State), Craig Brackins (Iowa State), DeMarre Carroll, Leo Lyons (Missouri), Denis Clemente (Kansas State), Willie Warren (Oklahoma) and Ben Woodside (N.D. State).
District Six consists of the states of Kansas, Iowa, Missouri, Oklahoma, Nebraska, North Dakota and South Dakota.
The winners of the organization's Henry Iba Award (national coach of year) and Oscar Robertson Trophy (player of year) will be announced on April 3 in Detroit.
So far, KU's Self has been named national coach of the year by Yahoo Sports, Athlon Magazine, CBSsportsline.com and Foxsports.com.
Notes:
Stephenson update: Lance Stephenson, a 6-foot-5 senior shooting guard from Lincoln High in Brooklyn, N.Y., plans to announce his college choice after the PSAL championship game on March 21 in New York's Madison Square Garden.
First, however, his team must defeat Brooklyn Boys and Girls High School on Sunday to even reach the final.
"It's going to be a surprise," Stephenson told the New York Daily News in referring to his choice. He's visited KU and Maryland and is also considering St. John's. The Daily News said there's still a chance he could play overseas.
Stephenson is the state of New York's all-time leading prep scorer.
Wall update: John Wall, a 6-4 senior point guard from Word of God Christian Academy in Raleigh, N.C., tells Rivals.com that Memphis is his leader. He has visited KU and Baylor and is also considering Miami, North Carolina State and Duke.
"They (Tigers) have always been in the lead with the other schools right behind them," Wall told Rivals.com.
Wall, the country's top prospect, has said he won't choose Memphis if Tyreke Evans returns for a sophomore season.
Memphis last weekend received a commitment from No. 2-ranked DeMarcus Cousins, a 6-9 forward from Mobile, Ala. The country's No. 3-rated prospect, shooting guard Xavier Henry, also is headed to Memphis.
Wall is planning to announce his choice at the Jordan Brand Classic on April 18 at Madison Square Garden.
More on Memphis Invitational: ESPN's Andy Katz wrote on Tuesday that KU will play Memphis next season in St. Louis. The Journal-World reported last Nov. 26 that the game is part of the proposed Memphis Invitational tournament in which KU would play two or three games in Allen Fieldhouse in that mid-November "tourney" versus small to mid-major schools.
KU then would meet Memphis in St. Louis on the final day of the "tourney." It's been proposed that Arkansas and Louisville meet in the other game of a one-day doubleheader in St. Louis.
KU officials have said no contracts have yet been signed for the proposed tourney, but the Jayhawks definitely want to play in the event.
KU will play in the Las Vegas Invitational in 2010. The tourney format will likely feature two KU home games and two in Las Vegas, the marquee game KU versus Arizona. KU will play in the Maui Invitational in 2011 and has no tourney set for 2012. A good bet for 2012 would be another Jayhawk Invitational, which likely would feature four home games.
Early tourney start: KU coach Self is pleased the Big 12 tournament starts today. In the past, it was a Thursday-Sunday format. This year, the tourney ends on Saturday, a day ahead of Selection Sunday.
"There are some negatives with moving it, primarily for fans who go to watch their team from the beginning. Now it starts Wednesday (middle of work week)," Self said. "But for the betterment of our league and the ability to give the (NCAA Tournament) committee as much information as possible, it's far better for everybody to have it end on Saturday. Far better," he repeated.
"Teams that play Sunday travel Sunday night to get back, then can leave as early as Tuesday to go to the next (NCAA) site. It puts a strain on those respective teams. I think this is good."
Tourney tickets on sale: A limited number of all session and single season tickets for the Big 12 tournament are on sale. Tickets are available for purchase at the Ford Center box office and via all Ticketmaster outlets. Prices are $40, $50 and $55 per session, depending on location. On game days, fans can buy tickets at the box office beginning at 9:30 a.m. until halftime of the last scheduled contest of the day.
Self on how many Big 12 teams will make the Big Dance: "The bottom line is our league has gotten better over the last month. We had three teams a lock three weeks ago, now we have four that no matter what happens are a lock (KU, Oklahoma, Missouri, Texas). I think we'll get six in. I think we're closer to seven than five, a couple need to do some work in Oklahoma City."
Mr. Aldrich speaks: Walter Aldrich, the dad of KU sophomore Cole Aldrich, reiterated to Charley Walters of the St. Paul Pioneer-Press that a decision whether to return to KU or enter the NBA Draft will not be made until after the season.
Walters speculated that Aldrich would be the second center taken in the draft behind UConn's Hasheem Thabeet. Walters speculated Aldrich would net a two-year guaranteed contract (team option third year) worth about $7 million.
"That's a little more money than a union sheet-metal worker makes," Walter Aldrich told Walters.
Walter Aldrich is a union sheet-metal worker who, according to Walters, has been laid off. Other centers who could be taken ahead of Aldrich: Jordan Hill, Arizona; B.J. Mullens, Ohio State and A.J. Ogilvy, Vanderbilt.
More like this story on KUsports.com