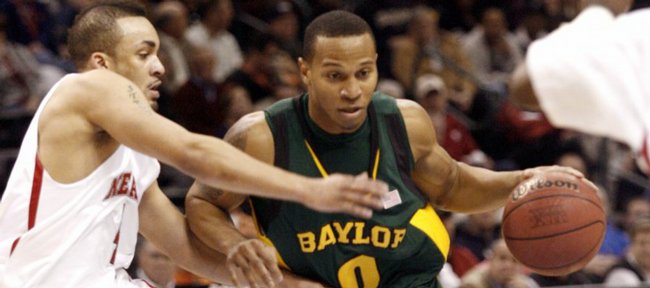 BU vs. Nebraska
Oklahoma City, Okla. — Rebounding, Nebraska coach Doc Sadler says, has been the Cornhuskers' Achilles heel in the latter stages of this basketball season. Baylor took advantage of that in a big way on Wednesday.
Led by a career-high 20 rebounds from Kevin Rogers, the Bears posted a 43-18 advantage on the boards en route to a 65-49 win over Nebraska in the opening game of the Big 12 tournament.
Curtis Jerrells scored 19 points and LaceDarius Dunn added 18 points on 4-for-9 3-point shooting and grabbed eight rebounds for Baylor (18-13). The Bears won a first-round Big 12 tournament game for only the fifth time ever, but for the second time in the last three seasons.
The ninth-seeded Bears, who had entered the tournament having lost 10 of their last 12 games, advanced to play top-seeded and No. 11 Kansas on Thursday.
"I think when you are struggling in conference, it is kind of like a weight vest ... and you just can't wait to get the vest off," Baylor coach Scott Drew said. "I think (in) the conference tournament, you're able to take the vest off and you feel better."
Ade Dagunduro scored 21 points for Nebraska (18-12), which now must hope for a berth in the National Invitation Tournament. Nebraska hasn't advanced to second round of the Big 12 tournament in consecutive seasons since 1998 and 1999.
The Cornhuskers beat Baylor 66-62 on Saturday in Waco, Texas, in the regular-season finale for both teams, but the Bears used their size advantage to turn the tables. Baylor started 7-foot Josh Lomers and 6-foot-9 Rogers, who both are taller than anyone in Nebraska's starting lineup.
"Rebounding has always been the emphasis, especially for a team like us," said Rogers, who scored 10 points and posted his seventh double-double of the season. "We are not the biggest team and that's been a focal point of ours the entire year. I'm glad that we were able to finally kind of put it together in the tournament."
Rogers outrebounded the Cornhuskers by himself and finished one board shy of tying the Big 12 tournament record of 21, set by Drew Gooden of Kansas against Texas Tech in 2002.
Lomers, playing on an injured ankle, scored 11 points — only the second time this season he'd reached double figures — on 5 of 5 shooting.
"Who are we going to match up with Kevin and Lomers together?" Sadler said, shaking his head. "We are just not going to. You have to take something away, you know?"
Baylor finished 23 of 43 from the field (53.5 percent) while Nebraska was 17 of 54 (31.5 percent) against Baylor's zone. Steve Harley added 10 points for the Cornhuskers, who scored fewer than 50 points for the fourth time this season.
"I don't think that they did anything different than we saw down there," Sadler said of the Bears. "It is just that we didn't make shots. ... You are not going to win many ball games shooting 31 percent from the field."
Nebraska only managed one basket in the first nine minutes of the second half, going 1-for-10 during that stretch, as Baylor built its lead to double digits. The Bears led 46-33 with 8:51 left after a basket by Jerrells.
"To get them out of the zone, you have to hit some shots to make them respect the shot," Nebraska's Ryan Anderson said.
Baylor sealed the win with a 10-0 run, capped by another 3-pointer by Jerrells that made it 58-37 with 4:39 left.
After the loss to Nebraska, Jerrells said the Bears held a team meeting to prepare for the tournament and try to put aside a disappointing conference finish.
"From this point on, everybody is 0-0. You lose, you go home," Jerrells said. "We understand that. We just want to come in and our goal is to win, win, win."
More like this story on KUsports.com