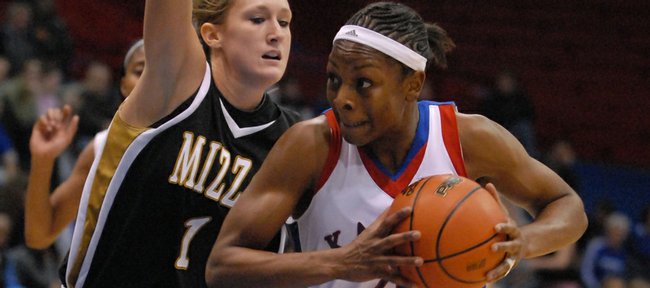 Danielle McCray has joined select company.
McCray, the leading scorer and rebounder on Kansas University's women's basketball team, earned a first-team slot on the All-Big 12 team as chosen by league coaches.
McCray is only the fourth KU player to earn first-team All-Big 12 honors. The others were Tamecka Dixon (1997), Crystal Kemp (2006) and Lynn Pride (1998, 1999, 2000).
A 5-foot-11 junior from Olathe East High, McCray is the Big 12's second-leading scorer at 20.2 points per game and ranks sixth in rebounding at 7.8. She is also second in three-point field-goal percentage at .418 and third in free-throw accuracy at 85.4 percent.
"It's real exciting to be honored for this among all the great athletes in our conference," McCray said Monday. "It's a big honor and a big achievement, and it's something I can look back on and be thankful to have."
An honorable-mention pick after averaging 14.9 points a game as a sophomore last season, McCray has enjoyed a breakout season. Three times she has scored more than 30 points in a game, including a career-high 35 last week against Baylor.
"Danielle really put in a lot of work over the summer, and it's paying off so far this season," KU coach Bonnie Henrickson said. "She has improved in every phase of her game."
McCray and the Jayhawks will meet Nebraska at 1:30 p.m. Thursday in the first-round of the Big 12 Conference tournament in Oklahoma City.
More like this story on KUsports.com