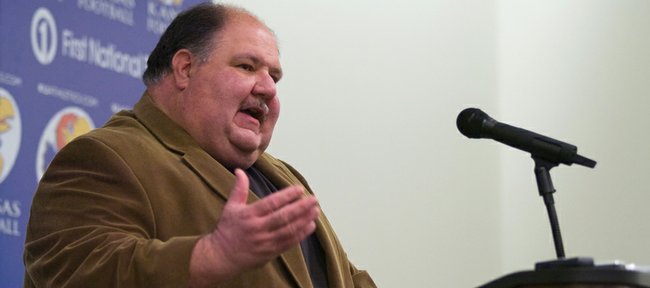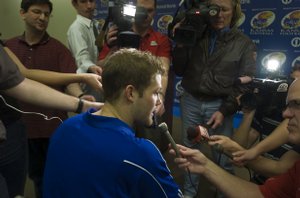 Ah, the signs of a forthcoming spring.
The sunshine. The blossoming plant life. The opportunity to fiddle endlessly with one's depth chart in an effort to maximize positional talent.
"That's what spring's for," said Kansas University football coach Mark Mangino, who last season led Kansas to consecutive bowl games for the first time in school history. "I like to move things around and tinker and slide guys in and out of positions.
"That's kind of my entertainment for the spring."
In keeping with that train of thought, the coach Friday revealed a number of recent position switches that — depending on their degree of success — could have a significant impact on the Jayhawks' 2009 season.
Left tackle Jeremiah Hatch, who performed ably in his red-shirt freshman season in 2008, will replace Ryan Cantrell as the team's starting center, while red-shirt freshman-to-be Tanner Hawkinson, a tight end recruit out of McPherson High, will battle for the vacant left tackle spot.
Linebacker Drew Dudley and cornerback Isiah Barfield, meanwhile, will be moving to fullback and receiver, respectively, while former running back Angus Quigley will try his hand at linebacker.
Position tampering is not exactly a new concept for the Kansas football program, which, during its rise from Big 12 afterthought to North Division contender in recent seasons, has seen various players excel after being transplanted to new posts.
The most recent and obvious example is quarterback-turned-receiver Kerry Meier. The 6-foot-3 senior-to-be rebounded from losing his starting quarterback job in fall of 2007 by transforming into an all-conference honorable mention receiver in '08, and he returns in '09 as one of the nation's most reliable pass-catchers.
Plenty of others fit that description as well, however. Current Minnesota Vikings defensive back Charles Gordon began his Kansas career as a receiver, switched to cornerback in the latter stages of his freshman season, and developed into a third-team All-American before leaving KU after the 2005 season. Current starter Daymond Patterson, meanwhile, recorded a 130-yard receiving game in his true freshman season before being moved to cornerback when it became apparent the Kansas secondary was in dire need of a shake-up. Patterson is expected to be a major part of the KU secondary next season.
"I've always said a lot of our success has been attributed to our coaching staff and (a) willingness to move players around," Mangino said. "If we always went with how we recruited them and kept them there, I don't think we'd be as successful as we are now."
Entering what could be described as the most anticipated season in Kansas football history, fans hope the most recent switch-overs will enjoy similar results.
Perhaps the most high-profile of this spring's position changes comes in the form of Hatch's shift, part of a rebuilding process in which the Jayhawks will be forced to replace the three interior members of their offensive front.
After lining up at left tackle last season in a move primarily of necessity — allowing Cantrell to play center made it possible for the team to put its five best linemen on the field — Hatch will return to the comforts of a position at which he excelled while at Dallas' Carter High.
Hatch was quick to point out, however, that playing center at the collegiate level differs greatly from doing so as a prep.
"Remember, I played center in high school, not in college," he said. "Not on this level. So it's a brand-new position, to me. I'm re-learning, restarting, re-learning the system at center."
And although players like Meier and Gordon have managed to make their transitions to new positions look virtually seamless, the behind-the-scenes work involved with mastering a new craft often is a daunting prospect.
"Anytime I have free time, I'm either up here or in my room looking through the playbook," said Barfield, who last played receiver while at Haven High. "So any time I can, other than when I'm not in class, I'm in the playbook or I'm in (receivers coach David) Beaty's office trying to learn new things."
While the Jayhawks already are expected to feature a number of players in new positions when spring practice begins Monday, Mangino didn't rule out more changes as spring practice progresses.
Spring is, after all, a time to tinker.
More like this story on KUsports.com