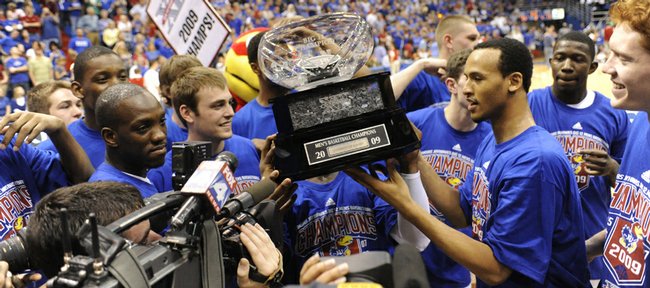 KU scoring
Collins 21, Aldrich 12, Taylor 11, Morningstar 9, Marcus Morris 9 (3-for-3 shooting), Markieff Morris 8, Little 6, Releford 4, Reed 3.
KU was 27-for-54 from the field (50 percent), 6-for-11 from three (54.5 percent) and 23-for-26 from the free-throw line (88.5 percent).
UT was 25-for-59 from the floor (42.4 percent), 3-for-12 from three (25 percent) and 20-for-22 from the line (90.9 percent). UT made just 8 of 29 shots in the second half (27.6 percent).
UT out-rebounded KU, 33-32. UT had 11 turnovers to KU's 10.
FINAL: KU defeats UT, 83-73
With UT down seven, James misses an open three from the side. The Longhorns really needed that one.
Collins misses a three, but Aldrich gathers the offensive rebound. The Jayhawks wisely pull it back out, and Collins is fouled. The students start the "One more year" chant. Collins makes both free throws.
After two more Collins free throws, Abrams misses a forced-up three, and the ball goes out of bounds to KU.
Collins tries to make something happen on a drive late, and he lands awkwardly with 14 seconds left. He limps off the court but doesn't look seriously hurt.
Kleinmann and Bechard check back in at the 14-second mark, then out again with seven seconds to receive one last ovation.
Marcus Morris squeezes the ball tight as the seconds run down, but there's no technical this time. KU claims the outright Big 12 championship with the 10-point victory.
KU 78/UT 71 — 2:44 left in game
The students are counting each second on James' free throws. They get to 13 on the first free throw and 14 on the second free throw. Though their counting is a little fast, I would say James is flirting somewhere between nine and 11 seconds.
KU executes well to get a shot for Aldrich, as Morningstar throws in a low bounce pass inside and the big man is fouled. Aldrich makes both free throws.
On a James miss, Pittman goes over Aldrich's back, and that could be a costly whistle. It's the ninth team foul, meaning Aldrich will shoot one-and-one on the other end. He makes both.
KU misses a great opportunity in transition up four. Collins races up the floor, but he tried to be too perfect, throwing an ill-advised bounce pass that was stolen by UT.
Pittman gets a layup on the other end, and it's a four-point swing.
With confidence, Taylor drives baseline and puts in a floater off the glass. After a Mason layup, Aldrich bounces in an 18-footer.
Two bad calls right next to us. KU should have had the basketball when it went out of bounds, but the official ruled that Collins touched it when the ball rolled between his legs. On the inbounds, the same official blew a questionable whistle on Morningstar while Abrams was shooting. Abrams makes both freebies.
Huge swing by KU seconds later, though. In transition, Collins scoops back to Morningstar for a three, and he drains it. The next possession, Collins steals the ball from Abrams, then on the break, throws back to Taylor for a one-handed slam. Timeout UT. Collins screams to the crowd, then chest-bumps Aldrich. That could be the sequence that wins the game for KU.
KU 65/UT 63 — 7:31 left in game
There's the Aldrich we're used to seeing. He blocks a shot on one end, then fights underneath on the other, finishing inside with a shot off the glass.
Markieff Morris rips away a defensive rebound, and he's fouled. He hits both shots on a one-and-one opportunity.
With KU down one, Collins misses a layup, but Markieff Morris slams home the follow as KU takes its first lead.
James makes two free throws, but KU takes the lead right back with some luck. Collins scoops back out to Taylor, who banks in a three from straight on. Self flashes a huge grin. That's two huge shots Taylor has made from long-range this season using the glass.
UT 61/KU 56 — 10:30 left in game
Aldrich gets beat by Pittman on a free-throw block out. Something's not right with the KU big man. It turns into a valuable three-point possession for UT, as Pittman makes two free throws.
Marcus Morris picks up his fourth foul on an offensive rebound try, and a minute later, UT throws a lob right over Aldrich, and Pittman tomahawks it home. The Jayhawks drop their guard for 45 seconds, and suddenly, they're down five again.
UT 56/KU 56 — 11:15 left in game
Markieff Morris gets the ball down low and reverses to the baseline for a hook shot off the glass and in. Did Danny Manning teach him that?
Releford gets fouled inside and makes two free throws. Don't overlook those, as he came into the game as a 50-percent free-throw shooter.
KU is one stop away from having this crowd go bonkers. The Jayhawks keep trimming the lead to two before UT responds.
Finally, KU ties it, as Taylor goes to the basket and lays it softly off the glass. The Jayhawks are being much more aggressive with drives in the second half against UT's over-aggressive defense.
UT 50/KU 45 — 15:41 left in game
Marcus Morris is playing as aggressively as I've seen him play. He takes a ball straight to the basket for two, then on the next possession, screams at Collins to pass him the ball. When Marcus gets it, he goes hard to the rim, forcing Pittman's third foul.
Little floats in a fadeaway to pull KU within one, and the crowd is recharged.
Clint Chapman puts in a long jumper, and Justin Mason follows with a layup. The Longhorns have done a good job of damage control through the first media timeout of the second half.
KU scoring
Collins 11 (5-for-9 shooting), Marcus Morris 7, Morningstar 6, Reed 3, Releford 2, Little 2, Markieff Morris 2, Taylor 2, Aldrich 2.
KU was 13-for-28 from the floor (46.4 percent), 4-for-6 from three (66.7 percent) and 7-for-8 from the free-throw line (87.5 percent).
UT was 17-for-30 from the floor (56.7 percent), 3-for-5 from three (60 percent) and 7-for-8 from the free-throw line (87.5 percent).
James had 20 first-half points on 8-for-10 shooting. Pittman added 10 points.
UT out-rebounded KU, 18-11. Both teams had six turnovers.
Halftime thoughts
• Poor, poor defensive first half for KU. The Jayhawks have held 69 straight opponents under 50 percent shooting. The last team to shoot over 50 percent against KU was Louisiana-Monroe in the 2007-08 season opener. That streak is in serious jeopardy today.
• Why is it that every time KU plays Texas, both teams score like crazy?
• Where has Aldrich gone offensively? He has just two points on 1-for-6 shooting, and the Jayhawks have actually gotten him the ball quite often.
• KU once again is struggling on the boards, getting out-rebounded by seven in the first half. Aldrich only has four boards, and no one else is stepping up to fill in the gaps. No other Jayhawk had more than one rebound in the first half.
• By the way, the Morris twins are 3-for-3 from the floor.
UT 44/KU 37 — Halftime
The Jayhawks are getting one-dimensional offensively: Throw the ball to Collins, watch him try to make a move, stand around. Not a pretty sight for KU fans.
On the other end, KU is worse, though. Layups by Pittman and Balbay and free throws from James give the Longhorn a 6-0 run. Self uses his third timeout, as UT has made 17 of 28 shots (60.7 percent).
The Jayhawks make a much-needed mini-run out of the break. Marcus Morris uses a quick move to the bucket to get two, and after a steal, Releford glides under the basket and softly puts it off the glass and in.
Pittman doinks a dunk, and KU gets a chance for the last shot. Collins splits two defenders, then passes out to Tyrel Reed for a three that he swishes. The Jayhawks end the half on a 7-0 run, but still trail by seven at the break.
As the officials leave the court, they receive the loudest boos I've heard for the zebras all year.
UT 38/KU 30 — 3:34 left in 1st half
KU has switched to a 2-3 zone. It doesn't work on the first possession, as Dexter Pittman gets the ball near the bucket and is fouled by Markieff. It has to be killing Self as a defensive coach to have to go to a zone so often.
Justin Mason hits a runner in the lane against KU's man defense, and Self uses another timeout.
The Longhorns are getting whatever shot they want right now. Pittman gets it inside for a layup. He then catches a lob pass over Mario Little and gets fouled on his way up. The last two games have been some of the worst defensive performances we've seen from the Jayhawks all year.
The only good news for KU is that Collins is starting to heat up. He hits a pull-up 18-footer and seems to have some swagger back. He's up to 11 points on 5-for-8 shooting.
UT 28/KU 26 — 7:14 left in 1st half
James hits another 19-footer. It looks like KU is trapping all ball screens so that Abrams can't get free, and that's opened James up for quite a few shots. The Jayhawks might need to switch it up at halftime to start worrying more about James.
Bad call right in front of me. A.J. Abrams flew in under the basket and mugged Aldrich, getting him across the arm and face. The official called a jump ball. KU's fans have reason to be upset.
James and Abrams are taking all the shots for the Longhorns — and deservedly so. The two have combined for 22 of UT's 28 points on 9-for-12 combined shooting.
UT 15/KU 15 — 11:35 left in 1st half
Morningstar ignites the crowd with a three from the wing. A few seconds later in transition, Tyshawn Taylor scoops a pass to Morningstar for a rhythm three, and he drains it.
Smart play by Markieff Morris in the paint. Gary Johnson backed into him a couple times in the post, and Markieff knew what was coming next. The next time Johnson threw his weight back, Markieff accepted the contact, falling back to pick up the offensive foul.
James has taken over offensively for UT. He hits a fadeaway and a guarded jumper, and he has 12 of his teams 15 points on 5-for-7 shooting.
UT 11/KU 9 — 15:02 left in 1st half
Brennan Bechard and Matt Kleinmann get a start and 51 seconds of action before KU coach Bill Self puts in subs. The seniors receive a nice ovation as they go back to the bench.
KU's first four field goals are taken by Sherron Collins or Cole Aldrich. The sophomore center Aldrich is 1-for-2, and the Jayhawks have done a nice job of looking inside so far.
After checking in, Brady Morningstar gets the tough defensive assignment of A.J. Abrams. Morningstar struggled against Texas Tech's Alan Voskuil, but he has a chance to redeem himself against just as good of a shooter today.
Damion James is already 2-for-2 from three. He came in shooting 29.9 percent. The Jayhawks aren't getting many breaks lately when it comes to opponents shooting somewhere around their season averages.
3:05 p.m.
I haven't seen this often. UT coach Rick Barnes completely backed away from his team while the introduction video was playing, letting all his players watch the videoboard. Don't know if that's a good idea, but we'll see how it works out for the Longhorns.
We're up to 104.8 on the decibel meter. Not too shabby.
2:49 p.m.
Another reason to feel good about today's game if you are a KU fan: The Jayhawks have won 24 straight Senior Day games (and 25 straight Senior Day games if you count 2007, when the Jayhawks didn't have a senior).
2:18 p.m.
Here are some notes about today's game against Texas:
• UT has never won in Allen Fieldhouse. The Longhorns are 0-8 against KU in this building.
• Guard Dogus Balbay entered the starting lineup for UT seven games ago. In those seven games, the Longhorns are 5-2. They also have scored 5.9 points per game more since Balbay has started. In those games, Balbay is averaging 7.1 points and 6.1 assists with a 43-to-12 assist-to-turnover ratio.
• Texas is one of just three schools to have advanced at least to the Sweet 16 in five of the last seven years. Can you guess the other two schools that have accomplished that feat?
• A.J. Abrams has made 23 of 55 three-pointers (41.8 percent) in his last seven games.
• Other than Abrams, UT has no true three-point threat. Abrams has made 39.5 percent of his threes this year, but no other Longhorn on the roster is shooting 30 percent or better from deep. To compare, KU has six players that shoot better than 30 percent from the three-point line (Brady Morningstar, 44.1 percent; Marcus Morris, 42.9 percent; Tyrel Reed, 39.3 percent; Sherron Collins, 38.5 percent; Travis Releford, 37.5 percent; and Tyshawn Taylor, 35.6 percent). The next-best long-range shooter for the Longhorns is Damion James, who has made 29.9 percent of his three-point tries. Texas is last in the Big 12, making just 32.0 percent of its shots from beyond the arc.
• Six-foot-7 Damion James has five double-doubles in his last six games. During that stretch, he's averaging 16.7 points and 12.5 rebounds.
1:35 p.m.
Welcome back to the Newell Post Live, coming to you from Allen Fieldhouse where the No. 9 Kansas Jayhawks are getting to take on the Texas Longhorns.
Today is Senior Day for walk-ons Matt Kleinmann and Brennan Bechard, and both will start in the game against Texas.
With that in mind, I thought I'd bring back some videos of other KU speeches.
To the left are last year's speeches from Darnell Jackson, Sasha Kaun, Russell Robinson, Rodrick Stewart and Jeremy Case. I also went ahead and threw up the highlights from last year's 109-51 blowout on Senior Night over Texas Tech.
I also found some other speeches in the depth of our site. Click on the links for the 2004-05 senior class speeches from Wayne Simien, Keith Langford, Aaron Miles and Michael Lee.