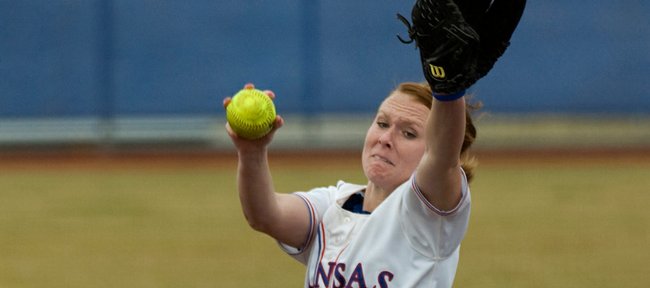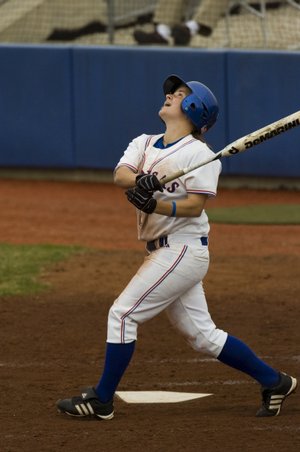 Win or lose, Kansas University's softball players subscribe to a simple mantra.
"We try to concentrate on the positives," senior pitcher Val George said.
Accentuating the good things was difficult, however, after North Dakota State rallied for four runs in the top of the seventh inning and spoiled KU's home opener Friday afternoon at Arrocha Ballpark.
The Bison's 5-4 victory was doubly stunning because the rally occurred just minutes after KU had exploded for four runs in the bottom of the sixth and grabbed a 4-1 lead.
With George on the mound, that three-run lead seemed like a 10-run bulge. The veteran right-hander had retired 15 Bison batters in a row after surrendering a solo homer to Melissa Chmielewski and a single in the first inning.
But three singles, a double, a walk and a hit batter later, North Dakota State led, 5-4, and coach Tracy Bunge brought in Sara Vertelka to record the final out.
"She's my senior, she's been our No. 1 pitcher, so you tend to go a little longer with her," Bunge said of her decision to leave George in the circle.
George blamed herself.
"I take the responsibility," she said. "I basically was tense when I went out there. I was putting too much pressure on myself. I should have relaxed and just thrown the ball."
For her part, Bunge wasn't as much concerned about George's seventh-inning swoon as she was about the Jayhawks' spotty hitting.
KU collected only four hits and two were dunkers to left in the four-run sixth inning.
"I'm extremely frustrated," Bunge said. "Offensively, we're a tight team. We were not very relaxed."
Bison right-hander Andi Padilla wasn't a flame-thrower, fanning just one while going the route, but she did have KU's hitters off balance.
"(Padilla) did a good job, but we weren't very patient with her," Bunge said.
Kansas (7-12) will play four more games in the KU Invitational this weekend. Today the Jayhawks are scheduled to meet Northern Iowa at 10 a.m. and Eastern Illinois at noon.
On Sunday, KU will get another crack at N.D. State (9-4) at noon, then wrap up the tourney against Northern Iowa at 4 p.m.
l Notes: Val Chapple had two of KU's four hits, and made a couple of sparkling defensive plays at third base … Destiny Frankenstein, an All-Big 12 shortstop for the Jayhawks in 2005, is in her first year as North Dakota State aide … Fans attending today's games must park in the lot west of the KU soccer field and enter off 19th Street.
More like this story on KUsports.com