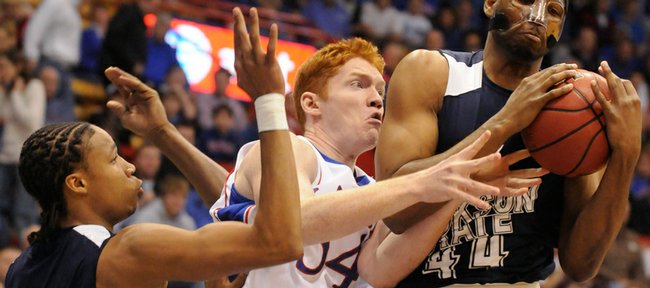 Matt Kleinmann, who will graduate with a degree in architecture in May, sometimes has to stay awake studying — and preparing class projects in his chosen field — for days on end.
His personal record for keeping his eyes wide-open?
"I did three days one time. On the third day, I had to present (a final exam in front of fellow students and professors). After that, I think I slept 16 hours," said Kleinmann, Kansas University's senior basketball center.
"The first time I pulled an all-nighter (for what architecture students call 'studio'), I felt like I was on something driving home," Kleinmann added, smiling.
"You've got to be careful if you lie down for a second because before you know it, it can be the next day. If you have enough energy drinks, you can get it done."
The sometimes sleep-deprived Kleinmann — who along with fellow senior walk-on Brennan Bechard today will play his final home game at KU (both will be in the starting lineup for the 3 p.m. tipoff against Texas) — has found it impossible to remain alert during all of coach Bill Self's film sessions.
"I think I've caught him dozing a couple times," Self said. "I may have poked fun at him about that. I don't need to yell at Matt very often. He tries pretty hard."
Kleinmann, in fact, gives true meaning to the term student-athlete, while acknowledging he's not quite as smart as word on the street would indicate.
"Greg Gurley (Sunflower Broadband and Jayhawk Network TV analyst) said I've got a 4.0 (GPA). I don't know how that got started. I'm 3.35 cumulative. In the school of architecture, that's pretty good, but it's not a 4.0," Kleinmann said.
"I'll take it. If he wants to keep telling people I've got a 4.0, I won't argue with him," Kleinmann added.
As far as his work on the court, Kleinmann, who red-shirted the 2004-05 season, has scored 45 points and grabbed 46 rebounds while playing sparingly in 68 games. He has scored seven points and grabbed 11 boards while playing in 15 of KU's 30 games his senior season.
"He's really grasped his role, found a way to help coach the younger guys," Self said. "He's been awfully good to be around and certainly impacted our program in a very positive way."
The 6-foot-10, 250-pounder, who according to his teammates answers to the nicknames "Big Red," "Firetop" and "Carrot Top," has given KU's rotation big men fits at practice throughout the years.
"Daily," sophomore Chase Buford said, asked if Kleinmann proves an irritant to the other big men.
"Sasha (Kaun) and Matt would really get into it. They were really close (friends), but Matt would give Sasha an elbow, and Sasha would throw one right back. Matt gets under the big men's skin, that's for sure."
Kleinmann said that though Kaun, Darrell Arthur, Darnell Jackson, Cole Aldrich and Co., have presented him big-time problems at practice, the hardest to guard has been All-American Wayne Simien.
"There are guys more athletic, but as far as understanding how to score, Wayne is the best," Kleinmann said.
Of course, he's also a big fan of the 6-11 Aldrich, who takes a 14.9 scoring, 10.5 rebound average into today's game against Texas (20-9, 9-6).
"It's ridiculous," Kleinmann said, asked how much Aldrich has improved since his freshman campaign. "He has matured a lot. He's confident. He knows he's one of the better big men in the country and plays like it.
"He can make any shot, get every rebound. He's gotten so much stronger and has learned to use his strength better. He still has some chicken legs on him. But he's learned the intrinsic intangibles — angles, thinking one pass ahead."
"Intrinsic intangibles" are words that come out of very few college athletes' mouths.
"It's always funny when Kleinmann tries to be smart or something. Coach probably doesn't find it funny," Buford said with a laugh.
Kleinmann is not always teacher's pet at practice.
"The best story I have about Kleinmann is one day at practice before we played Oklahoma, he thought he was Blake Griffin," junior guard Sherron Collins said.
"Matt's out there shooting threes and hitting the side of the backboard. Coach was getting mad, telling him, 'Matt, just run the offense.' He does it again, and coach gets mad and made him run about 15 minutes."
Kleinmann says Self often jokes with him at practice during the course of the long season.
"I'd say I'm his favorite to give a hard time to," Kleinmann said. "My first two years, I think the coaches got frustrated with me. Sometimes I try to get ahead of the play — I try to make a home-run pass. This year I tried to settle down, but I can't get it completely out of my system. I would like to say the coaches have enjoyed me, but I've frustrated them at times."
Self actually has appreciated Kleinmann's effort at practice as well as that of fellow senior Bechard.
"He and Brennan are two of my favorites because they get it. They get their role," Self said. "They get the fact that when we (coaches) are in a certain mood and want to get certain things done, they help educate the guys that this needs to happen now."
In other words, they sometimes prevent a decent practice from becoming a bad one by stepping in and leading their younger teammates.
"Matt and Brennan are class acts," Collins said. "They represent Kansas like it's supposed to be represented. And they make us better at practice. They foul us too much and foul us hard every day, but that all makes us better."
Kleinmann — he declined a scholarship offer at Pacific to accept a non-scholarship role on KU's team — realizes he's through with organized basketball at the conclusion of this season.
The man assured five Big 12 titles in five seasons has interviewed with a major architecture firm in Kansas City.
If he isn't offered a job right away, he plans to take grad-school courses at either Washington University in St. Louis or Tulane in New Orleans.
"With the economy ... jobs are hard to find now," Kleinmann said. "If I take one year to let this (recession) wash over ... I'll see in a year if the economy is better. Getting an advanced degree might be my best shot. I'm looking into taking some urban-design courses. I think it'd be to my own personal benefit to get out of the KU area a year and see some other places before going to work."
Self believes some company out there will put Kleinmann to work.
"Matt is smart," Self said. "He will get a great job, I'm sure. I would trust him to build my house, I'll tell you that."
Perhaps Kleinmann will read a short version of his résumé during his Senior Day speech at the conclusion of today's game.
He's certain to thank a few family members during his presentation.
One thing is for sure: He'll be well rested and will be speaking with a clear mind. He was not scheduled to pull an all-nighter Friday night.
"I'm sure it'll hit me that it's my last game in Allen Fieldhouse. It'll hit me pretty hard, I'm sure. I hope I don't need a Kleenex," Kleinmann said.
More like this story on KUsports.com