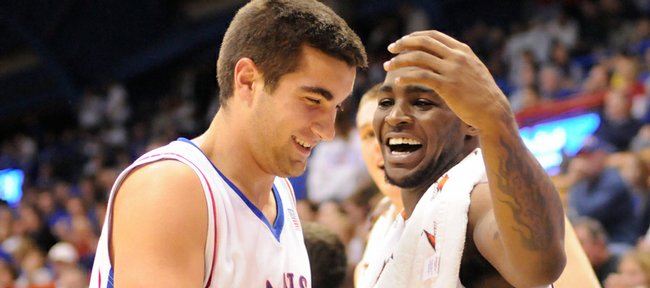 Kansas University basketball coach Bill Self says, yes indeed, senior walk-ons Brennan Bechard and Matt Kleinmann will be in the starting lineup for Saturday's Senior Day contest against Texas.
"I've always planned on doing that. That's what we do here (at Kansas)," Self said. "I don't know what the matchups will be (but) both Matt and Brennan will start (in the 3 p.m. tip in Allen Fieldhouse)."
Kleinmann, a 6-foot-10 center out of Blue Valley West, has started one game in his career — an 86-62 rout of Jackson State on Dec. 6. It'll be the first start for Bechard, a 6-foot guard out of Lawrence High.
There, of course, are no guarantees Bechard will fare well while shadowing one of Texas' starting backcourt players — A.J. Abrams, Dogus Balbay or Justin Mason.
One thing is certain, however.
He won't be intimidated.
Bechard, who played one year at Barton County CC before joining KU's program in 2006-07, has been matched against some big-time guards at practice during his three-year Jayhawk career.
"I would say Sherron is right up there," Bechard said, listing Sherron Collins as perhaps the toughest to guard. "He's too quick and too strong.
"I guarded Russell (Robinson). Sherron is more a scorer than Russell. Mario (Chalmers) was tough to guard, Brandon (Rush), all those players," Bechard added. "It's been fun to go against them every day."
On any given day, Bechard and the other scout teamers play defense more than half of practice.
"It's hard," he said of staying in front of the regular-rotation players. "We get to foul a little bit. We get pretty physical. That definitely helps.
"The weeks when K-State, Missouri come around ... coach tells us to foul, to do whatever we want. They (teammates) don't always like that. It gets pretty physical. That's the fun part of it, too."
Sure, the life of a KU non-scholarship player is fun — Bechard says he'll never forget the experience of winning a national title last season — but it's demanding, too. He's entered just nine games while logging 14 minutes total this season. He played in 12 games both his sophomore and junior campaigns.
"It's hard to believe it's gone so quick. I've loved every bit of it," Bechard said of his KU days. "Coming in, I wasn't quite sure what to expect. It's been long hours, a huge commitment, (but) everything has been worth it. I'm so glad I did it. Things I got out of it will help me a long time. Being around so many good players, the coaching staff ... it's been a great experience."
The experience has convinced Bechard he'd like to follow a family tradition of making a living in the sports world.
"My dad is a coach. My uncles are all either coaches or athletic directors or something in that fashion. I've been around sports my whole life," Bechard said.
"Being around coach Self and his staff members has made me think about getting into coaching. I definitely want to do something involving sports," added the sports management major, who will graduate in May, then will decide whether he wants to enter grad school or the working world.
Bechard's dad, Ray, is KU volleyball coach.
Brennan's late uncle, Don, who coached basketball and volleyball at Gardner-Edgerton High School, is the only coach in Kansas history to have won a boys state basketball championship (G-E) and girls state volleyball championship (Manhattan High).
His uncle, Richard, is activities director of the Blue Valley School district. He also worked as basketball coach at Stockton High and was athletic director at Holton High.
And Brennan's uncle, Harold, is sports editor at the Hutchinson News. He's covered KU and K-State sports for many years.
Brennan also has various cousins who work in sports or are planning careers in sports.
"My dad and I are close. Growing up, he coached me a little in basketball, some of our summer teams when I was young," Brennan Bechard said. "Now that I'm playing here, he's done a good job of trying to be dad instead of coaching me. I try to go to all the (volleyball) home games. A lot of times we have practice or tutoring. But I go to as many as possible."
Ray Bechard also tries to attend as many KU basketball games — some on the road — as he possibly can.
"The whole process has had a significant impact on how he (Brennan) views things," Ray said. "I can't believe that a coach could do any more for a young man than coach Self has done for Brennan.
"People look at his situation and say, 'Wow, what a glamorous high profile deal.' I think those guys play defense 95 percent of the time. I've never heard a complaint. Last year he knew he was part of something special. This year he's felt good about the last couple months, how things have come together."
The long Big 12 season culminates on Saturday. If KU wins, the Jayhawks claim the undisputed Big 12 title. A loss means KU may be forced to share the crown with Oklahoma and/or Missouri.
"It will be crazy," Bechard said of Senior Day. "We never want to share it (title) with anybody. It's a huge game. It'll be a great environment I'm sure."
He said the Jayhawks are capable of making some noise in both the Big 12 and NCAA Tournaments. After that ...
"I know I'll miss it a ton," Bechard said. "The competitive side of going out and playing against these guys every day ... I'll miss playing here, but I'm also excited to see what's in store next as well."
•
Injury update: Cole Aldrich and Tyshawn Taylor, who sustained minor injuries in Wednesday night's loss at Texas Tech, have been cleared to practice today, Self said Thursday night. Taylor suffered a bruised left big toe and Aldrich a sprained right ankle. They both were evaluated by KU's medical staff Thursday and deemed fit to practice and play. The team watched film and participated in light shooting drills Thursday.