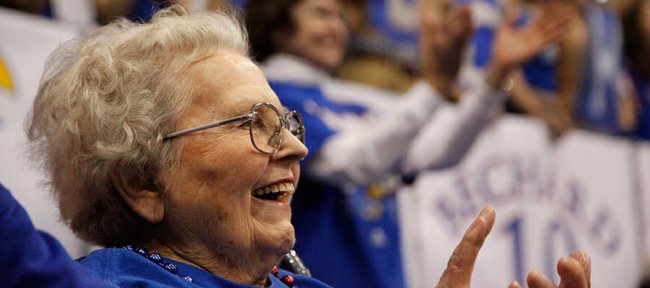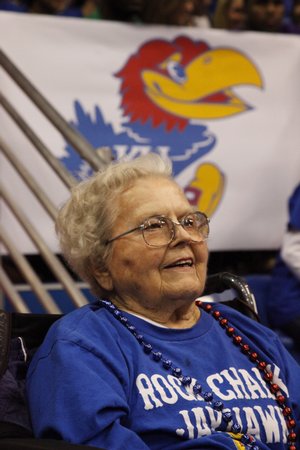 While fans sat on the edge of their seats for the better part of yesterday's game, one remained calm, ever confident in the Jayhawks' ability. She's been watching them play for 68 years, after all.
Marjorie "Marge" Smith may not be the loudest KU fan, but at 96 years old, she's arguably the most dedicated.
"I don't remember just how I became interested in basketball," she said. "But it's exciting for me to be there where they play."
Of the 68 seasons that she's followed KU basketball, her oldest son, Stuart, said the only reasons he can recall her missing a game is if she was in the hospital or the wheelchair lift on the bus was broken.
Marge started coming to KU basketball games in 1941, when she moved to Lawrence from Illinois with her husband, George. He had been hired as KU's dean of education.
Pretty soon, Marge and George were taking their two sons, Stuart, now 70, and Malcolm, 65, to all the games they could.
Over the years, Marge has seen greats like Wilt Chamberlain and Paul Pierce play; she saw the first basket made in Allen Fieldhouse; she called Dr. F.C. "Phog" Allen a "great friend."
Marge and George used to climb to the nosebleed section for games until about 2000, when Marge broke her hip for the second time.
George died of pneumonia in 2003, after 71 years of marriage and 62 seasons of going to KU basketball games with his wife.
"I wish my husband were here today," she said Saturday. "We always used to go to the games together."
Marge sits in the wheelchair section at games now, but she said it doesn't bother her at all.
"It's special for me to get down there close to the players and know who they are," she said.
Stuart and his wife, Anita, 65, said Marge belongs court-side, where she's "down in the mix."
"She never stops smiling during the games," Anita said. "Whether we are playing well or we miss a shot, she keeps smiling. She's just thrilled to be there."
Anita added, "I don't think coach Williams or Self could do any wrong in her eyes."
At 96, Marge can't name this year's players or recall the exact year KU won its most recent national championship, but she still wears that smile as she watches her favorite team play.
"Her memory has faded, but her interest hasn't," Anita said. "She's still a pro on game days: Ms. Steady."
More like this story on KUsports.com