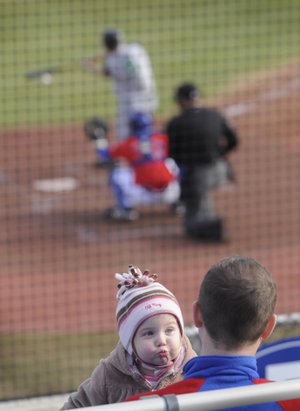 Over the past few months, Kansas University baseball coach Ritch Price has been busy retooling a team that — faced with the loss of a large majority of its power — would need to take a new approach in order to be successful in 2009.
On Tuesday afternoon at Hoglund Ballpark, the Jayhawks unveiled that new look for the first time, using timely hitting and opportunistic baserunning — both small-ball staples — to build an early lead and hold on for an 8-2 victory over North Dakota in their home opener.
"It's a different style ball from what we played last year, for sure," said third baseman Tony Thompson, who was 2-for-4 with a double and extended his hitting streak to 15 games dating back to last season. "We had a lot of power guys in the middle of the lineup (in 2008). This year, we know we're not going to put up those type of numbers ... so we try to get guys on and see if we can score them."
While KU's power has no doubt dwindled without former standouts John Allman, Ryne Price and Erik Morrison — the Jayhawks have failed to record a home run in six games this season; the longest stretch without a home run last year was four games — they seem to have developed a knack for taking advantage of opportunities.
In their biggest inning Tuesday, for instance, the Jayhawks (3-3) turned two walks and four singles into four runs in the bottom of the second, jumping to a quick 5-0 lead they never relinquished.
"I think they've done a nice job so far of running the bases and turning singles and walks into doubles," Price said. "And I think that's been the key."
Kansas has also received a lift from freshman pitcher Lee Ridenhour, who, after leading the Jayhawks to a 9-3 road victory over No. 21 Arkansas in his collegiate debut last week, followed it up with another encouraging performance Tuesday.
In five innings against North Dakota, the Shawnee Mission West graduate allowed just two runs off five hits, improving to 2-0 this season while proving he can provide KU with an able complement to junior ace Shaeffer Hall.
"(He) went out and threw strikes and let us play defense behind him," Price said. "It was obviously a tough day to pitch and a tough day to hit, as cold as it was. But I thought it was a good, solid performance."
Kansas concludes its two-game series with North Dakota at 3 p.m. today before welcoming Northwestern for a four-game series this weekend.