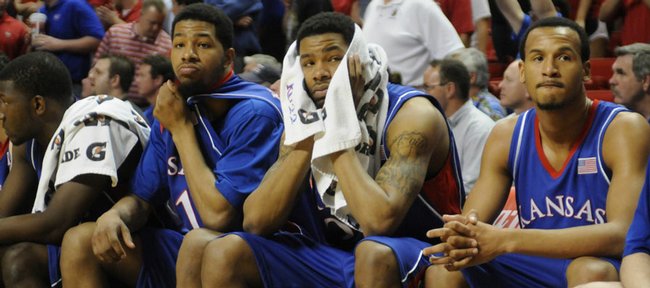 2:19 a.m.
I tallied up everyone's scores. We had 35 entries. Thanks to everyone for participating (and major props to the two or three folks who predicted there would be a technical).
Here's the final leaderboard:
1. areyouserious — 15
2. kuballer — 14
3. hometownhawk — 12
T4. kuhwks — 12
T4. Icebird3 — 12
T6. jnewell — 11 (not bad)
T6. tkeegan — 11 (not bad as well)
T6. lighthawk — 11
T6. RockChalkJayBlog — 11
T6. Jaybate — 11
T6. sgtjb123 — 11
T6. Cballer13 — 11
T6. carterpatterson — 11
T6. exiledhawkfan — 11
T15. cffighter86 — 10
T15. jco8394 — 10
T15. mae — 10
T15. john20223 — 10
T15. worrnotjhawk — 10
T20. jayhawker77 — 9
T20. KU1979 — 9
T20. patton6 — 9
T20. KUhawkdave — 9
T20. thetagger — 9
T25. OKJAYHAWK5 — 8
T25. mike_blur — 8
T25. hail2olku — 8
T25. SanDiegoChapter — 8
29. KGPhoto — 8
T30. darinku — 7
T30. MrPilot — 7
T30. kubmg — 7
T30. chuckberry32 — 7
T30. recker — 7
35. Mr_A — 5
KU scoring
Collins 11 (3-for-19 shooting), Marcus Morris 11, Taylor 11, Aldrich 8, Reed 7, Thomas 4, Releford 4, Markieff Morris 4, Morningstar 3, Little 2.
KU was 21-for-63 from the floor (33.3 percent), 19-for-28 from the free-throw line (67.9 percent) and 4-for-24 from three (16.7 percent).
TTU was 23-for-51 from the floor (45.1 percent), 15-for-27 from three (55.6 percent) and 23-for-26 from the free-throw line (88.5 percent).
TTU had 19 turnovers to KU's 13. TTU out-rebounded KU, 39-38.
FINAL: TTU defeats KU, 84-65.
Matt Kleinmann gets in the game for all the wrong reasons.
Voskuil hits two more threes to end his senior night with 35 points, making 9 of his 14 threes.
Tech wins by 19, and the few students that are here rush the court.
TTU 78/KU 61 — 1:46 left in game
Voskuil hits a dagger, draining a stepback three at the end of the shot clock over Reed. Not much the KU guard could do there.
Little misses two free throws. Okorie followed with two free throws. This is turning into a blowout.
Collins misses a deep three he has to take. He's now 3-for-19 overall and 1-for-10 from three.
The "Overrated" chant starts at the 1:58 mark. Turnabout is fair play, I guess.
TTU 69/KU 60 — 3:24 left in game
Four straight free throws by Tech, including the two technical freebies. The Red Raiders haven't hurt themselves at the line (14-for-16, 87.5 percent).
It's a free-throw contest now. The Jayhawks hit four, but Okorie hits two.
Singletary gets a layup, and KU can't buy a basket. Collins misses two short ones. Aldrich misses a chippy. Marcus Morris gets fouled but misses the front end of the one-and-one. The fans are feeling the upset here.
Marcus Morris and TTU's Robert Lewandowski foul out within a span of two seconds. That still probably hurts KU more.
Reed misses a wide-open three, and KU's chances at a comeback are slipping away.
TTU 60/KU 54 — 7:43 left in game
KU is getting easy baskets in transition. It looks like one of Tech's guards is forgetting to stay back. Taylor gets two easy layups, but KU isn't making up much ground.
The Jayhawks are sticking with their 2-3 zone. It's giving Voskuil open threes, but that's a risk KU has to take.
Collins finds Reed in the corner on the secondary break, and the sophomore drains the three. TTU turns it over, and after a Collins miss, Marcus Morris follows with the offensive rebound and putback.
Collins jacks up another bad shot. He's killing KU tonight. After a foul on Marcus Morris, the referee whistles him for a technical. Not sure what happened, but that's a quick whistle regardless.
TTU 54/KU 43 — 11:53 left in game
On the ropes, the Red Raiders respond well. Singletary drives in for a layup, and Voskuil hits a three over KU's 2-3 zone.
Why is Collins shooting so much? He's 3-for-12 and hoisting up guarded 16-footers and fallaway threes. The Jayhawks have forgotten what it was that helped them make their run (going inside).
Self picks up an ill-advised technical foul after there was no whistle on a Markieff Morris shot inside. Suddenly, TTU's lead is back up to 11, and the Red Raiders have all the momentum.
Could it get any worse for KU? Aldrich picks up an away-from-the-ball whistle, and that's his fourth foul. He heads to the bench.
TTU 41/KU 39 — 15:38 left in game
KU gets the ball inside the paint twice in the first two minutes of the second half, and twice, Marcus Morris dunks it. Again, KU should be able to score points, but holding down TTU defensively will be the key.
The Jayhawks put on a full-court pressing defense, and Taylor gets a steal in the backcourt. He lays it in for two, and KU has trimmed the lead to five.
A three from Morningstar and layup from Aldrich, and suddenly, the Jayhawks are down two. Tech is self-destructing with bad shots and unforced turnovers. A Red Raiders fan in the upper deck yells, "Get your hands off your throats" to his own team.
KU scoring
Collins 7, Marcus Morris 5, Aldrich 4, Releford 4, Reed 4, Taylor 2, Little 2.
KU was 8-for-25 from the floor (32 percent), 2-for-9 from three (22.2 percent) and 10-for-14 from the free-throw line (71.4 percent).
TTU was 12-for-29 from the floor (41.4 percent), 8-for-15 from three (53.3 percent) and 7-for-8 from the free-throw line (87.5 percent).
KU had eight turnovers to TTU's nine. TTU out-rebounded KU, 21-15.
Halftime thoughts
• What happened to that maturing, developing team we saw against Missouri? Collins hasn't shown leadership, and Aldrich was non-existent inside before picking up two fouls. Taylor had a poor half with just two points and two turnovers. We haven't seen these Jayhawks since Michigan State two months ago.
• Having said that, KU still has a great chance in this one. The Jayhawks missed a lot of first-half shots, and the Red Raiders are probably the worst defensive team in the Big 12. I wouldn't be surprised to see the Jayhawks still get to 80 points.
• KU will have to win this one with defense. The Jayhawks were horrible getting out to shooters in the first half, and they'll have to be much, much better. The 2-3 zone was effective toward the end of the half, though, so we'll see if Self sticks with that.
• Good minutes from Releford, even if he did throw a pass to a ref. He tied for the team-high with three rebounds and also made both of his field-goal attempts.
TTU 39/KU 28 — Halftime
KU's change to a 2-3 zone has worked well so far. TTU hasn't been nearly as comfortable in its offense and has missed badly with some forced-up shots.
The Jayhawks hold for the last shot, but an ice-cold Collins jacks up a three that misses badly. That play summarized the first half pretty well. Collins is now 2-for-8, and KU is still down 11.
TTU 39/KU 28 — 1:56 left in 1st half
KU keeps sending Texas Tech to the free-throw line. Okorie makes four straight. The Red Raiders' lead is up to 17.
Collins isn't acting much like a leader now. He's trying to do too much himself and complaining too much to the officials. His lack of focus is showing at the line, where he's just 2-for-4.
Tech is not playing the part of a smart team. KU is struggling from the floor, but the Red Raiders keep putting the Jayhawks at the free-throw line with silly over-the-back fouls.
Rogdrick Craig drains another open three. When is KU going to start defending the three-point line?
Travis Releford drives in for a layup, and Tyrel Reed swishes an open three. The Jayhawks follow with a steal, and after Collins is blocked, Releford uses an athletic move to get the ball off the glass and in for two. That's a 7-0 run for KU, but the Jayhawks still trail by 11.
TTU 29/KU 17 — 7:57 left in 1st half
It might be worse for KU if it wasn't getting to the free-throw line. Aldrich makes two free throws, and Collins makes one of two.
Mike Singletary drains an open three. A minute later, Roberson drives right down the middle of the lane for a layup. The March Jayhawks have been replaced by the October Jayhawks, at least for the first 12 minutes.
TTU 21/KU 12 — 11:56 left in 1st half
The Jayhawks must have decided in the locker room that they weren't going to guard any three-point shots.
Roberson hits a three. Then Voskuil is left open for three consecutive three-pointers (Did I mention he's third in the conference in three-point shooting?). Swish. Swish. Swish. TTU is 5-for-7 from three, but KU is offering little resistance.
Timeout Self. Saying KU did not come to play would be a gross understatement.
The good news is there's still plenty of time for KU to turn things around. If we know anything about Texas Tech, it's that the Red Raiders are going to give up points.
TTU 9/KU 5 — 15:49 left in 1st half
Interesting rule to open the game. There was a jump-ball off the opening tip, so the people that were involved in the tie-up had another tip-off. Brady Morningstar will probably never be involved in a tip again, but he can say he won the one he was in.
Not a good start for KU. Marcus Morris starts with an airballed jumper. The Jayhawks aren't defending well, either, as Nick Okorie makes a pair of open shots.
Alan Voskuil hits a three, and Self takes his first timeout.
Tyshawn Taylor picks up KU's first field goal on a drive 3:15 in, and Marcus Morris gets a tip-in on the next possession, but Voskuil hits another open shot. KU hasn't played with enough energy defensively.
8:26 p.m.
I'm not good at guessing attendance numbers, but I would say that, right now, there are only about 3,000-4,000 fans here at United Spirit Arena.
In other words, I've seen bigger crowds for Emporia State-Washburn women's basketball games at White Auditorium in Emporia.
8:17 p.m.
Some notes about Texas Tech:
• The Red Raiders have lost six straight games.
• Texas Tech, like Kansas, is averaging 77.8 points per game.
• The Red Raiders have given up a Big 12-worst 80.7 points per game in conference play.
• TTU's John Roberson leads the Big 12 in assists (6.5 per game).
• Alan Voskuil is third in the Big 12 in three-point shooting (43.8 percent). KU's Fred Brown is first (45.8 percent) and Kansas State's Fred Brown is second (44.2 percent).
• Voskuil (35.6 minutes per game) and Roberson (35.4 mpg) are third and fourth, respectively, in Big 12 minutes.
7:42 p.m.
As I'm typing this, the Kansas women's basketball team is leading No. 6 Baylor, 36-17, at Allen Fieldhouse. KU's Danielle McCray has 23 points, and there's still three minutes left in the first half.
If you live around the Fieldhouse, there's probably still time to watch an upset in the making.
6:55 p.m.
Welcome back to The Newell Post Live, coming to you from United Spirit Arena in Lubbock, Texas, where the No. 9 Kansas Jayhawks are getting set to take on the Texas Tech Red Raiders.
We're going to try something a little different to start off this blog. Instead of analysis, we're going to start with a contest, with the winner picking up a "Kream Keegan" T-Shirt.
Below are 20 either-or questions. Copy the questions, then select your pick for each question in the comments section below. Only one entry per person, and any person with multiple entries will have all their entries disqualified.
In the event of a tie, the winner will be the one that is closest to the final score for tonight's game.
All entries must be put in the comments section by 8:30 p.m. Entries after this time will be disqualified.
I'll do my best to go through all the entries late tonight. The winner will be notified by e-mail.
I'll go ahead and throw my predictions in the comments section as well. If I am the winner, well, I guess I'll have to give myself the "Kream Keegan" T-Shirt.
Good luck.
KU vs. Texas Tech: 20 questions
1. Which team will score first?
2. Will KU lead by 10 points or more at halftime?
3. Will KU coach Bill Self use two timeouts or more in the first half?
4. Will Brady Morningstar hit two or more three-pointers in the first half?
5. Will Sherron Collins score 23 points or more?
6. Will Texas Tech's Alan Voskuil make at least three three-pointers?
7. Will Texas Tech's John Roberson have seven assists or more?
8. Will the game be tied at any point in the final 30 minutes?
9. Will Cole Aldrich grab at least 17 rebounds?
10. Will Tyshawn Taylor score at least 15 points?
11. Will KU hit at least nine three-pointers?
12. Will Texas Tech hit at least six three-pointers?
13. Will KU out-rebound Texas Tech by at least 10 rebounds?
14. Will KU have 15 turnovers or more?
15. Who will score more: Sherron Collins or Cole Aldrich?
16. Will there be a technical foul in the game?
17. Will KU shoot 50 percent or better against Texas Tech?
18. Will the Morris twins combine for seven fouls or more?
19. Will Travis Releford play eight minutes or more?
20. Will KU senior Matt Kleinmann play?
Tiebreaker — What will the final score for tonight's game be?
More like this story on KUsports.com