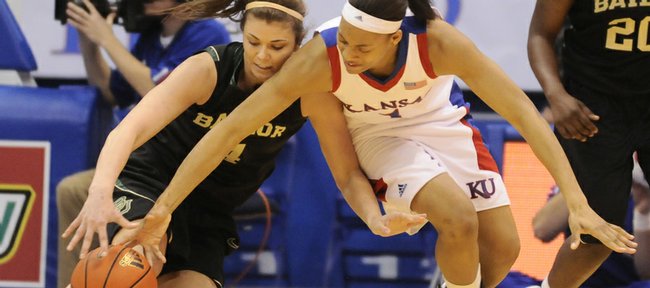 Call it a tale of two Danielles.
Danielle McCray scored a career-high 35 points as Kansas University stunned Danielle Wilson-less Baylor, 69-45, in Big 12 women's basketball on Wednesday night in Allen Fieldhouse.
McCray was marvelous, making seven of 10 three-point goals — including her first five attempts during a first-half onslaught that left the Bears ladder-less in a 42-17 halftime hole.
"I had the hot hand … everything was going in," said McCray, a 5-foot-11 junior whose previous high was 30, a total she had reached twice earlier in the season.
"She's a perimeter player," Baylor coach Kim Mulkey said of McCray, "and she almost scored as many points as our whole team did. I haven't seen her a whole lot, but I thought she was very good."
Overlooked, though, because of McCray's offensive explosion was Krysten Boogaard. The 6-5 sophomore was a force inside with 18 points and 11 rebounds — totals she conceded she probably wouldn't have accumulated if Baylor's Wilson had been playing.
"I think it would have changed the game a lot," Boogaard said. "But even without Danielle Wilson, they are a good basketball team."
Not Wednesday night.
Wilson, a 6-3 senior who was leading the No. 5-ranked Bears in scoring (15.1) and rebounding (9.6), suffered a knee injury late in the first half of Saturday's victory over Texas and didn't play against the Jayhawks.
Without Wilson, the Bears looked lost. They shot dreadfully, making only 16 of 62 shots, a dismal 25.8 percent.
"It takes energy and effort to win on the road," Mulkey said, "and I didn't think we got it from some of our players when the game started."
With the Bears in a funk, the Jayhawks worked the high-low to perfection. If McCray didn't score from the outside, Boogaard scored inside. The two accounted for 33 of the Jayhawks' 52 shots and all but 16 of KU's points.
Looking at the big picture, the Jayhawks knocked off a Top-10 team for the first time in Bonnie Henrickson's five years as KU coach. Kansas also won a sixth Big 12 game for the first time under Henrickson.
"It's a great win," the KU coach said. "I thought the kids were ready to play. It feels good to be playing well. We have been playing with a sense of urgency."
Kansas began its four-game sizz after suffering a 69-62 loss at Colorado, the Big 12 cellar-dweller.
"Danielle was in foul trouble at Colorado," Henrickson said. "It was a crisis. It was terrible."
McCray logged only 22 minutes that night in Boulder, Colo., and finished with 11 points. But in the four games since, she has averaged nearly 27 points a game.
"I don't have words for it," McCray said. "It's just a great feeling."
Included in those four wins was a victory over then No. 23-ranked Iowa State, so KU's mini-streak has some cachet. But enough to earn a berth in the NCAA Tournament?
With a 17-11 overall record, the Jayhawks are a lock for the WNIT, but their sights are set higher.
"We still have NCAA hopes alive," McCray said. "We're not thinking it's over. We're not giving up."
The Jayhawks, alone in seventh place in league standings with a 6-9 record, will conclude the regular season Saturday night at Iowa State. The Big 12 tournament will begin a week from today in Oklahoma City.
After Wednesday's game, Ivana Catic, Marija Zinic and Katie Smith were feted on Senior Night. Also recognized was junior Rebecca Feickert, who will graduate in May and doesn't plan to play basketball next season.
— Sports writer Chuck Woodling can be reached at 832-6348.
More like this story on KUsports.com