On the street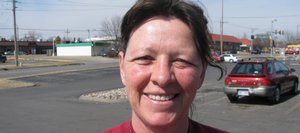 Maybe it was Sunday's thrashing of Missouri on the hardwoods that brought this idea up again.
Whatever it was, city commissioners soon may consider renaming two blocks of Missouri Street to honor former Kansas University football coach and eternal Missouri-hater Don Fambrough.
Commissioner Sue Hack on Tuesday night asked city staff to place the issue on a future agenda item before she leaves office on April 14.
The idea is to rename just the portion of Missouri Street that leads into KU's Memorial Stadium — basically the section from Ninth to 11th streets.
The idea has come up before, but it's never gained enough traction. Concerns about residents having to change their mailing addresses have been mentioned. The street is also in an old part of town, and part of Lawrence's history is its street names.
But Hack said she's had several people ask her about the change, and she would like an up or down vote on the idea before she leaves office. She's not seeking re-election.
Chris Kennedy moved to the 900 block of Missouri Street about a week ago. He said he thought renaming the section of street would be a fitting tribute to coach Fambrough. "I'm 100 percent for it," he said. "Don Fambrough is a Lawrence legend and a hero, and he deserves to be honored."