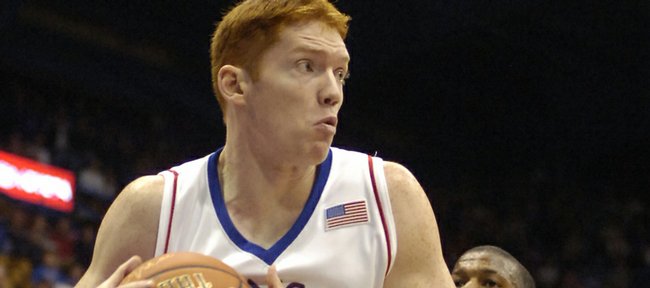 Lubock, Texas — Kansas University basketball coach Bill Self and one of his favorites, fifth-year senior center Matt Kleinmann, had a nice chat at the airport last summer as they embarked on the Jayhawks' Labor Day weekend trip to Canada.
"Coach Self brought it up. He told me if things worked out, I could be the only player in history with five Big 12 championship rings. I think that'd be very cool. I came to Kansas hoping to win a ring, not five," Kleinmann added with a laugh.
The 6-foot-10 walk-on out of Blue Valley West High — who red-shirted during the 2004-05 season — will be assured "one for the thumb" if KU defeats Texas Tech in today's 8:30 p.m. tip at United Spirit Arena.
A victory would guarantee KU (24-5, 13-1) a tie for the league title with one game to play.
A victory coupled with an OU defeat at Missouri tonight would give the Jayhawks the outright crown.
KU concludes the regular season at 3 p.m. Saturday, at home versus Texas.
"Maybe back in the day," Kleinmann said, asked if he knew of any college player with five conference rings in his safe deposit box.
"If you go too far back, freshmen weren't allowed to play. I'm sure some guys on teams that had success at the UCLAs, Kentuckys, might have done it. But I don't know. It might be one of those obscure 'Jeopardy' facts nobody will ever get right."
It's believed Kleinmann indeed is trying to become the first Jayhawk in history to snare five regular-season title rings. KU last won as many as five titles in a row during a six-year span from 1922-27.
Freshmen were ineligible and did not take red-shirts in that era.
"Coach Self was talking the other day. He said he doesn't know if anybody's ever won five. It'd be quite a deal to get another one for Matt," said KU senior walk-on Brennan Bechard, who like Kleinmann has just one home game remaining in his college career.
Self, who acknowledges, "it'd be a big deal for (Kleinmann)," also desperately wants the title for the other members on the 2008-09 team.
"Winning league is a big deal," said Self, whose Jayhawks wrapped up a share of the league title (with Texas) last year in the conference finale at Texas A&M.; "Any time you clinch it is special. We are not approaching it like we are going there to win league, but put us in position to win the league Saturday. Technically if Missouri beats OU it could happen (today) if we are successful."
Self said the only way the Jayhawks would celebrate tonight was with the sweep: a KU victory and an OU loss.
The Jayhawks do admit it was fun hoisting the league trophy in the locker room on the road a year ago in College Station.
"It's a great feeling to clinch on the road. You get to celebrate in somebody else's locker room," junior guard Sherron Collins said. "The bus ride or flight home ... everybody is talking and it's fun. It'd be nice to win it on the road."
"We want to win it on the road," junior forward Mario Little noted, "then hold it down for the seniors (on Senior Day) Saturday."
To win tonight, the Jayhawks will have to stop a Tech team (12-17, 2-12) that has double-digit scorers in sophomore guard John Roberson (14.3 ppg, single-season school record 188 assists against 101 turnovers), senior guard Alan Voskuil (13.8 ppg), junior guard Nick Okorie (11.2) and soph forward Mike Singletary (10.7).
"Our last two trips there have been losses. We've taken pretty good teams to Lubbock and lost both times," Self said. His Jayhawks lost, 69-64, on Jan. 20, 2007, and 80-79 in double overtime on Feb. 14, 2005.
"They've got a team that can shoot the ball. If you don't defend the three, they can give you problems," Self added. "Their point guard (Roberson) is having an all-league type year.
"Last year the stars aligned for us," Self added of the Jayhawks' 109-51 rout of the Red Raiders on Senior Day in Allen Fieldhouse. "They struggled, labored to get things done in that game. I'm sure Pat (Knight, Tech coach) will use that as motivation this year.
"Some things happened late where we pulled away. This game means a lot to us. We have a chance to at least tie with a victory."
It's a tie (or outright crown) that would please everybody, including Kleinmann.
"We're not the most talented and athletic team (in KU history), but we're definitely one of the tougher ones," Kleinmann said. "In the tougher games, we've done what we had to do to win."
More like this story on KUsports.com