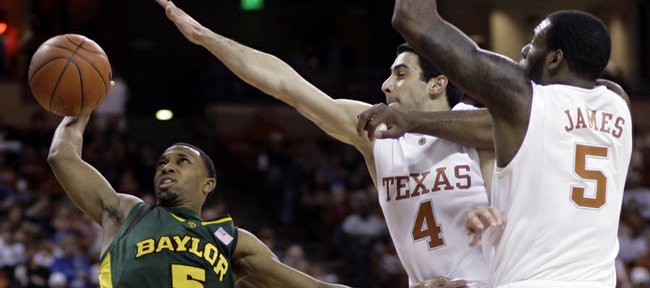 Austin, Texas — Justin Mason spent much of the Texas Longhorns' last game on the bench watching his teammates lose. Back on the court against Baylor, he played with abandon.
The junior guard was the aggressive catalyst for the Longhorns early, pushing them to a big lead in the first half before Texas cruised to a 73-57 victory Monday night that guaranteed the Longhorns a winning season in the Big 12. Two days after going scoreless in the loss, Mason finished with 14 points and four assists.
"Coach (Rick Barnes) talked to me a bit about being more aggressive," Mason said. "I think the team operates a little better when I'm on the floor attacking."
He had lots of help.
Forward Dexter Pittman led Texas (20-9, 9-7 Big 12) with 16 points in a dominant performance inside. A.J. Abrams added 14 points in the Longhorns' 24th consecutive victory over the Bears that also solidified their position for an at-large berth to the NCAA Tournament.
"This is the time of the season when you want to play your best basketball," Barnes said.
That's not what Baylor is doing.
The Bears (17-12, 5-10) have been in a free fall this season after making the NCAA Tournament for the first time in 20 years last year. Baylor has lost nine of its last 11 games.
"We played pretty well in non-conference," Baylor guard Curtis Jerrells said. "Then we just went on a losing streak, and that's what was bad."
Pittman had an easy time finding his shot even though the Bears are one of the few teams that can match his size under the basket. Pittman handled Bears center Josh Lomers and forward Mamadou Diene with 7-of-8 shooting and also grabbed seven rebounds.
Forward Damion James grabbed a game-high 11 rebounds. Texas was so dominant under the basket, the Longhorns outscored Baylor in the paint 48-22 and outrebounded the Bears 41-29.
Defensively, Texas held the Bears to 32 percent shooting. LaceDarius Dunn scored 15 points to lead Baylor.
"We knew we had to pound the ball inside and get in the paint," Pittman said. "Coach said after Oklahoma State, we have to get a piece of the paint every possession."
Mason was doing the damage early by cutting to the basket or swooping in for rebounds and putbacks. He led all scorers in the first half with 10 points, making all four of his shots.
The Longhorns had an easy time working it inside either on drives to the basket by Dogus Balbay or lob passes to Pittman, and Texas built a 35-24 halftime lead.
More like this story on KUsports.com