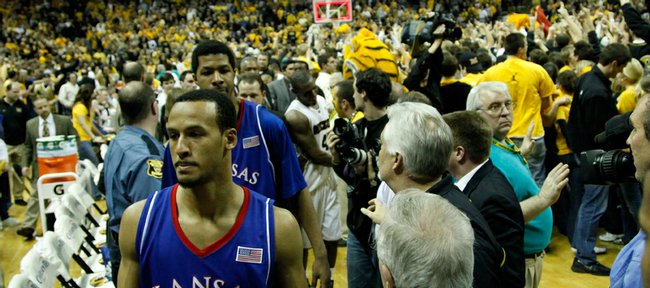 Mario Little and his Kansas University basketball teammates have been haunted by memories of a 62-60 loss to border rival Missouri on Feb. 9 at Mizzou Arena.
That's the game in which MU's Zaire Taylor answered a game-tying Little jumper with a bucket of his own with 1.3 seconds remaining. More than 1,000 frenzied Tiger fans streamed onto the court after a last-ditch desperation shot by KU's Cole Aldrich misfired at the buzzer.
"I do think about that," Little said of KU's only loss in Big 12 Conference play.
"I remember the next day talking to Sherron (Collins). It was a beautiful day outside. Every time we tried to smile and have fun, it'd pop in the back of our head that, 'we lost to Missouri yesterday.' It was bad," Little added.
The Jayhawks (23-5, 12-1), who led the Tigers (24-4, 11-2) by 14 points at halftime, meet MU in a 1 p.m. rematch today in Allen Fieldhouse.
"I mean, like Leo Lyons (of MU) said, that was their national championship. They should run on the court," Little said of the Tiger fans. "Of course we'll use that as motivation. We lost to Missouri. It's a big game to lose."
Before the first game, Kansas City native Lyons indicated that, to MU fans, "this means more to them than a national championship does."
Today's game definitely has implications on the Big 12 race.
The No. 15-ranked Jayhawks enter a half game up on Oklahoma and a full game ahead of No. 11-rated MU with a week of games remaining.
"You could say that," KU point guard Collins said, asked if this game is an opportunity for "revenge."
"It's Kansas-Missouri. They beat us the first time. It's a game we are looking forward to."
KU committed 27 turnovers in the first meeting.
Some miscues were caused by MU's fullcourt pressure; others by sloppy play by the Jayhawks.
"I thought we gave it away," Collins said. "We had the game in our hands. We let it slip away. We turned the ball over, made dumb mistakes late in the game. It's a game you are looking forward to getting it back."
The Jayhawk starters and key reserves have been practicing against seven scout team players at a time this week, as KU coach Bill Self has tried to copy MU's pressure in workouts.
"We turned it over 27 times. Against Missouri, you will probably turn the ball over. They will put themselves in position where you have to make plays," Self said of the Tigers, who have a school-record 304 steals in 28 games and rank second nationally with 10.9 steals per game.
"What you have to cut back on is unforced turnovers. You can't turn it over when you are not being guarded. We have to be strong with the ball and do a much better job than we did the first time," Self added.
The Jayhawks have won the last nine meetings against the Tigers in Allen Fieldhouse.
"It's hard to explain how it is. It's going to be a shock for them, no matter what, playing there the first time," MU senior Matt Lawrence said of the Tiger newcomers.
"They have the greatest home winning streak, I think, alive right now (39 straight games in Allen). So you know it's a tough place to play, but I think if we go there and match their intensity from the beginning ... we know that they're going to be hyped. Their crowd is going to be ready for us. They're ready to play us. They think that we stole one here even though we don't think we played our best game," Lawrence added.
The Tigers scored just 16 points the first half in Columbia.
"I told our guys it will be harder beating Missouri at home than it was in Columbia, because Missouri didn't play well against us in Columbia. They scored 16 points the first half," Self said. "This is a team that is averaging 80 a game and they hang 16 on us the first half. Now the second half they played really well (in outscoring KU, 46-30). We didn't. I anticipate them playing well. They are a better team than then. On the flipside, I think we are a better team, too. It's two really good teams playing Sunday."
MU senior DeMarre Carroll led all scorers with 22 points off 8-of-13 shooting in the first meeting. Lyons had 13. KU's Tyshawn Taylor (11) was the only Jayhawk to score in double figures.
Even KU newcomers like Little realize MU is a huge rival.
"I mean, yeah, we don't have anybody else to say we're rivals with. We won all our other games. Missouri is the only game we lost in conference," Little said. "Yes, this is a big game. We've got to win. Yes it is."
MU needs to win lest it fall two games behind the Jayhawks in the league race.
"Our guys have been playing some good basketball," MU coach Mike Anderson said. "We've faced KU before. They're an outstanding team. I think the one loss they've got was by us, so I'm sure this will be the ultimate challenge. Maybe they (Tigers) don't know. Sometimes that's good. They don't know what they're going into."
This, that: KU leads the all-time series, 166-94, including a 38-14 mark in Allen. KU has won the last nine meetings vs. MU in Allen dating to 2000. Overall, KU has won five of the last six vs. the Tigers.
More like this story on KUsports.com