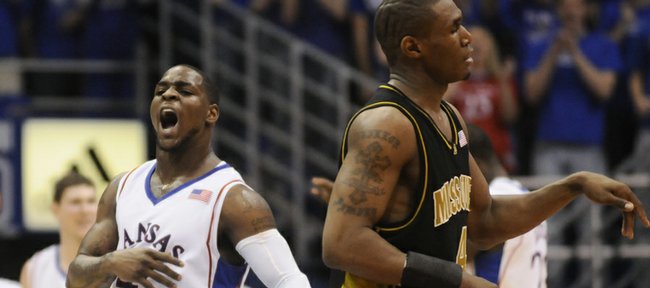 KU scoring
Collins 25 (8-for-14 shooting), Aldrich 19 (8-for-13 shooting), Taylor 15 (5-for-7 shooting), Reed 9, Markieff Morris 6, Little 5, Marcus Morris 4, Thomas 3, Appleton 2, Morningstar 2.
KU was 33-for-59 from the floor (55.9 percent), 8-for-14 from three (57.1 percent) and 16-for-22 from the free-throw line (72.7 percent).
MU was 25-for-70 from the floor (35.7 percent), 3-for-17 from three (17.6 percent) and 12-for-17 from the free-throw line (70.6 percent).
KU out-rebounded MU, 46-32. KU had 16 turnovers to MU's eight.
FINAL: KU defeats MU, 90-65
The backups check in with just under two minutes to play. Quintrell Thomas puts in a baseline jumper, and Tyrone Appleton follows with a floater in the lane.
KU closes out a dominating 90-65 victory.
KU 86/MU 60 — 2:19 left in game
KU is killing MU the same way the Tigers killed the Jayhawks in the first game: from the free-throw line. Silly fouls on MU have given KU four free throws, and Taylor and Markieff Morris both knock down a pair from the line.
Taylor finally takes advantage of MU's over-aggressive defense, throwing a lob to Aldrich for a slam on a two-on-one.
The Jayhawks are winded, but they're hanging in there. Self calls timeout at the 4:05 mark, obviously seeing the same fatigue in his players.
Taylor has turned into Chris Paul for KU. After getting the defense to commit, he casually throws the ball high toward the side of the backboard. Aldrich slams it down with one hand.
Just like that, the Jayhawks' lead is back up to 26.
KU 74/MU 54 — 7:00 left in game
An old-school hook shot from Aldrich, who takes two big steps across the lane before dropping in the shot.
Collins lobs an entry pass that just gets over the fingertips of an MU defender. Aldrich lays it in and is fouled, pushing KU's lead to 27.
Give credit where credit is due: That was a great move underneath the bucket by Zaire Taylor. He seemed to hang in the air forever before floating to the other side of the basket for the reverse lay-in after switching the ball to his left hand.
Carroll gets a fast-break layup, and that's an 8-2 run for MU. Self calls timeout. MU's definitely the team on the attack now, as the full-court press has started to speed up KU's offense once again.
KU 66/MU 41 — 11:41 left in game
After two straight MU baskets, Collins provides the damage control, spinning in the lane before putting in a two. The Jayhawks aren't letting the Tigers put together an extended run.
Collins goes to the bench at the 12:46 mark. We'll see how long Self leaves him out.
Aldrich makes the best of a bad situation, taking a low bounce pass and spinning before putting in a tough jumper.
KU 60/MU 35 — 14:18 left in game
Reed knocks down a huge guarded three for KU. The Fieldhouse was dead and needed something to give it life again.
On the break, Collins puts in a wide-open three, and Anderson calls timeout. The Jayhawks have answered a Tiger run nicely.
KU 54/MU 33 — 15:32 left in game
Carroll and Lyons both hit jumpers to start the half. Predictably, the KU fans and players have started the half a little flat.
The Jayhawks go right back to Aldrich, who is fouled and hits two free throws. Collins hits a three on the next possession and pumps his fist afterwards.
After hitting no threes in the first half, MU has come out hot in the second half. Zaire Taylor swishes a long-range shot, and Lyons (who had shot just seven threes all year) puts in a trey of his own.
The Jayhawks' second half has started much like the second half in the first matchup against the Tigers: with a lot of whistles. KU has four fouls already and needs to be careful to not give MU easy chances for points at the free-throw line. Remember, the Tigers had just four free throws in the first half of the last matchup, then went 17-for-23 from the line in the final 20 minutes.
Kirk Hinrich, summarized:
Wow, thanks a lot Max (Falkenstien). I appreciate all the kind words.
I want to thank my teammates. I grew up believing each individual accolade was the product of teammates. I'd like to thank them for that.
To Coach Williams, you helped me grow up. You taught me so much about basketball and life.
I want to thank my family and friends. Mom and dad — thanks for teaching me about life and putting a basketball in my hands.
To my grandparents, wife and sister: Thanks for always believing in me.
(direct quote) "There's no place like it. This building in my mind is the greatest basketball venue in the world."
I'm truly honored. This is humbling. Thank you very much.
KU scoring
Collins 11, Morningstar 7, Aldrich 6, Reed 6, Little 5, Marcus Morris 4, Markieff Morris 4, Morningstar 2.
KU was 18-for-32 from the field (56.3 percent), 5-for-7 from three (71.4 percent) and 4-for-9 from the free-throw line (44.4 percent).
MU was 8-for-39 from the floor (20.5 percent), 0-for-9 from three and 3-for-8 from the free-throw line (37.5 percent).
KU out-rebounded MU, 29-22. The Jayhawks had nine turnovers to the Tigers' five.
We'll have some highlights from Kirk Hinrich's halftime speech coming up (if he speaks).
KU 45/MU 19 — Halftime
Collins misses a layup, but Aldrich dunks the rebound in. By my count, Aldrich's six points have come on three dunks.
Great sequence to end the half by KU. Aldrich could have forced up a tough shot, but he passed it out so KU could get the final shot.
Collins started to drive, but showed faith in his teammates by quickly passing out to Taylor for an open three that hit nothing but net. The Jayhawks end the half on a 7-0 run.
You couldn't ask for a much better first half from KU.
KU 38/MU 19 — 2:31 left in 1st half
Reed buries another three. What might be overlooked was that right before that, he saved a turnover by catching a tough pass and dribbling it back out to safety.
As funny as this sounds, KU has sped up MU in this game. The Tigers look rushed on offense and aren't getting many good shots off.
Collins makes an open three, and the Jayhawks are 4-for-6 from deep (66.7 percent). Keep in mind, MU leads the Big 12 in three-point percentage defense (30.9 percent). KU was just 2-for-15 from deep in the first matchup.
KU 30/MU 12 — 7:42 left in 1st half
Self has made the move to sit Collins for a minute. After a turnover by Tyshawn Taylor on a carry, Self shows his quick trigger finger. Collins gets up to check back in. Self needs to get brave and rest Collins one more time before the end of the half.
Marcus Morris goes over an MU defender for an offensive rebound, then puts in a bank shot with a foul. He punches his fist out in celebration.
Nice drive by Collins, who draws three defenders before dropping the ball to Aldrich for a dunk.
Double-teaming a high ball screen costs MU. Collins lobs to Little, who quickly finds Tyrel Reed in the corner for an open three.
This is the time KU really needs to extend its lead, because the Tigers can come back in a hurry.
KU 21/MU 7 — 11:50 left in 1st half
The body language is not good now for Missouri. Carroll slams the ball after a Collins drive and basket. He lowers his eyes a minute later as he goes to the bench.
Nice effort by Markieff Morris, who extends to tip a missed free throw back to Mario Little. Collins turns the extra possession into a three.
Little gets a layup to roll in, and MU's Mike Anderson calls timeout. KU has a 14-0 run.
KU 13/MU 5 — 14:19 left in 1st half
The pace in this one has started at a furious pace. Both teams are getting up and down the floor in a hurry. That might favor MU late if the Tigers can stay close.
Six different Jayhawks have already scored. On defense, KU has sagged off the MU guards on the perimeter, and so far, it's paid off. The Tigers are 0-for-3 from deep.
Cole Aldrich gets the ball on a runout, and he throws in a one-handed tomahawk slam, and the crowd goes nuts. Seconds later, after a miss from DeMarre Carroll, Markieff Morris puts in an athletic layup off a feed from Sherron Collins.
KU has definitely been in attack mode for the first five minutes of this one.
1:06 p.m.
Try 105.6 on the decibel meter before tipoff. I'd say the crowd is ready to go.
12:54 p.m.
Prediction time.
I think this one be close at the end. I see the Jayhawks getting out to an early lead, but I also think Missouri will close the gap quickly in the final eight minutes because of its depth/frantic pressing.
This time, Sherron Collins makes his free throws down the stretch, hitting two shots with under a minute left to seal it.
Prediction: Kansas 81, Missouri 79
Also, give me ten-plus points from Travis Releford.
That should be enough predictions to make me look stupid after the game.
12:37 p.m.
Contrary to some Internet rumors, Eddie Hightower is, in fact, not officiating today's game.
I do recognize John Higgins and Ted Hillary, though.
12:29 p.m.
It's 35 minutes before the game, and already the northwest and southwest corners are filled to the top. I'm expecting a different type of energy from the crowd (and a new high mark on the decibel meter, which had a high of 102.1 against Kansas State).
A note for those of you around the Lawrence area: Channel 6 will run a replay of today's game at 10:30 p.m. tonight.
11:55 a.m.
Welcome back to the Newell Post Live, coming to you from Allen Fieldhouse where the No. 15 Kansas Jayhawks are getting set to take on the No. 11 Missouri Tigers.
Obviously, turnovers will play a big part in today's game. The Jayhawks turned it over a season-high 27 times in the first game against the Tigers, and that was a major factor in KU's 62-60 loss.
Keeping turnovers down also should be a major focus for KU come tournament time. Giveaways have been one of the Jayhawks' biggest weaknesses this season, as KU averages 14.9 turnovers per game, which is last in the Big 12.
Not surprisingly, the Jayhawks also have a poor turnover percentage* of 22.2 percent, which ranks 261st out of 344 teams. That's the worst mark of the Bill Self era.
* — Turnover percentage is compiled by dividing the number of turnovers by the number of possessions.
Let's take a look at KU's turnovers this year compared to Self's other years at KU. In parentheses are the turnover percentage from each team, along with the national rank.
KU's turnovers through the years

2008-09 — 14.9 (22.2 percent, 261st nationally)

2007-08 — 13.2 (19.1 percent, 61st)

2006-07 — 14.2 (20.0 percent, 94th)

2005-06 — 15.6 (22.2 percent, 220th)

2004-05 — 14.4 (20.9 percent, 141st)

2003-04 — 14.7 (20.7 percent, 124th)

One thing of note: Self's two highest turnover-percentage teams before this season (2005-06, 2004-05) both lost in the first round of the NCAA Tournament (Bradley, Bucknell).
Because I'm a nerd and wanted to look this up for myself, I wondered how Self's high-turnover teams fared in the first round of the NCAA Tournament. I also wondered whether those teams turned the ball over even more in the first round of the tournament based on the pressure of the one-and-done format.
The following list is the number of turnovers KU had against each opponent, followed in parentheses by the number above or below the season average the turnover count was.
KU's first-round turnovers

2007-08 — 11 vs. Portland State (-2.2 turnovers)

2006-07 — 12 vs. Niagara (-2.2 turnovers)

2005-06 — 18 vs. Bradley (+2.4 turnovers)

2004-05 — 13 vs. Bucknell (-1.4 turnovers)

2003-04 — 25 vs. Illinois-Chicago (+10.3 turnovers)

Overall, KU had 79 turnovers instead of an expected 72.1 turnovers — an increase of 9.5 percent. The stats were skewed by the Illinois-Chicago game, though, as KU turned the ball over less than its season average in three of its five games.
Keep an eye on KU's turnovers, both today and for the rest of the season.
The stats have shown that March has gone much better when the Jayhawks keep their giveaways to a minimum.