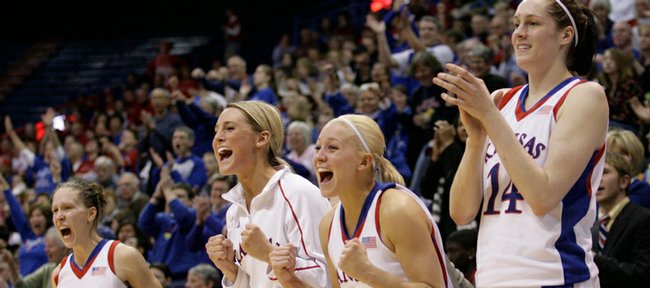 Danielle McCray was solid, as usual, scoring a team-high 18 points.
Freshman Aishah Sutherland came off the bench and contributed 12 points and eight boards.
Sade Morris counted 15 points, including 9-of-10 at the free throw line.
So which of those three Kansas University players did Nebraska coach Connie Yori single out after the Jayhawks' 70-57 women basketball victory on Saturday night in Allen Fieldhouse?
Answer: none of the above.
"The difference-maker was Ivana Catic," Yori said. "They got great point-guard play out of her."
Catic certainly bore little resemblance to the Catic who had scored only 16 points and taken only 13 shots in the Jayhawks' first 13 Big 12 Conference games.
Against the Huskers, the 5-foot-8 senior launched 10 shots, netted five and scored a season-high 10 points. More important, though, Catic logged 34 minutes on the floor and had just one turnover.
"She's not a kid who gets you a whole lot of offense," Yori said, "but she played like a senior who didn't want her career to end. I thought she controlled the game."
In the main, Catic performed at the highest level she has all season, even though she declined to call it her best game.
"When I think about having my best game," she said, "I think of having seven assists, and taking a couple of charges."
Catic didn't take any charges and she was credited with just two assists yet, as teammate McCray said, "She was a leader, she brought energy for us."
And some surprising offensive punch.
"Ivana's a good shooter," McCray said, "but she's more interested in getting another person to take the shot."
As important as Catic was to the big picture, however, Sutherland was the catalyst during a second-half surge that enabled the Jayhawks to win a third straight Big 12 Conference game for the first time in nine years.
With 17:46 remaining, Nebraska led 33-32 and with KU center Krysten Boogaard spinning her wheels, coach Bonnie Henrickson inserted Sutherland. Boogaard never returned.
The 6-2 Sutherland, the only healthy freshman on the roster, helped spark an 18-2 blitz that left the Huskers reeling.
"Aishah was obviously a difference-maker in the second half," Henrickson said. "She made me look stupid for not playing her in the first half."
Kansas bolted to a 15-2 lead, but then went into funk before intermission when Henrickson had McCray, Boogaard and Morris all on the bench because each had two fouls.
Sutherland was also on the bench as the Jayhawks missed 13 of their last 15 shots before the break, allowing the Huskers to go on a 19-5 run that gave them a 31-28 lead. But KU outscored Nebraska, 42-26, in the second half, making 13 of 23 shots and canning 15 of 21 free throws.
Saturday's win boosted the Jayhawks' record to 16-11 and virtually assured them a postseason WNIT berth. With games against Baylor here Wednesday night and at Iowa State next Saturday, KU has an opportunity to post its best conference record under Henrickson.
Kansas is 5-9 in league games and Henrickson's best league record in her previous four years on Mount Oread is 5-11, a mark she has recorded twice. She was 4-12 in her other two seasons.
Henrickson, however, isn't talking postseason or three-game win streaks or conference standings.
"Beat Baylor, that's what we're thinking about," Henrickson said, "because conversation about anything else doesn't help us."
More like this story on KUsports.com