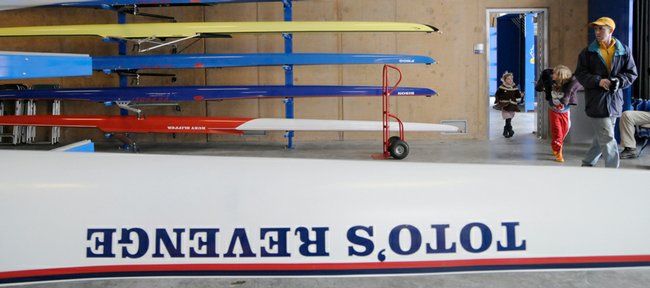 Videos
KU rowing boathouse dedication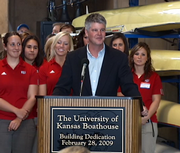 Lew Perkins, Kansas University athetic director, Robert Hemenway, KU chancellor, Rob Catloth, KU rowing coach and Mike Dever, Lawrence mayor, were all on hand for a dedication ceremony for a new boathouse for the KU rowing team.
Kansas University rowing captain Emily Martin and her teammates in the past have often left a practice on the Kansas River muddy, freezing and tired.
Thanks to the recent completion of a $6 million boathouse at Burcham Park, the team now has locker rooms, a place to work out inside and much space to store their boats.
"You come here, and you can go home clean after practice," said Martin, a Wellington senior.
KU and Lawrence officials dedicated the new Kansas Rowing Boathouse during a ceremony Saturday afternoon in front of hundreds of people. It coincided with KU celebrating its 40 years of women's athletics.
"There's just the history of women's sports at KU. It's a growing thing, and it's still growing. This is an example of that," Martin said.
KU's student body voted in 2005 for a student fee to fund the building, designed by Peterson Architects of Cambridge, Mass., and Treanor Architects of Lawrence. Lawrence-based First Management Inc. constructed the 16,000-square-foot building that sits a few feet from the Kansas River.
"Just the buzz around it, and the excitement with the team," coach Rob Catloth said. "I think they're just all really amazed at it all."
Adam McGonigle, KU student body president, christened the new boat Saturday named "Jayhawk Nation" in honor of the KU students.
"This is a fitting tribute to women's athletics at KU," Chancellor Robert Hemenway said.
KU Athletics Inc. reached an agreement with the city to construct the building at Burcham Park. Mayor Mike Dever said the boathouse will help add to the development of the area.
"For me personally, this is the most satisfying building that I've ever been involved with," KU Athletics Director Lew Perkins said. "This is something that's been way, way, way, way overdue."
Catloth, who started rowing at KU as a student in 1980, said the boathouse would benefit both the women's team and the men's club team. The building also has spaces built in to help develop a community rowing program.
Several rowing alumni, along with hundreds of other people, attended Saturday's dedication. Catloth said one joke was that the building was a "mansion," not just a boathouse.
"Just to have it now all come together, there's a lot of people here that today is one of the best days of their lives," Catloth said.
More like this story on KUsports.com