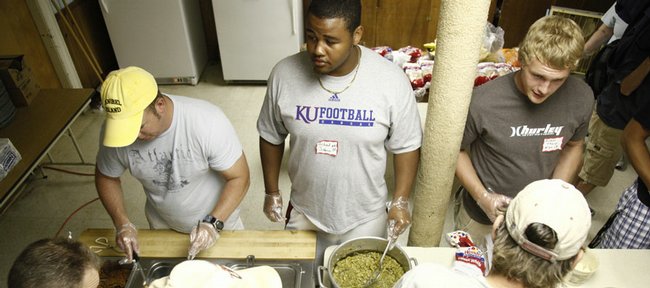 It has been just four months since Tom Sims joined the Kansas University football staff as defensive line coach, but in that time, he has had no trouble making his expectations for the 2009 season clear.
The task charged to members of his unit? Get to the opposing quarterback — and do so often.
"That's the big thing this year," said sophomore defensive tackle Richard Johnson Jr., who on Sunday afternoon joined teammates D.J. Beshears, Toben Opurum, Tyrone Sellers Jr. and Huldon Tharp at the Lawrence Interdenominational Nutrition Kitchen (LINK), a meal program that serves many homeless people. "Coach Sims, that's the thing he stresses: getting to the quarterback."
In recent years, this has been a bit easier said than done for the Jayhawks. Perhaps as a result of the high coaching turnover — Sims marks the fourth person to hold the title of defensive line coach at KU in the past three seasons — and level of conference-wide talent, the Jayhawks haven't finished higher than fifth in the Big 12 in team sacks since 2005.
Not exactly cause for alarm, but not particularly noteworthy, either.
With a locker room full of experienced linemen, however, Kansas is hoping to take a step forward in 2009.
In addition to Johnson, defensive end Jake Laptad is back after a seven-sack sophomore season to help anchor the line. So, too, are tackles Caleb Blakesley and Jamal Greene, although the loss of James Holt, a linebacker who late last season lined up in a three-point stance and finished his senior campaign with a team-high 10 sacks, leaves a sizable hole.
It's no secret that a strong pass-rush can have a ripple-effect throughout the rest of the defense. A hurried quarterback is typically a mistake-prone quarterback, and a defensive line that can handle its business up front without outside help allows the linebackers and defensive backs to stay sound in their assignments.
Heading into next season, then, intruding on the personal space of opposing quarterbacks is something the Jayhawks hope to do a lot of.
"After you make a few plays (in the backfield), you can tell the quarterback's got those second thoughts in his head," said Johnson, who started Kansas' first eight games in '08 before suffering an undisclosed injury that limited him throughout the second half of the season. "He knows somebody's coming for him. So as long as you keep the pressure on them, it's all good for the defense."
Though the amount of scrimmage-type activities during summer conditioning is largely limited — with the exception of some 7-on-7, in fact, it's essentially non-existent — Johnson has seen enough over the past month to feel confident in the promise of this year's defensive front.
On Sunday, he spoke highly of the incoming freshmen, a list that includes ends Sellers and Olathe North graduate Kevin Young, while singling out Quintin Woods — a defensive end transfer from Bakersfield (Calif.) College who originally signed with Michigan out of high school — as a player who is quickly making a name for himself within the program.
"He's going to cause some havoc for some quarterbacks this year," Johnson said, smiling.
As for himself, Johnson hopes an added year of experience — coupled with the tutelage of former NFL lineman Sims — will translate into a successful campaign in '09.
"The game gets a little slower for me (each year)," he said. "I feel like I can play at top speed without second guessing myself. You're kind of robotic when you're younger — thinking about all the plays and what you're supposed to do — but the older you get, as long as you keep your technique and keep learning, you'll be all right."
More like this story on KUsports.com