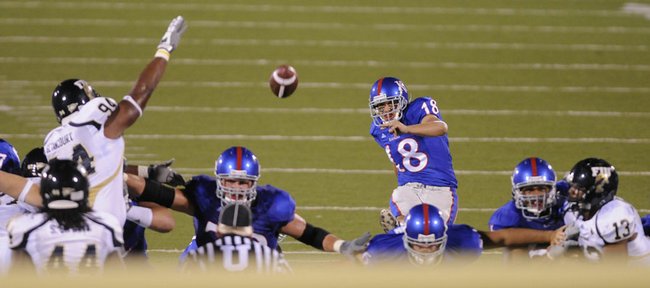 Often lost in the enduring images that come to mind when recalling the Kansas University football team's 40-37 victory over Missouri in the 2008 Border War — the sky spitting snowflakes, KU quarterback Todd Reesing's game-winning lob to receiver Kerry Meier with less than a minute to go — is the scene of a frustrated and dejected Jeremy Maclin making his way from the field after another unsuccessful punt return.
Although he was punted to on four occasions that day at Kansas City's Arrowhead Stadium, Maclin, an All-American return man for the Tigers, failed to record a single punt-return yard as Kansas punter Alonso Rojas, using a rugby-style approach, essentially negated one of the nation's most dangerous returners while dropping three punts inside Missouri's 20-yard line, including one at the Tigers' two-yard line that ultimately resulted in a safety.
"If you look at the Missouri game," KU special teams coordinator Louie Matsakis says, "he took (Maclin) completely out of the game."
Although there were sexier storylines to emerge from the Jayhawks' victory that day, including a dazzling finish that featured four touchdowns in the game's final seven minutes, the Missouri game highlighted an oftentimes forgotten truth in the realm of college football: A good punter can be an invaluable asset.
In his first year of eligibility with the Jayhawks in 2008, Rojas, who transferred from Bowling Green following the 2006 season, finished fifth in the conference in yards per punt (40.7) and — as evidenced by the Border War — displayed a knack for dropping balls inside opponents' 20-yard line.
And despite jokes about the seemingly easy-going lives of specialists ("They golf all the time while we're practicing," says Kansas offensive lineman Brad Thorson), Rojas proved that preparing to punt on a weekly basis is far from a laid-back gig.
In addition to undergoing the same physical conditioning as his more high-profile teammates —lifting, running, etc. — the Miami native immerses himself in the numerous aspects of special-teams game-planning. In the days leading up to a game, for instance, Rojas regularly can be found in the video room at the Anderson Family Football Complex, studying film of the upcoming opponents' punt returner. More specifically, he's searching for a "tell," a returner's tendency to cheat up in an attempt to get a running start or to tip which direction he intends to run by shifting his weight to one side or the other — something he might be able to exploit.
Sometimes, he says, it's easy. Other times, as in the case of Maclin — who Rojas says has a natural ability to read the body language of punters — it can be a bit more difficult.
Because opposing punt returners are doing the same thing in their video rooms — looking for weaknesses, such as how a punter aligns his hips moments before kicking, that similarly might be taken advantage of — the result is a game-day chess match between punter and punt returner, a fascinating drama that will go unnoticed by the majority of fans.
"There are certain guys that he can just tell by their stance what they're going to do," says Matsakis. "Are they going to run the ball up the middle? If they've got their weight on the balls of their feet, they're going to run the ball up the middle of the field. If they've got more weight on one side or the other — or they're shifted one way or the other — it's going to be some sort of sideline-type return. It's things that, once you get good as a punter, these are the little fine-tuning aspects that you notice."
Just as much of Rojas' time, meanwhile, is devoted to self-evaluation.
During typical Kansas practices, there are two cameras set up to record the actions of the special-teams units and another focused solely on Rojas.
As Rojas carries out his punts, the camera catches each step of the process, and afterward, player and coach retreat to the video room, where they examine the footage, take notes and discuss the presence of any irregularities that might lead to long-term mechanics problems.
"A lot of it is like a golf swing," Matsakis says. "You can do really well for a while, and then all of a sudden it's gone. If you're not filming yourself and constantly critiquing it, you'll never get it back. And that's what happens to a lot of kickers. They miss one or two field goals, punters shank a couple, they get into a slump, and they never know how to correct it."
This is not to say, however, that working as a punter is without its lighter moments.
It is not uncommon, for instance, for teammates to wander over to the specialists after practice and see them gleefully going through various late-game scenarios, the punter's equivalent of a game-winning shot in the driveway.
"We'll be like, 'It's the Big 12 championship, we're up by a touchdown and an extra point, we're backed up in our end zone, there's 30 second left, what do we do?'" Rojas says. "So they'll snap the ball, and I'll boot it real far, and we'll mess around celebrating about how good of a punt it is."
And without the widespread acclaim afforded players at more prominent positions, Rojas manages to find pleasure in some of the game's subtle joys.
"The thing I absolutely love most is punt returners who think they're slick and that they can cheat up — kind of, 'I'm gonna run up and catch this ball and score a touchdown,'" says Rojas, smiling. "And right before you punt the ball, you see them kind of cheat to different directions, and then you just completely boot it over their head and just see the ball fly over them while they're just running backwards."
This summer, the Kansas coaching staff's focus has been on improving Rojas' strength.
According to Matsakis, a 15- to 20-pound improvement on a couple of key lifts — namely, bench presses, hang cleans and squats — potentially could add eight to 10 yards and between a half and three-quarters of a second of hangtime to his punts — relatively small gains, to be sure, but ones that can have a profound impact on a game.
"Now you kick a ball, and what was a 42-yard punt, with 4.5 (-second) hangtime, becomes 45, 47 and a 4.9 (hang-time)," Matsakis says. "And now they're fair-catching it instead of returning it."
In the meantime, Rojas is in the process of preparing for his second season at Kansas, one in which the Jayhawks likely could be battling for their first outright Big 12 North title in school history.
With a number of league punt returners gone, including Maclin, Rojas soon will begin studying a new crop of returners, carrying on in the ongoing chess match, continuing to tweak his technique where necessary, and maybe, if things fall into place, making those post-practice, game-on-the-line scenarios a reality.
More like this story on KUsports.com