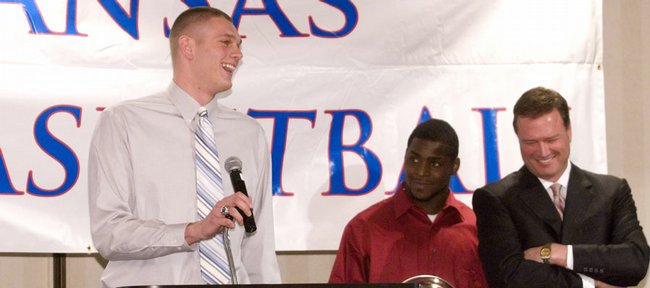 The 2009 NBA Draft has been called one of the weakest in many years.
"Just lousy or all-time terrible?" blared a headline on NBAdraft.net, in advance of tonight's draft at New York's Madison Square Garden, an event that will include no Kansas University players.
That's right — a year after Brandon Rush and Darrell Arthur went in the first round and Mario Chalmers, Darnell Jackson and Sasha Kaun in the second, no Jayhawks will have their names called by NBA commissioner David Stern or deputy commish Adam Silver on ESPN.
KU's Cole Aldrich and Sherron Collins, of course, could have been part of the proceedings tonight.
They elected to return to KU for their junior and senior seasons, respectively.
They are definitely NOT second-guessing their decisions even with this year's draft so weak.
"No," the 6-foot-11 Aldrich said with a smile, asked if he was thinking about the millions of dollars he might be guaranteed had he entered the 2009 draft, which is short on talented big men.
"I'm having the best time of my life right now. I'm excited for the opportunities I have next year, but I'm just having fun as it is."
The 5-foot-11 Collins, who was considered a possible late first-round or second-round pick, also said he has "no regrets."
"If I would have left this year, I think I could have made a team. I think I could have been a first-rounder through workouts," Collins said. "To leave this place before you have to is crazy. We have great fans who love this place. I was not ready to give it all up yet."
Collins and Aldrich visited with each other after the season, each admitting it was easier to decide to return knowing a fellow All-America candidate would be on board for a run at the school's second national title in three years.
"Sherron and I talked about, hey we want to figure out what was best for both of us," Aldrich said. "We both thought the best for each other was to stick around another year and play the game we really love playing. Once we figured it out we knew we (Jayhawks) would be pretty good. If we stay healthy and do what we're supposed to do, it could be a pretty good team."
Aldrich noted that KU's Sweet 16 loss to Michigan State left a bad taste. The two did not want to go out that way.
"We had control of the game a majority of the time," Aldrich said of a 67-62 loss in which KU led by 13 points in the first half and five with three minutes left. "It didn't end right. That kind of sticks in our gut. It's one thing that motivates us. We had a team that could go much farther."
The 2009-10 team, which will top most preseason polls, could have a batch of players in the 2010 Draft.
Draftexpress.com predicts Aldrich will be the No. 4 pick overall and Collins the third pick of the second round. Also, Draftexpress.com says sophomore Tyshawn Taylor will be tapped No. 17 in Round One and freshman Xavier Henry No. 22.
"With what we've got coming back, we have a chance to be better than the national championship team of a couple years ago," Collins said. "We've got a lot of bodies. We can play more bodies. I think we have a chance to be a great team."
Notes
Collins carrying excess pounds: Point guard Collins, who stood 5-foot-11 and weighed 205 pounds last season, checked in at 5-111⁄2, 228 pounds Wednesday at the Deron Williams Skills Academy in Dallas.
"He's got to get in better shape, do a better job of taking care of his body from this point forward," KU coach Bill Self said, issuing his only comment on Collins' weight gain.
Before heading to Dallas, Collins admitted it's time to start preparing his body for his senior season. The season opens with the Oct. 16 Late Night in the Phog. Strenuous Boot Camp conditioning begins in September.
"I've got to be ready. I've got to get in shape, got to get in better shape than I am," said Collins. "Early in the summer you get your break in and go home and see family (in Chicago) which I did. Now it's all serious, not fun and games, but all serious."
Youth served ... again: If there was no age limit, five high school seniors would likely be selected in the first round of tonight's draft.
They are: Xavier Henry (KU), John Wall (Kentucky), DeMarcus Cousins (Kentucky), Derrick Favors (Georgia Tech) and Avery Bradley (Texas).
Draftexpress.com has four freshmen being tapped in Round One tonight: Tyreke Evans (Memphis, No. 8), Jrue Holiday (UCLA, No. 9), DeMar Derozan (USC, No. 10), B.J. Mullens (Ohio State, No. 15).
A batch of sophomores also are expected to go in Round One. Draftexpress says they are: Blake Griffin (Oklahoma, No. 1), Jonny Flynn (Syracuse, No. 4), James Harden (Arizona State, No. 5), James Johnson (Wake Forest, No. 11), Jeff Teague (Wake Forest, No. 19), DeJuan Blair (Pitt, No. 21), Austin Daye (Gongaza, No. 22) and Nick Calathes (Florida, No. 29).
Good decision to return: North Carolina's Tyler Hansbrough, who would have been a certain first round pick after his junior season, can take solace in the fact he didn't hurt his stock in returning for a senior season, one in which his Tar Heels won the national title.
Draftexpress.com predicts Hansbrough will be tapped No. 20 in the first round, by the Utah Jazz. Draftexpress does not believe Gonzaga's Micah Downs, who started his career at KU, will be selected tonight.
Rogers working with Arthur: Former Baylor forward Kevin Rogers, who may hear his name called late in the second round, has been working out with former KU forward Darrell Arthur in Dallas. Arthur was the 27th pick in the first round of the 2008 Draft.
"He gave me his perspective on the league," Rogers told the Dallas Morning News. "He asked me to work out and I jumped on the chance to get better."
2008 revisited: In case you've forgotten, here's a review of last year's NBA draft, which involved five Jayhawks getting picked ... and getting traded.
• Brandon Rush was taken with the 13th pick by the Portland Trail Blazers and then traded to the Indiana Pacers.
• Darrell Arthur slipped all the way to 27th, reportedly because of concerns over the condition of his kidney. He was selected by the New Orleans Hornets, traded to the Portland Trailblazers, and then was dealt to the Houston Rockets, who traded him to the Memphis Grizzlies.
• Mario Chalmers was drafted by the Minnesota Timberwolves with the 34th selection and then traded to the Miami Heat.
• Darnell Jackson was drafted by Miami with the 52nd pick and then traded to the Cleveland Cavaliers.
• Sasha Kaun was drafted by Seattle with the 56th pick, then traded to Cleveland.