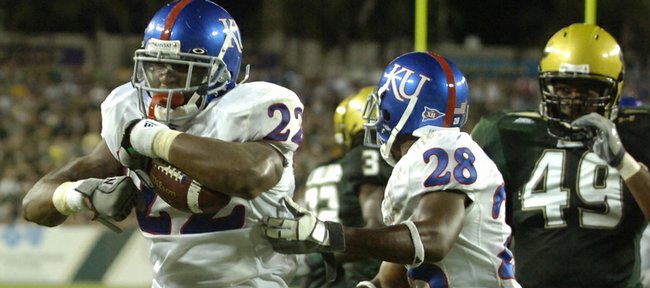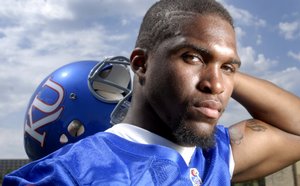 Not long ago, as he sat slouched in a chair in the Parrott Athletic Center on the Kansas University campus, Angus Quigley was talking about his mom.
It was an interesting discussion topic for the 6-foot-2, 222-pound KU football player — not just because such subject matter seldom finds its way into the machismo world of college football — but because, at the time, there was so much else to talk about.
In a couple weeks, the KU football team would begin its summer workouts, the official start to its quest for a first-ever outright Big 12 North title, and Quigley, a fifth-year senior who spent his first four years in the program playing running back, would be standing in a new position.
But at the moment, he was talking about Tammie Hemlee, who raised Quigley more or less alone in the small Texas town of Cleburne.
In Quigely's eyes, just about everything starts with Tammie.
Tammie's been there through just about everything. Through the scholarship offers that dried up when college coaches became concerned Quigley wouldn't be academically eligible after his senior year of high school. Through a gruesome hip injury that, during his red-shirt freshman season at Kansas, left him wheelchair-bound for three weeks, alone in his dorm room while the Jayhawks' 2006 season carried on without him.
And through his current and sometimes difficult transition from running back to linebacker, an experiment the results of which will not be known for at least another two months.
And so, yeah, during a 30-minute interview intended to focus on football, Quigely was talking about his mom.
"She's my world, dog," he says, leaning forward in his seat. "She's my world."
A calculated risk
It's fall of 2000, and Angus Quigley is a man with a secret.
Against the orders of his mother, who has made a point of keeping her only son out of football for fear of injury, he has begun showing up at eighth-grade football practices while Tammie is at work, trying to learn the nuances of the game in the afternoons and attempting to disguise his exhaustion when he slinks home at night. Things are going well, too. He's emerging as one of the top players on his team, despite playing against kids with years of organized youth football experience.
He knows he can't keep quiet forever — not from a woman who serves as a parole officer in charge of, among other things, counseling former criminals — and so when it comes time to admit his guilt, he is systematic in his surrender.
"I figured if I waited until the night before the first game to tell her," he says now, "she wouldn't keep me from playing."
And so on the eve of the team's first game, he approaches Tammie and states cheerfully, "Hey Mom, I have a football game tomorrow. You gonna come?"
Tammie looks down at this waif standing before her, all elbows and kneecaps, the boy who won't even sit with her while she watches football on Sunday afternoons in the fall, and is, well ... confused.
Football? Her son?
"But Mom," he says, "I'm the best player on the team!"
She shakes her head and rolls her eyes, but is intrigued enough to agree to watch the following day's game.
Before the start of the first half the next day, she makes her way to the concession stand, and on the way back to her seat — on the very first play of the game — she sees her son break free into the open field. Not content to watch such an event transpire from the bleachers, she runs screaming all the way down the fence, leaving a trail of popcorn in her wake.
By the end of the evening, Quigley has scored four touchdowns and rushed for more than 300 yards, and when it is over, Tammie sits in her seat in the stands and thinks to herself, "Well maybe this kid can play."
Kansas comes calling
Yes, he can play.
By the time he enters high school, he's playing all over the field. Receiver, running back, cornerback, kickoff returner, gunner — sometimes all in the same game. Anything to get on the field and carve himself a path out of Cleburne, which is what he's decided he must do after watching countless friends and classmates fall victim to the town's seedy temptations.
Despite a rough final two years at Cleburne High — the Yellow Jackets went 1-9 in Quigley's junior year, 0-10 during his senior season — he does enough to catch the attention of a number of college recruiters. He goes to camps at Texas and Oklahoma. He gets letters from colleges from all over the country.
Except a scheduling mishap means that Quigley has a lot of work to do in his final year of school — a lot of math, his worst subject — and when the colleges learn about this, they begin to sag back. TCU, which according to Rivals.com made an offer, calls an audible, suggesting Quigley go to junior college for a semester before enrolling at the school.
And suddenly, Quigley's options have dwindled.
Then one day at school, Quigley is informed that he has a phone call from the head coach at Kansas University. Well, Quigley does not know who the head coach at Kansas University is (or anything about Kansas University, for that matter), but he takes the call, and someone named Mark Mangino begins telling him about a wonderful place called Kansas, where the Jayhawks regularly line up against teams like Texas and Oklahoma.
Unsure what exactly to do, Quigley goes to the one person he can talk to about such matters.
"If they're willing to put themselves out on a limb for you," Tammie tells him, "then that's the school you need to go to."
And so the two of them pack the car and head to Lawrence, and Tammie promises her son she won't cry when it's time for her to drop him off, but that promise proves to be about as strong as a wet paper towel.
"She was putting her stuff in the car," Quigley says, "and she got all teared up."
Riding the roller coaster
From the start, things don't go well for Quigley in Lawrence. One by one, the roadblocks materialize, each a little more disappointing than the one before.
Here comes the hip injury during his red-shirt freshman season that lands him in a wheelchair for three weeks, crutches for four more.
Here comes the daunting rehabilitation process after surgery in Miami, as he tries to regain his old form.
And after he's worked his way back into uniform, after he's spent a year backing up Brandon McAnderson during the Jayhawks' magical Orange Bowl run in 2007, after he's put himself in prime position to battle for a shot at a starting running back spot in '08, now here comes Jocques Crawford, a running back transfer and former junior college player of the year at Cisco (Texas) Junior College who's supposed to be the team's answer to the departed McAnderson.
He talks to Tammie. She tells him to have faith. She also tells him to remember what it feels like to not know anybody, to be the new guy on campus. And so he makes a point to welcome Crawford with open arms, even though Crawford's arrival represents an obvious hurdle in his quest to start at running back for the Jayhawks.
"It was hard, because he had always been the star," says Tammie. "He was always voted Most Likely to Succeed, prom king. It was hard for him, but I said, 'God's not going to put you through anything that he can't bring you out of.'"
And sure enough, a couple games into the 2008 season, he gets his chance.
After four games, he's leading the team in rushing, part of a three-man running back platoon that includes Crawford and Jake Sharp. And before KU's biggest nonconference game of the season, a Friday night, nationally televised matchup with No. 19 South Florida, it's Quigley's picture that runs alongside the USA Today story hyping the game. A team featuring Todd Reesing, Kerry Meier and Darrell Stuckey, and Angus Quigley is the story.
It doesn't last. A couple of bad games here, a couple of costly fumbles there, the emergence of Sharp as a viable No. 1 back, and Quigley is back on the bench, his fate as a running back for the Kansas football team winding to an unceremonious close.
At some point during the latter stages of the '08 season, though, on the rare occasions Quigley still sees the field, Mangino sees Quigley's big body whipping across the turf, sees the ferocious manner in which he collides with defenders, and has an idea.
He knows he'll be losing all three of his starting linebackers following the '08 season. He knows a body like Quigley's could better serve the team on the field.
How about playing linebacker, he asks.
Tackling a new position
So that brings us to today.
Entering a 2009 season that seems to represent Kansas' best shot to date at an outright Big 12 North title, this is Quigley's challenge: Reinvent himself in a single offseason.
It won't be easy, but there is reason for Kansas fans to hope. For one thing, Quigley is under the tutelage of a distinguished linebackers coach — a vocal, energetic man named Bill Miller who counts NFL all-pro Ray Lewis among his former pupils. For another, it's impossible to look at Quigley's frame — 6-foot-2, 222 pounds — and not be struck by the possibilities.
"Not to have a man-crush on Angus Quigley," says Sharp, KU's starting running back, "but his physical stature, his lifts, his speed ... he's an excellent asset to our team."
There is still plenty to be done in the next three months, of course. Playing linebacker in the Big 12 is difficult enough with years of experience at the position. Quigley is starting from scratch. He's currently in the not-so-simple process of wrapping his head around the position's many nuances — spacing, route concepts, run schemes. And he still smiles sheepishly when asked about his pad level, which regularly drove coaches crazy when he played running back.
"Still gotta work on pad level," he says, shaking his head. "Just like at running back."
Like always, Tammie has been there for guidance, talking to him during their Sunday phone calls, offering encouragement where necessary.
"He just had to have faith," says Tammie. "You can come back from anything if you want to come back from it. It might be a little off the loop, but you can come back from it.
"He's really buying into it," she adds of the move to linebacker. "When I talk to him, he's like, 'Mom, I feel like a natural at it.'"
So yes, Quigley was talking about his mom as he sat in that Parrott Athletic Center office last month. He was talking about the support and the bond ("I'm a big momma's boy," he said) — and before he got up to leave, he smiled and offered up an old cliche that — in the context of the moment — sounded like something a bit more.
"If it wasn't for my mom," he says, "I probably wouldn't be here."