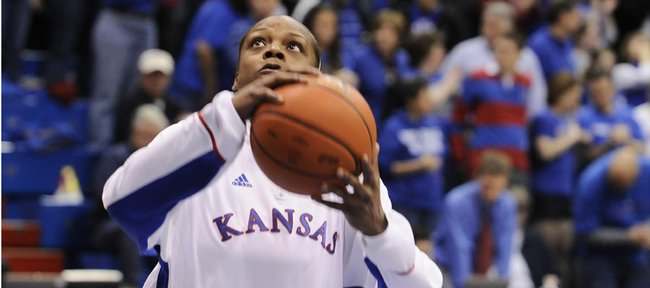 Danielle McCray felt humbled and honored — and also experienced a surge of patriotic pride — when presented her Red, White and Blue Team USA jersey, shorts and warmups last month at the U.S. Olympic Training Center in Colorado Springs, Colo.
"We got our gear ... I was so excited," said McCray, Kansas University's 5-foot-11 senior guard/forward, one of 15 finalists for USA Basketball's World University Games team.
"They showed us a video of what it's like to win a gold medal. It's really cool," she added.
Even cooler would be to survive this week's three cuts and wrap up a spot on the 12-member team, which will depart for Serbia, site of the July 1-11 World University Games at the end of this week.
McCray is back in Colorado Springs with fellow finalists: Tina Charles (Connecticut), Alexis Gray-Lawson (California), Whitney Hand (Oklahoma), Tiffany Hayes (Connecticut), Ashley Houts (Georgia), Amy Jaeschke (Northwestern), Jantel Lavender (Ohio State), Jacinta Monroe (Florida State), Maya Moore (Connecticut), Kayla Pedersen (Stanford); Ta'Shia Phillips (Xavier), Carolyn Swords (Boston College), Jeanette Pohlen (Stanford) and Danielle Robinson (Oklahoma).
"The different people you are playing against ... you have to adapt," McCray said of the rugged competition. "It's hard because you can't do the things you want (offensively). More people have stood out by their defense," said McCray, who averaged 21.6 points a game her junior season, second best mark in the Big 12 and eighth best in the country. "This gives me a good idea how it'll be at the next level."
McCray, who earned first-team All-Big 12 and honorable mention All-America honors last season, is hoping for a career in the WNBA.
"I know a lot of people who are good players who have not made the league. It concerns me," McCray said. "I know a lot of people who have gotten cut. It makes you work harder."
She realizes playing in the World Games would give her valuable experience for next season at KU and her attempt to make the pros. She's the first KU player to attend World Games tryouts since Shaquina Mosley in 2005.
"It will be intense. The teams we are going to play have been together a long time," McCray said. "The shot clock is different. It's a different type of ball. The three-point line is farther back. The lane is wider. All that would be great to experience."
But the most fun would be ... "representing your country, getting a gold medal, meeting new people and seeing new places," she said.
The team's head coach — Arizona State's Charli Turner Thorne — recently hinted that McCray would make the final cut.
"We've got a lot of firepower, a lot of offensive weapons especially inside with tremendous post play and wing play with (Maya) Moore and McCray," Turner Thorne said after the roster was sliced from 30 players to 15.
"I saw that and that got me excited (about her chances)," McCray said with a smile.
Turner Thorne, who assisted the USA women to a gold medal at the 2007 FIBA U21 World Championships, is being assisted by Suzy Merchant of Michigan State and Julie Rousseau of Pepperdine.
No matter what happens, McCray figures this experience will be beneficial for herself and the 2009-10 Jayhawks.
"We have great expectations we've set for ourselves in training this summer," McCray said. "We want to not just make the NCAAs, but go far in the NCAAs."