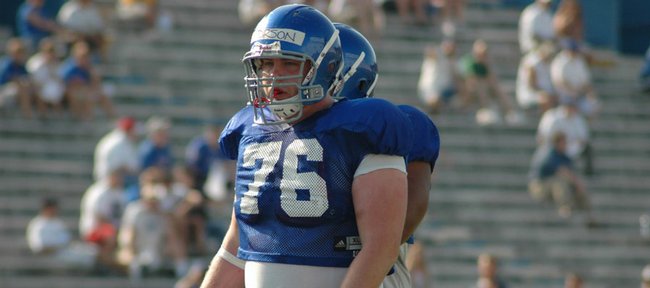 Though it's eight feet away from him, Brad Thorson immediately recognizes the video on the computer across the room.
"That's the one," he says with a wide smile. "I can already tell."
The 6-foot-3 offensive lineman grabs the laptop, settles it on his dark blue shorts and hits play for a few seconds.
The YouTube video shows Thorson — dressed in an oversized purple velvet jumpsuit — serenading Kansas athletic director Lew Perkins on a stage with a high-pitched rendition of "I will always love Lew" at the 2009 Jayrock variety show.
"I got a standing ovation. First time in my life," Thorson says with a smile.
Thorson admits there were times he wasn't sure how he'd fit in at KU after he transferred from Wisconsin last season.
Looking back, getting involved on campus and becoming a member of KU's Student Athlete Advisory Committee (SAAC) turned out to be the best decision he could have made.
"It gave me an opportunity to meet hundreds of other student-athletes in just a matter of weeks," Thorson says. "One of the big things is it gives me something else to talk about when I meet people."
Sparking an interest
Thorson was a unique case when he arrived in Lawrence last August.
He spent two years on Wisconsin's football team and had three years of eligibility remaining, but already had completed his undergraduate degree.
The reason? An overload of college classes in high school.
After taking Advanced Placement U.S. History as a high school sophomore, Thorson increased his college-credit workload over the next two years. He took five A.P. tests his junior year and four more his senior year.
Before arriving on a college campus, Thorson already had 50 hours of college credit.
It made for an interesting challenge once he transferred to KU last August: Thorson was trying to become acclimated with his new school while taking a graduate workload that was much lighter than that of a typical student.
For a while, Thorson's schedule consisted of practice, one class, a lifting session in the morning, then what he called a "four-hour nothing period."
That changed after Thorson started to make a few visits to see teammate Mike Rivera.
At the time, Rivera was interning for KU's Student-Athlete Development Department. The two often talked about activities involving SAAC, an organization that provides student-athletes the opportunity to communicate more effectively with the KU administrators and staff members. The organization also gets involved with community-service activities.
Thorson never had been involved in SAAC at Wisconsin, as there wasn't a big membership or much push for it.
Rivera invited him to a SAAC meeting, and after stalling for a month, Thorson finally caved. He sat in the back of the room one Monday night and paid attention to everything that happened.
"I saw just a really interesting dynamic that was going on. Women's swimming and soccer suddenly had a voice in how athletics were run," Thorson said. "It was actually a little bit inspiring. It was fun to see the way I could be involved in change, which was exciting."
Sharing his views
That was all it took for Thorson. He became a regular at meetings and also a major contributor.
It didn't take long before Thorson's efforts started to be recognized by those in the athletic department.
"Not to say that Lew Perkins didn't know me beforehand, but he'd come to the office, shake my hand, knew who I was. I was like, 'Whoa, the athletic director — I've been here two months — and the guy knows my life story,'" Thorson said. "There are things like that where you become involved where it builds on itself. The more you get involved, the more you want to do."
One of Thorson's most visible ideas is the Jayhawk Chalk Talk blog, found at www.jayhawkchalktalk.blogspot.com. Started in February, the blog gives an inside look to lives of KU student-athletes.
Teammate Darrell Stuckey, an executive board member on SAAC, said the organization already had benefited from Thorson's presence.
"He's just one of those guys — he questions why things are the way they are, questions why they're done the way they're done, questions how can they be improved," Stuckey said. "I think it's always good to have players around you that think like that, because Brad's one of those guys where he doesn't just want to execute the play, he wants to know why the play is going to be executed."
Seeing opportunity
Thorson's first impression of KU came in a 2007 Wisconsin locker room. After a game, Thorson couldn't help but see the highlights all over the television.
Kansas had scored on 10 straight possessions and defeated Nebraska, 76-39.
"They became the buzz of the nation out of nowhere," Thorson said. "It was really exciting. I saw them as a really big opportunity."
Thorson admits that at times that he was "bull-headed" at Wisconsin, which could have played a role in an episode that led to him deciding to leaving the school.
During his time there, he reportedly was involved in an incident in workouts where teammate Dan Moore suffered a knee injury, and Thorson chose to transfer shortly after.
Thorson, a Mequon, Wis., native, also said he hadn't progressed as well as he had wanted to with the Badgers and that KU presented a chance to play in a familiar, Midwestern environment.
Because he already had completed his undergraduate work, he was allowed to transfer to another Div. I school without having to sit out a year.
Pushing for minutes
Now that he has settled in a year at KU, the 290-pound junior is looking to make more of an impact on the football field this season.
"I've got all the opportunity in the world," Thorson said. "I think I've put myself in a really good position."
Thorson was pleased with his spring-ball performance. Last season, he served as backup center while also playing on special teams.
"I'm setting goals that I want to play quite a bit," Thorson said. "I want to do everything I can to help this team win. If I can do that, it's going to be an awesome season."