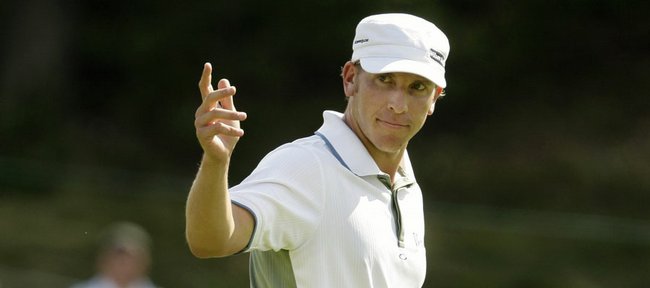 Farmingdale, N.Y. — One day after blazing his way into contention by playing 14 holes of his second round at 4-under par, former Kansas University golfer Gary Woodland proved Friday's performance at the 109th U.S. Open was no fluke.
Although he played only four holes — 15 through 18 — during Saturday's weather-altered second round, Woodland played them in even par and currently sits in 12th place, 1-under for the tournament, with two rounds to play.
Third-round play actually began late Saturday afternoon, but for the third time in three days, play was suspended. Woodland picked up a par on the par-4 first hole to open his third round but was unable to proceed. Interestingly, defending champ Tiger Woods teed off at the same time as Woodland to open the third round, but Woods went off on No. 10.
Twenty-one of the 60 players who made the cut had yet to tee off when play was suspended.
Ricky Barnes sits atop the leaderboard at 8-under. Barnes fired rounds of 67 and 65 for a 132, a U.S. Open 36-hole scoring record.
Woodland's first crack at a major tournament has been anything but routine. His opening round, scheduled for Thursday, was pushed back to Friday because of heavy rains that pounded the Black Course at Bethpage State Park.
Then, after finishing Round 1 with a 73 on Friday, he hopped back onto the course a couple of hours later for his second round. That, too, was interfered with, however, as play was suspended due to darkness at 8:24 p.m. EST on Friday. Woodland had completed 14 holes and was 4-under for the round when play was stopped.
With positive momentum on his side, Woodland returned to the course early Saturday morning and finished the final four holes of the second round.
He bogeyed No. 15 and fell back to even par for the tournament but, after parring 16 and 17, got the stroke back with a birdie on the par-4 18th.
That gave him a 66 for the round and a two-day total of 139.
Woodland's 1-under has him tied with heavy hitter Phil Mickelson and ahead of big-name players, Sergio Garcia (E), Retief Goosen (E), Jim Furyk (+1), Geoff Ogilvy (+2) and, of course, Woods (+3).
Woodland is one of 60 players still in the hunt for this year's Open title. Players who shot 5-over par or worse in the first two rounds were cut on Saturday.
Round three is scheduled to resume — or begin, depending on the player — at 7:30 a.m. EDT today, with the final round tentatively set for this afternoon.