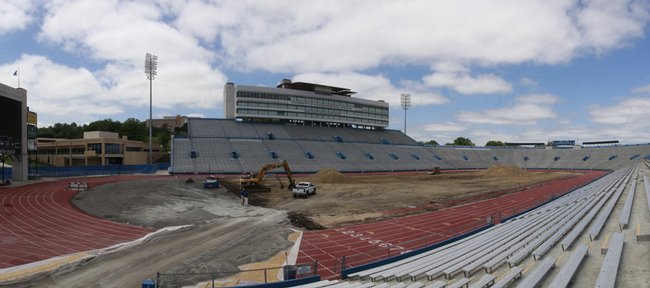 While the term "face-lift" might be a bit much in describing the upgrades currently being carried out within the confines of Kansas University's Memorial Stadium, it would be no stretch to liken the improvements to an afternoon BOTOX session.
Kivisto Field, on which the KU football team plays its home games, is undergoing an $800,000 to $900,000 resurfacing project that will provide the Jayhawks with a state-of-the art playing surface for the 2009 season.
In replacing the AstroTurf surface that spent the past nine seasons as the program's turf of choice, Kansas will implement a FieldTurf product called Duraspine, a playing surface some form of which is currently being used by 36 Div. I football teams nationwide, including Nebraska, Missouri and Wisconsin.
"Basically, for this game field, we looked at AstroTurf and FieldTurf," KU associate athletic director-operations Bill Dickerson said. "… We reviewed with our coaching staff and other administrators, and they liked the FieldTurf. They were the industry leader at the time, they had the most fields in the country, college and pro, so that's what we decided to go with."
The perks of the surface, Dickerson says, are numerous. For one thing, it provides a nearly perfectly level playing field. Kansas' previous field had a concrete crown that gave the field a 12- to 18-inch incline at midfield in order to accommodate the drainage system.
Not so with the FieldTurf, a combination of synthetic grass, silica sand and cryogenic rubber that, despite gaining some notoriety recently after two American cities banned the use of "crumb rubber," has become a popular option for football programs across the country.
It will also consist of the same material used in the team's practice fields, a sticking point for the program's coaches and administrators who sought consistency in playing surfaces.
"The coaches are thrilled with it," Dickerson said. "They're happy they have the same turf system that they have on the practice field, and anytime you get a new surface, things are going to be a little better."
In addition to the field upgrade, meanwhile, KU officials have discussed the possibility of replacing the stadium's current scoreboard as early as this summer. According to documents Kansas University provided to the school's board of regents for their June meeting, the plan would include "removing the existing, (10-year-old) scoreboard, providing supports for the new scoreboard configuration, installing new enclosure and new wiring to the camera and video board control system."
The project, if undertaken, is expected to cost roughly $2,100,000 and would be paid for with Kansas Athletics funds.
The KU athletic department was quick to note that the implementation of a new scoreboard isn't a foregone conclusion. Yet.
"Nothing has been decided yet," associate athletic director Jim Marchiony said. "(But) we should know within the next three weeks."
More like this story on KUsports.com