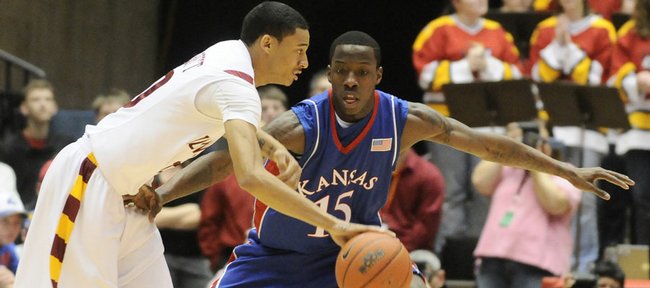 Tyshawn Taylor started to squirm Thursday as USA Basketball national team director Sean Ford rattled off the names of the 12 players selected to wear the red, white and blue in the FIBA Under 19 World Championships.
"There were 17 of us in the room, and I didn't get called right away. It was toward the end of the list. I was in there sweating a bit," Taylor said.
Kansas University's sophomore combo guard learned — with three names to spare — that he had survived cuts following the three-day trials in Colorado Springs and would be representing his country July 2-12 in Auckland, New Zealand.
"I thought I had a pretty good chance. I played pretty well at times, but I was not sure what they were looking for," Taylor said in a phone interview Thursday night. "We had two-a-days, and they were tough. I wasn't ready for this. I was not in that good of shape, honestly.
"The altitude did not help a bit. I'm getting my wind back. It's been fun. It's been good."
Taylor, who will play both point guard and shooting guard for Team USA, is joined on the roster by Butler's Gordon Hayward and Shelvin Mack; Washington State's DeAngelo Casto and Klay Thompson; Duke's Seth Curry; Pitt's Ashton Gibbs; Kentucky's Darius Miller; UTEP's Arnett Moultrie; Northwestern's John Shurna; Georgia's Howard Thompkins; and Mississippi's Terrico White.
Those cut Thursday were West Virginia's Darryl Bryant; Florida's Kenny Boynton; Minnesota's Ralph Sampson III; and Pitt's Dante Taylor. UCLA's Drew Gordon withdrew from the trials after suffering a knee injury Wednesday.
"There weren't many drills that we did. We mostly just got together and scrimmaged," said Taylor, who indicated he's been most impressed with Duke's Curry.
"I think I stood out a bit because I did a good job of playing defense and I worked hard. I also did a good job of making shots and that didn't hurt at all. I was a team player, and often times when guys get around things like this, they start trying to impress people and they try to do too much."
Taylor said making the team was his biggest accomplishment to date in basketball.
"I'd like to say winning it all in high school was it, but I think this really is my biggest achievement," said Taylor, whose St. Anthony (Jersey City, N.J.) team went undefeated his senior season. "I'm really excited about this. I've only been out of the country once, when we went to Canada last year (for three exhibition games)."
Taylor said the key to mining gold would be defense.
"That's what coach Dixon (Jamie, Pitt) has stressed," Taylor said. "Now we have to start practicing (until June 25 in Colorado) and become a team, not just 12 individual players. I think we have a long way to go, but we are going to be fine.
"The coaches talked to us about the 2008 Olympic team with LeBron (James) and Kobe (Bryant) and how they played as a team and the successes they had because of it."
Dixon — along with assistants (Southern Illinois' Chris Lowery and Purdue's Matt Painter) — likes what he's seen so far.
"It's been a great experience, great to be a part of, a lot of kids playing hard and out here for the right reasons and giving up their summer to play in this event and I think they understand the importance of it. I feel very fortunate to be a part of it," Dixon said.
"Now at this point we've got our team and we've got to just mold it. What we're now going to do is focus on defending and then running our offense, and just trying to play unselfish, playing hard and playing smart at the same time."
World Games team selected
USA Basketball also revealed the list of players who will compete in the World University Games, July 2-11 in Serbia. They are: James Anderson (Oklahoma State), Talor Battle (Penn State), Trevor Booker (Clemson), Craig Brackins (Iowa State ), Da'Sean Butler (West Virginia.), Corey Fisher (Villanova ), Lazar Hayward (Marquette), Robbie Hummel (Purdue), Quincy Pondexter (Washington), Deon Thompson (North Carolina), Evan Turner (Ohio State) and Jarvis Varnado (Mississippi State).
Players cut Thursday were Purdue's JaJuan Johnson, South Florida's Dominique Jones, Illinois' Mike Tisdale and Arizona's Nic Wise. KU's Sherron Collins was invited to try out but withdrew on Monday because of family concerns.
Assistant sports editor Gary Bedore can be reached at 832-7186.
More like this story on KUsports.com