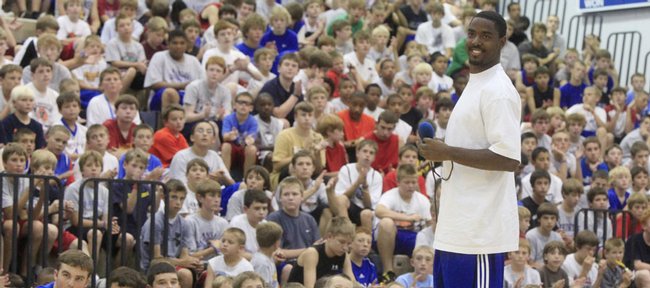 Kansas University sophomore guard Travis Releford, who missed last week's Bill Self campers game because of a painful skin irritation, says he's healed and ready to play in today's Camp Game Part Two.
In fact, the 6-foot-5 Releford will take a turn guarding 33-year-old Billy Thomas, who last Wednesday exploded for 33 points in the KU alumni team's 67-52 victory over the current Jayhawks in Horejsi Center.
"Get up on him and make him put it on the ground," Releford said of his strategy to slow the 6-foot-5 Thomas, who last week drilled seven of 11 threes.
"He likes to dribble into his shot. I saw that from watching last week. I kind of got to sit back and see how the alumni played."
Though nobody ever knows for sure who will play before the 3 p.m. game, alumni Keith Langford, Aaron Miles and Darnell Jackson have said they will participate. Thomas last Wednesday said he planned to play again this week.
Releford, meanwhile, is just happy to be back on the court.
He admits he was getting a bit concerned about his skin irritation after several trips to the doctor showed no reasons for the stabbing sensation he felt when anything touched his skin.
Even sleeping proved to be a problem.
"It hurt in bed with the covers on top of me," Releford said. "I'm fine now. It was a skin reaction. I have been taking a lot of medicine. No more pain."
• NBA rule should be amended: Self said Tuesday he was in favor of changing the rule that forces high school players to attend college a year prior to turning pro.
"In my personal opinion, I think kids should be allowed to go out of high school or (if they enroll in college) stay in college for three years. I think it will move to two (years), and I think that would be good because if someone wanted to make a mockery of our education system, they could with the one-and-done player," Self said.
"They (the one-and-dones) could take six hours in the fall and not go to school in the spring, and the next thing you know they are still eligible to play the full year."
• No more on-and-dones?: "I think it sounds good, but if you were to tell 100 percent of the coaches out there they could have somebody in their program that's good enough to be a lottery pick after one year, then there's a great chance they would take them. And there is still no guarantee that they would leave after one year," Self said.
"There have been a lot of guys projected to be one-and-done that stay in school for three (years). There have been a lot of guys that are projected to be in school for four that leave after one or two. Everybody matures and develops at different rates, so I think it is an inexact science, and I do believe that coaches still want to recruit the best guys. I don't think you can have an entire team of them. If you do that, you'll be really good for one year, but there will certainly be a drop-off. I do think guys want the best players they can possibly recruit."
KU is bringing in a projected one-and-done this year in Xavier Henry.
• Dooley on Holy Cross list?: ESPN's Andy Katz reports that KU assistant coach Joe Dooley is on the list of candidates for the vacant Holy Cross coaching job. Coach Ralph Willard recently left Holy Cross to join Rick Pitino's Louisville staff as an assistant. KU assistant coaches do not comment on job vacancies across the country.
• Rankings: Katz has kept KU as his preseason No. 1 team for next year in his updated rankings following the NBA early-entry draft withdrawal deadline. Michigan State is No. 2, Texas 3, Villanova 4 and North Carolina 5.
More like this story on KUsports.com