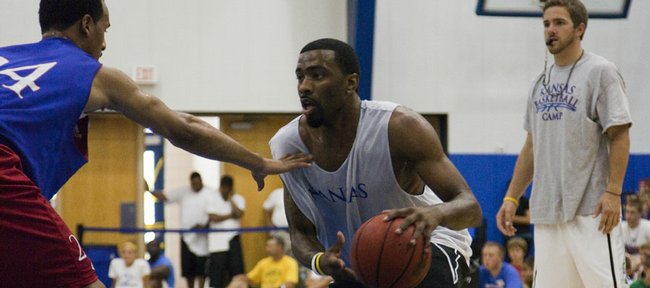 Audio clips
KU basketball camp game, June 17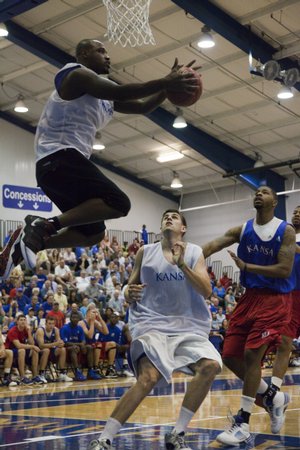 Point guard/team leader Aaron Miles gave a pep talk to Kansas University's alumni basketball squad Wednesday afternoon at Horejsi Center.
"Before we went out there, Aaron said, 'We've got to go ahead and beat the young guys. The young guys shouldn't beat the vets.' We took that to heart. It should always be like that," Cleveland Cavaliers forward Darnell Jackson said after scoring 17 points in the alumni's 67-63 victory over KU's current players.
It marked a Bill Self camp season sweep for the alumni, who a week ago prevailed, 67-52, in a game in which the first team to 65 points won.
Last week, Billy Thomas scored 33 points for the alumni. He had a prior commitment Wednesday, leaving it up to Jackson, Keith Langford (20 points), Christian Moody (16) and floor general Miles (10) to steer the veterans to victory.
Miles, who played pro ball in Greece last season, hit a clutch, wide-open three to conclude the action.
He deflected the credit.
"Keith Langford drew the attention. Darnell Jackson set a flair screen. It was just good veteran basketball," Miles said.
Indeed, Langford dribbled on the right side and passed to Jackson up top. Jackson dished to Miles, who took advantage of a Moody screen to swish an uncontested three from the left side.
"You've got to teach them that," Miles said of 'veteran basketball.' "That's what it is for us because they are really talented. We knew our roles today."
KU senior Sherron Collins, who hit five three-pointers and pumped in 19 points, had a chance to win it for the current Jayhawks. His deep, straight-on three-point try — with the alumni up 64-63 — was right on target, but somehow didn't fall.
"It was down. I think we need to check the net. I think there was something wrong with it," Collins joked. "This game was more competitive (than last week). Nobody was shooting the lights out. Overall it's a good learning experience, but the old guys beat us twice. That doesn't sit well with us."
The current Jayhawks were led by sophomore Marcus Morris, who hit seven of 10 shots and scored 20 points. Travis Releford and Cole Aldrich had nine and eight points, respectively.
"He is so athletic. That boy is going to be dangerous," Jackson said of the 6-foot-8 Morris, who hit two threes in four tries.
Morris admits his confidence is booming.
"I've put in a lot of work. I try to lift two times a day, and I'm getting in the gym at least twice a day working on my three-pointer and foul shot," Morris said. "I'm also working on getting to the basket."
Collins has noticed the improvement.
"It's every day, not just camp games," Collins said. "I tip my cap to him. He's working hard, and his brother (Markieff, four points) is working hard, doing everything they are supposed to do."
Langford said the veterans definitely had to play well to earn the victory.
"I've got to see footage (of last week). I don't know how Billy got 33 in that setting," said Langford, who played in Italy last season and is headed to Russia the next two years to the tune of $2.6 million. "He must have been on fire.
"I'm just happy with the win. The camp game is about showing the young guys how they've got to compete. Sometimes the pickup games get a little lazy, but when the lights come on, they have to understand it's a bit different than pickup. Guys come to compete."
More like this story on KUsports.com