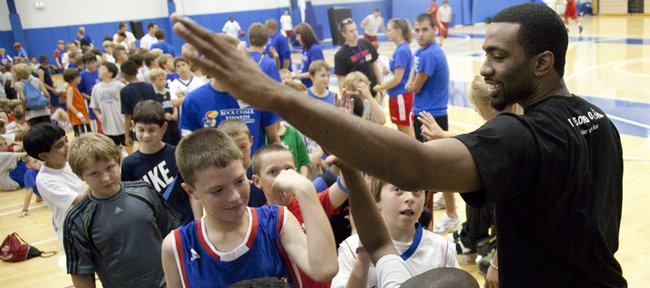 Reader poll
Yes

38%

581 votes

No

50%

771 votes

Undecided

11%

174 votes
1526 total votes.
Keith Langford still hopes to someday play in the NBA.
"If it comes along, that's great," said the 25-year-old former Kansas University combo guard, who for right now, is content — make that downright giddy — to be competing overseas.
Langford, who earned $500,000 playing for Virtus Bologna in the Italian League last season, last week agreed to a two-year, $2.6 million contract offer with Russian League team Khimki Moscow.
"Everything hasn't officially come out, but a report leaked. I am going to end up being in Moscow bumping heads with Sasha next season," Langford said Monday at Bill Self's basketball camp, jokingly referring to former KU player Sasha Kaun, who plays for CSKA Moscow.
"I'm excited about it. They bought me out of the contract I had in Italy.
"Russian teams pay very well," Langford added. "The thing is ... you can go to Russia but you can be living in a cave somewhere. A lot of guys like myself get lucky and are fortunate enough to get to be going to Moscow, which is a great city. If it was any city other than that, I'd have rather stayed where I was at because I enjoyed playing in Italy."
Langford averaged 13.4 points and 4.4 rebounds per games last season for the Bologna team that fell to Benetton in the first round of the Italian League playoffs.
He declined some offers to play NBA summer-league basketball, instead he and his agent looking to Russia for a huge payday.
"I made a conscious decision I was going to focus on my career and make as much money as I can and play as long as I can," Langford said.
"I'm 25 years old. While I can, I'm going to use my best years actually playing basketball and not cheering for somebody (on the bench) during my prime. If Russia pays the amount of money I'm going to be paid and I can be an integral part of the team, I can't ask for any more."
Langford said he'll continue to follow the fortunes of KU's current team next season, as he did this past one.
"It means watching the games at 3, 4, 5 in the morning, but it's worth it. I follow everything about KU," the Fort Worth, Texas, native said, noting the only good thing about his squad's early playoff exit was the fact he'd be able to make it back for the second session of Self's camp.
"Right after we lost, the first thing I thought was, 'Camp game,''' Langford said, referring to getting to play in Wednesday's mid-afternoon contest between KU alums and current players in Horejsi Center.
"That's the highlight of my summer right now," the 6-foot-4 combo guard added. "I heard Billy Thomas had a pretty decent performance last week (33 points at camp game).
"Billy ... we're on the same side, but I'm coming after your numbers," he added in a personal message to Thomas. "I want to win with you, but I'm coming after your numbers, Billy, so be ready," Langford added with a laugh.
Langford — he reached two Final Fours at KU — finished his career as sixth-leading scorer in KU history. He was asked if his jersey No. 5 should someday hang in the Allen Fieldhouse rafters.
"I had a conversation with someone about that not too long ago. Aside from being the sixth leading scorer, I did a few other things I think could go into consideration," said Langford, who made the all-Final Four team in 2003. He may have been named Final Four MVP had KU defeated Syracuse in the national title game. Langford had 23 points in a semifinal victory over Marquette and 19 in the final.
"But in order to keep the jersey retirement special, you have to have really high standards. I think you should keep it where it is because if you open the floodgates there will be a lot of guys. There'd be a lot of discrepancy. I really don't want to touch on that. One day in the future, if that happens, I'd be happy."
l He's growing: KU newcomer Jeff Withey, who was listed 6-foot-10 on last year's roster, set the record straight on his height at Self's camp.
"I'm 7-foot even, about that much taller than Cole (Aldrich)," Arizona transfer Withey said spreading his fingers apart an inch. Aldrich is listed at 6-11.
As far as his weight, San Diego native Withey is "about 230. I weighed 210 when I got here (last winter). The goal is 240, 245," he reported.
"We have a great trainer in coach (Andrea) Hudy. She works us hard and I eat well. I wake up about 8, eat breakfast, go to class, have another meal after class, go to another class, eat. I eat about five or six good meals a day and drink protein shakes, too. I stay away from fast foods. They tell me to eat whatever, just eat," he added.
More like this story on KUsports.com