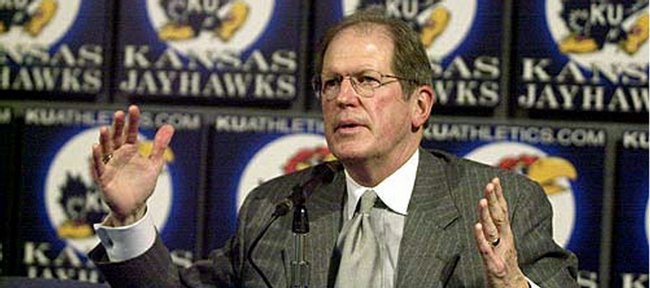 More coverage
Now that the flow of tears has slowed and family and friends have joined together to provide strength and remember one of the greatest men Lawrence ever has known, it's time to start thinking of a way to honor Dr. Bob Frederick.
The most obvious option would be the one thing that seems to be done throughout sports without becoming trite and tired.
You've seen them on countless uniforms throughout the years, and there's no reason to think that KU couldn't spring for the black patches with the letters "BF" on them for its athletic teams to wear proudly during the 2009-10 seasons.
Every team at KU should wear them, from the men's basketball team right down to the rowing team, because every team benefited from Frederick's devotion to the university.
In all honesty, this quest — honoring the kind of man who made many feel like he was a part of their family — is bigger than one school. It should be about more than a couple dozen college teams wearing his initials on their sleeves.
Why not incorporate Lawrence High into this as well?
It might seem silly to have a major university and a high school pay tribute to someone in the same way. But does anything speak to the concept of "community" more than seeing the same patches on high school basketball jerseys and college football helmets?
Did anyone represent community quite like Frederick?
Frederick's passing proved to be a tragic blow to an entire community. Beyond his ties to KU as an athletic director or Lawrence High as a former basketball coach, we lost a friend, a mentor, a father, an ambassador. We lost a familiar face and a friendly smile.
Former Lawrence High boys basketball coach Chris Davis coached Mark Frederick, one of Bob Frederick's four sons, and spent many hours with the family's patriarch both in and out of the basketball context.
Last month, Davis announced his retirement from coaching, citing a desire to find a way to re-emphasize the things that were most important to him: sportsmanship, strong character, leading by example. All are traits that Davis developed in no small way because of his relationship with Frederick.
"He was as positive a mentor as I could have had," Davis said. "Sportsmanship and the way you carried yourself and the way you led young men were very important to him, and I learned a lot about those things from him. Working to improve things in those areas is a road I want to go down, and I can't think of a better way to honor a man like Bob Frederick than to do something to make a difference."
There's no doubt that scholarship foundations, awards, perhaps even buildings or monuments soon will find themselves associated with Bob Frederick's name. They ought to. Stopping short of honoring him the way he made many of us feel so honored to know him would be a shame.
After such a tragedy rocks the lives of such wonderful people, we have to believe that there is a reason for it all. Frederick, throughout his life and beyond, was a powerful enough presence to inspire the good in people and encourage change where it's needed most.
It's too bad the space on those little black patches is so limited.
More like this story on KUsports.com