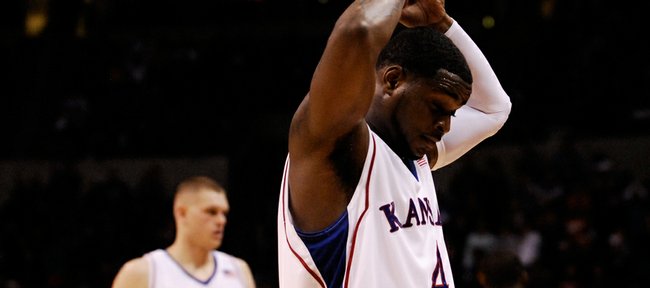 Kansas University senior point guard Sherron Collins will not be attending USA Basketball's World University Games Team Trials, Collins said Monday at Bill Self's basketball camp in Horejsi Center.
"Because of family concerns, I don't feel comfortable being away," said Collins. He had accepted an invitation to the tryouts, which begin today in Colorado Springs, Colo., and run through June 25. Those who survive cuts will represent the U.S. at the Games July 2-12 in Belgrade, Serbia.
"I was really looking forward to going. But with my family situation taking place in Chicago, it would be hard for me to be out of the country at this time," Collins added.
Collins — who hails from Chicago — did not wish to comment on the specifics of his family situation back home.
He will remain in Lawrence for both sessions of summer school and return to Chicago if needed to assist family members.
"I want to say Sherron was certainly looking forward to going," Self said. "I definitely understand the situation. Being out of pocket for that period of time (in Serbia), I don't know if he'd feel at ease because of some of the things going on in Chicago.
"He feels he can be of assistance if he stays back in the States. He could have been a huge asset to the team. Some things came up with his family. In his best interest, he remained close to them. I certainly understand, and USA Basketball understands," added Self, who has been in contact with USA hoops officials.
Those to attend the trials are: James Anderson (Oklahoma State), Talor Battle (Penn State), Trevor Booker (Clemson), Craig Brackins (Iowa State), Da'Sean Butler (West Virginia), Corey Fisher (Villanova), Lazar Hayward (Marquette), Robbie Hummel (Purdue), JaJuan Johnson (Purdue), Quincy Pondexter (Washington), Deon Thompson (North Carolina), Mike Tisdale (Illinois), Evan Turner (Ohio State), Jarvis Varnado (Mississippi State) and Nic Wise (Arizona).
Meanwhile, KU sophomore guard Tyshawn Taylor leaves today for the USA Under 19 National Team trials in Colorado Springs. Taylor will compete with 16 other players for 12 spots on the team to compete in the FIBA U19 World Championships July 2-12 in New Zealand.
After three days of practice, USA Basketball will announce finalists for the 12-member team. Training camp will begin Friday with the 12-member USA roster being announced prior to the team's departure for New Zealand on June 25.
"There are a lot of great players who are going to be there. It's an honor to be included," Taylor said. "I'm excited to get to try out, but now I've got to make the team. I've got to work really hard to make the team."
He'll be joined at the trials by: Ashton Gibbs and Dante Taylor (Pitt), Shelvin Mack (Butler), Drew Gordon (UCLA), Kenny Boynton (Florida), Darryl Bryant (West Virginia), DeAngelo Casto (Washington State), Seth Curry (Duke), Gordon Hayward (Butler), Darius Miller (Kentucky), Arnett Moultrie (UTEP), Ralph Sampson III (Minnesota), John Shurna (Northwestern), Howard Thompkins (Georgia ), Klay Thompson (Washington State) and Terrico White (Mississippi).
KU junior center Cole Aldrich declined an invitation to try out for the World Games team.
"I thought the summer would be a great opportunity for myself to be here (KU) and progress as a player, get better and stronger," Aldrich said. "It was the main thing I wanted to do in the summer — be in the weight room. It definitely took me a while to decide what I'd do."
Aldrich also wanted to take several summer school classes. He'll be one semester from graduating after his junior year, which figures to be his final year at KU.
More like this story on KUsports.com