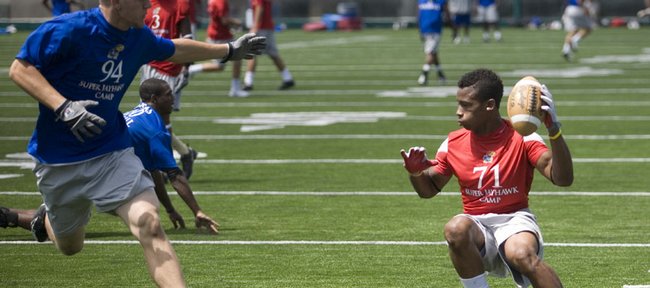 Years from now, when the names on Saturday's Super Jayhawk Camp football prospect roster are looked back upon and their football accomplishments are researched, then it can be determined how much talent worked out on the two practice fields southeast of Memorial Stadium. This much was easy to determine already: Polite, respectful, eager-to-please athletes packed both fields.
Travoy Martinez, a defensive back/wide receiver from Dallas Woodrow Wilson High, had just finished an interview when it was time for him to ask the reporter a question.
"Thank you, sir," he said. "I would like you to meet my father. Do you have time to meet my father, sir?"
He then called his father, Ray Martinez, over and proudly introduced him.
The best part of the camp, according to Travoy, was "learning all the different techniques from the coaches."
Martinez worked out as a defensive back in the morning session and a receiver in the afternoon. Undersized at 5-foot-9, 159 pounds, Martinez made a couple of spectacular catches and showed excellent agility reacting to the ball. He said he has heard from Southern Methodist, Texas A&M; and UTEP.
Perhaps the most impressive athlete during the afternoon session was Devin Patterson of North Mesquite (Texas) High. A 6-foot, 170-pound receiver, Patterson is the younger brother of KU cornerback Daymond Patterson.
"My brother told me if I come to Kansas, the coaches will treat you well, and I'm going to learn a whole lot," the younger Patterson said. "He told me it's a great environment."
Patterson said workouts with his father, Daymond, a police officer, have enabled him to improve his speed and quickness in a big way recently.
"I've been working out with weights and running uphill," Devin said. "I do a lot of resistance training. There's a hill right by a little pond near our house. My father holds a bungee cord at the bottom of the hill and I run up the hill."
Patterson said UTEP has offered him a scholarship and that Arizona State, Colorado, Iowa, Iowa State and Minnesota also have shown interest. He said he isn't ready to make a decision and added, "I like Kansas a lot."
Elite tight end prospect Chris Barnett, son of a Texas high school football coach Elzie Barnett, stood out among Class of 2011 prospects at the camp. Asked what other schools were on his list, Barnett said, "Miami and Oklahoma."
One prospect at a time, Kansas gets listed with schools that for decades have been recruiting monsters. KU still doesn't attract a large number of blue-chip prospects, but Barnett, when asked, explained why the trend is heading in the right direction.
"They don't just want to beat their rivals anymore," Barnett said. "They want to play in big bowl games every year and win championships and that's what you want. I like the intensity of the coaches here."
Wide receiver Al Lasker of Texas said he "loved" the football complex at KU.
"That's what won me over," he said.
He said he also is considering Texas Tech, Rice, Houston, SMU and Utah.
So far, he said, his only offer has come from Stephen F. Austin.
Such camps technically are supposed to be only for teaching, but with the entire KU football staff teaching players who desire to play college football, they tend to notice which players are faster, dedicated learners and tend to recruit those players and stop recruiting others who don't fare as well.
"It's teaching at the most basic level," KU recruiting coordinator Brandon Blaney said. "And it can be the beginning of a teacher-student relationship and sometimes that relationship can last four or five years."
More like this story on KUsports.com