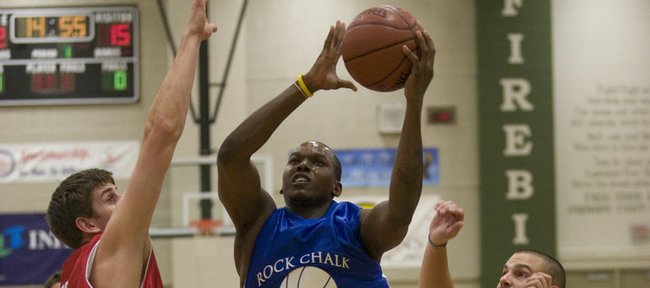 Russell Robinson will not be vacationing in Turkey anytime soon.
"It wasn't good," former Kansas University point guard Robinson said of his brief stay in Zonguldak, a province with a population of 100,229 located along the western Black Sea coast region of Turkey.
It was there he opened his pro basketball career, playing point guard for Erdemir Zonguldak for a brief period last winter.
"There was culture shock, of course. For a young person, it wasn't the best situation. A lot of my teammates agreed with me. I came back to the States and fortunately had a good time playing in Reno," Robinson said.
Robinson, who was not selected in the NBA Draft two months after helping KU to the 2008 national championship, emerged as a budding NBA prospect after starting 35 of 50 games for the Reno Bighorns of the NBA Developmental League.
The 6-foot-3 Robinson averaged 12.3 points a game off 44.8 percent shooting. He hit 66 of 180 three-pointers for 36.7 percent and also dished 219 assists against 101 turnovers.
"Reno was different," Robinson said. "I didn't have anybody looking over my shoulder. I tried to stay out of the casinos and in the gym. I think I did a good job of that."
He worked on his shooting — a lot — and displayed a soft touch in hitting four of seven threes en route to 17 points in last Wednesday's Bill Self camp scrimmage between KU basketball alumni and current players.
"That's a two-pointer in my league," Robinson said of the college three-point line of 20-feet-9 inches, compared to the NBADL's 23-9.
"I'm shooting it a lot better now. It was a lot of practice over the year getting my stroke together."
The NBA has noticed his continued improvement.
Robinson will play summer-league basketball for the Orlando Magic in early July.
"I have an opportunity. Hopefully it goes well. I'm chasing my dream," Robinson said.
He knows what it'll take to stick in the league.
"A lot of guys say I have to shoot the ball well," Robinson said. "You don't have to do just one thing great. You have to a lot of things including play defense."
Robinson, who is in town visiting friends and helping out at the Self camp, said he believes the Jayhawks will have a great team this coming season.
"They are talented," Robinson said of the Jayhawks, who return all five starters off last year's Big 12 title and NCAA Sweet 16 team.
"They have great leadership in Sherron (Collins) and a great inside presence in Cole (Aldrich). It'll be good. I can't wait to see them play."
Robinson grinned when asked if the 2009-10 Jayhawks would have a more talented team than his KU NCAA title squad.
"I don't know about that. They won't even come close," he cracked. "They can win it all, but will not be close to as good as us. That's just my opinion."
l Big O seeking return to NBA: Former KU center Greg Ostertag told the Journal-World last summer that he wanted to resurrect his NBA career. He repeated that sentiment to the Arizona Republic this week.
"I know I can still play," said the 36-year-old Ostertag, who lives in Scottsdale, Ariz., with wife Heidi and their three children — Cody (15), Bailey (12) and Shelby (9).
"It's just a matter of getting back into shape. I can still play. I can put in 10 or 15 minutes a game, get some rebounds and block some shots.
"Young teams aren't going to pick me up," Ostertag told the paper. "A veteran team looking for somebody to give them 10-15 minutes, go in there and bang with other guys, that would be the team."
Ostertag played in the NBA 11 seasons, 10 with the Utah Jazz. He retired three years ago.
The Republic reports the 7-foot-2 Ostertag plays hockey on Wednesday nights in a no-checking league. Another hobby, believe it or not, is baking cakes for all occasions.
"I've made some for my kids for their birthdays. I made a couple for my mom for her birthdays," Ostertag told the Republic, noting he doesn't sell the cakes, just bakes them for his family.
More like this story on KUsports.com