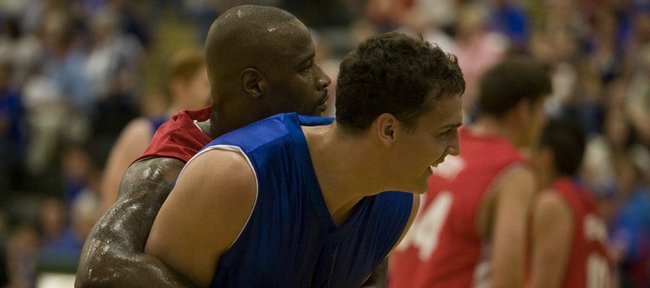 He has performed in packed NBA arenas from New York to Los Angeles, suited up for the recently completed Eastern Conference Finals and played alongside the most exciting player on Earth.
But when it comes down to it, nothing quite gets Darnell Jackson's blood flowing like a trip back to Lawrence.
"The fans were great in Cleveland," said Jackson, who is back in town for two weeks and will compete in next Wednesday's Bill Self campers game. "But there's no place like Kansas. I tell all the guys on the (Cavaliers) that: 'There's no place like Kansas.'"
The former second-round NBA draft pick, who recently completed his rookie season with the Cavs, made his first trip back to Lawrence in style, scoring a game-high 30 points on 14-of-25 shooting in Thursday night's Rock Chalk Roundball Classic, a fun-and-gun evening of basketball at Free State High held to benefit the family of late Lawrence resident Brandon White.
Among the players competing in the event, which featured teams made up of former KU men's basketball players, were former stars Wayne Simien and Billy Thomas, as well as a number of more recent graduates, including Sasha Kaun, Russell Robinson and Matt Kleinmann.
Throughout much of the night, however, the crowd reserved its biggest applause for the 6-foot-9 Jackson, a longtime fan favorite and member of the Jayhawks' 2008 national championship team.
"The biggest thing that shocked me is how many fans came," said Jackson, who averaged 1.9 points and 1.7 rebounds in 8.4 minutes a game for the Cavaliers this season. "But they're always going to support Kansas and the guys that went here and the guys that won a championship. It's a great feeling."
Jackson spent much of Thursday night's game — a 111-103 victory by the Jackson's Red Team — with a smile on his face, happily displaying his developing ball-handling skills and playfully taunting former teammates as they shot free throws.
And with his rookie season under his belt, meanwhile, he enters his first professional offseason eager to plug the remaining holes in his game heading into 2009-10.
"It was exciting," said Jackson, taking a short break from a post-game autograph session with fans. "Every guy in the NBA can play basketball, and I think the biggest thing that I have to learn is the spacing of the court and how fast guys are. They slow down, they speed up when they need to turn it on.
"But it was a lot of fun," he added. "We went to the conference finals and lost, so hopefully we get back there next year and win a championship."